A Walk & Talk Down Memory Lane with Al Attles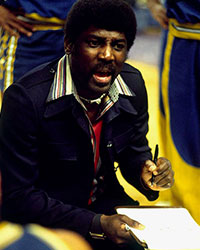 We met in what was a different day and age. Yet, it seems like yesterday. I remember the team arriving … It was amid a lot of excitement back then. It was 1962. Professional basketball was coming to San Francisco and the Bay Area! Meet the NBA … Meet the Warriors … Meet Al Attles. It was just a few years before, in 1958, Major League Baseball had just successfully moved the Brooklyn Dodgers to Los Angeles and the New York Giants to San Francisco, becoming the first two professional baseball teams west of the Mississippi. In 1962, the National Basketball Association (the NBA) followed, and successfully moved the Minneapolis Lakers to Los Angeles and the Philadelphia Warriors to San Francisco, becoming the first two professional basketball teams west of the Mississippi.

It was quite an era here back then. John Kennedy was President, no sign yet of the Beatles (and their concert at Candlestick Park coming just a bit later in 1964) and our San Francisco Giants, in just their 5th year here and playing in what was a "beautiful" new Candlestick Park, were playing the New York Yankees in the World Series. It would be two years later, in 1964, San Francisco would host the GOP National Convention here at the San Francisco Cow Palace, starring Barry Goldwater. It would be 23 years later, in 1985, for Super Bowl XIX at the older Stanford Stadium and 54 years later, in 2016, for Super Bowl 50 to return to the Bay Area. During this time, the 49ers have won 5 Super Bowls, the Giants have won two World Series and the Warriors have won one NBA Championship, in 1975, with Al Attles as the Head Coach.




 Fast forward to the present day and it's the same wonderful Al Attles. The same warm, friendly smile, the same positive endearing energy and the same unforgettable and most recognizable voice. And, now, there's all this wonderful history, stories and people we can talk about, too. Al is everyone's best friend and everyone is Al's best friend. Case in point, to this very day, his North Carolina A&T basketball teammates are all still extremely close. They won championships playing together as a team some 50+ years ago and they still talk with one another, frequently, all the time, and as recently as just yesterday …

To read the rest of Coach Al Attles' great article, please go to our Silicon Valley Talk website (www.siliconvalleytalk.com) and enjoy the balance under the category "Sports".