What Happens in Las Vegas
By Rich Borell: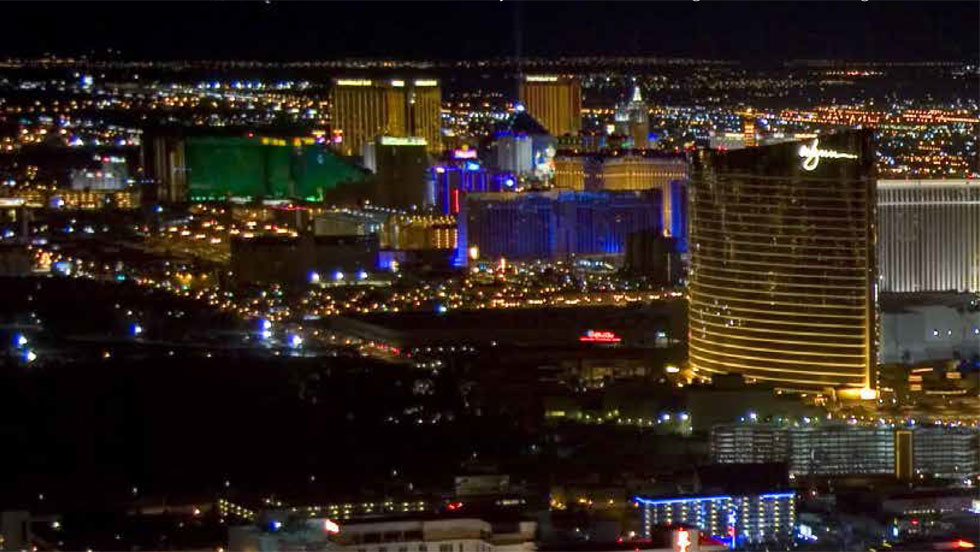 Hello Everyone,
When we think about weekend getaways from the Bay Area, we may consider Monterey, Santa Cruz, Napa, Lake Tahoe … Ever think about parking the car and flying to Vegas?

That's exactly what my wife and I did recently. Our last trip there was very memorable since we spent New Year's Eve celebrating with hundreds of thousands of people on the Las Vegas strip. This time we thought how fun to have a long weekend getaway there.

Our trip started out on a Friday late-morning flight via Virgin America out of SFO. Once we landed, you can feel the party starting … Indeed, this city radiates so much energy. Cab fares are posted so you will have an idea of what to pay. With gratuity you can figure on $20, or a little more, for the fare.

Our stay was at Harrah's Resort Hotel. They were very nice to work with, and we would like to thank them for the suite upgrade they gave us. We were early (about 3PM); yet, our room was ready and we could drop off our luggage.

We had a few hours before our 5:15PM dinner at The Strip Steakhouse located inside the Planet Hollywood. Dinner was early since my wife wanted to get some shopping time in at the Hard Rock Café prior to seeing the Kiss Concert at 8PM.

For our short time before dinner, we strolled the mall next door to Planet Hollywood. The Strip Steakhouse is a chain; however, it's a great place to eat with excellent service. I don't usually eat red meat; however, tonight I had the urge to have a nice Rib Eye Steak. My wife had the Filet along with her two favorites, Lobster and Crab. If you have time for a long dinner, with the urge to be catered to, then this is the place to come. We also had the opportunity during dinner to chat with their Operations Manager and want to send a thank you to her. BTW, if you enjoy Ports, you may want to cruise their exclusive selection.




As I mentioned, the Kiss concert was at the Hard Rock Café - the band featured two of its original cast, Gene Simmons and Paul Stanley – and they played to a delighted full house. If you have a chance to see them, they put on a great show.

On Saturday, we prepared a list of fun things we could choose from; however, since the weather was a sunny 70 degrees, we opted for a nice walk instead. Some suggestions of interest during the day might include:

*An all-day visit to Area 51
*There are four thrill rides at the top of the Stratosphere Tower
*At the New York New York you can hop on a 67 MPH rollercoaster
*Drive a race car at Exotics Racing at the Las Vegas Motor Speedway
*Crime Solving at MGM's Grand CSI – The Experience

We spent some time at the Mirage at Siegfried & Roy's Secret Garden and Dolphin Habitat, which defines wildness in a whole new way. You can also catch a glimpse of several white Tigers and Lions along with the Dolphin Habitat. The shows were awesome!

Saturday, night we had two shows on tap, first, was a Murder Mystery Dinner put on by Marriage Can Be Murder. It was a great show and dinner was delicious. The cast of characters did a great job in getting the audience involved.

Our main show was at 10PM, at the Mirage, to see Ray Romano from the very popular TV Show, Everybody Loves Raymond. Kevin James opened the show, getting the audience involved, and was hilarious. Of course, Ray Ramano was himself, and everybody was in stiches. I've seen some great comedians, and I would put Ray high on my list as one of my favorites next to Jerry Seinfeld.

When he was closing the show and about to say good night, he said I have one more thing for you … He brought out Adam Sandler to sing a few songs. The lyrics we're hilarious, so you guessed it, not your typical song to sing along to. After Adam played, Ray and Kevin came back out and, together, they did a Q&A with the audience. We also got to meet Ray's twin sons, sitting near us in the audience.

So if you're looking for a weekend getaway, and don't want to drive, check out sin city! Yes, what happens in Vegas stays in Vegas … except for the great experience of it all and good memories.