Santa Clara County Is First Nationwide to Have Office of LGBTQ Affairs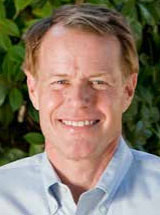 By Santa Clara County Supervisor Ken Yeager
I am proud to announce that the two full-time positions for the Santa Clara County Office of LGBTQ Affairs have been filled. The new staff includes Maribel Martinez for the position of Manager and Ashley Scarborough for the position of Management Analyst. Maribel has more than eight years of experience as Director of the Associated Students at San Jose State University. Ashley comes to us from the California STD/HIV Prevention Training Center in Oakland.

Santa Clara County is the first county in the nation to have an office exclusively dedicated to serving the LGBTQ community. The only other similar offices are the Mayor's Office of LGBT Affairs in the city of Philadelphia and the Office of LGBT Affairs in Washington, D.C.

For many years, Santa Clara County has been a leader in addressing the needs of underserved populations that require the services of the County. For example, the County has created individual offices to serve women, veterans, racial and ethnic minorities, and soon immigrants. By focusing particular attention on these groups, we are able to better serve them. In order to accomplish these goals, the primary functions of the Office of LGBTQ Affairs will be:

• Training: Train County staff and community stakeholders on LGBTQ issues as they relate to clients, residents, and employees.

• Individualized, Case-specific Assistance: Offer guidance to County departments seeking to fairly and properly serve LGBTQ individuals.

• Cross-departmental Best Practices: Ensure all County departments are following best practices when it comes to treatment of LGBTQ clients, residents, and employees.

• External Relations: Represent the County to local, state and national government agencies, school districts and nonprofit organizations on LGBTQ issues.

• Communications: Develop the Office's communication strategies and efforts, including a website, pamphlets, and directories, as well as coordinate with the Office of Public Affairs on media inquiries.

• Resource Development: Identify gaps in services to LGBTQ residents and develop resources to address them.

• Community Engagement and Mobilization: Play a role in promoting and collaborating on LGBTQ community events, including those that foster dialogue and increase access to services for the most disenfranchised members of the LGBTQ community.

• Measuring Progress: Develop an evaluation metric to determine the effectiveness of the Office on each of the above responsibilities. Since being elected as the first openly LGBTQ member of the Santa Clara County Board of Supervisors in 2006, I have fought hard to ensure that our County provides fair and equitable treatment to all residents, including the LGBTQ community.