You're Fired
A Commentary About Life in Sports … or Sports in Life By Andy Dolich
"You're Fired" is the signature line from "His Hairness," and Republican Presidential Candidate Donald Trump. It's also the dreaded theme line for "Black Monday", the NFL's season ending house cleaning of coaches, GMs and other team player personnel staff after the last game of the season.

By Monday January 4th, 2016 the San Francisco 49ers Jim Tomsula, Philadelphia Eagles Chip Kelly, Cleveland Browns Coach Mike Pettine and GM Ray Farmer, NY Giants Tom Coughlin (resignation) were told to clean out their desks, lockers, vacate their V.I.P. parking spaces and turn in the playbooks they helped write and coach from.

This group was told "Thanks" for your combined record of 20-43 in 2015/16, "You're Fired." In addition a number of assistant coaches, GMs and other football personnel staff were told that they had received the ultimate challenge flag and after further review they no longer had jobs.

No matter how tough it is to lose a big time coaching job, I think it's about time to erase the word "Fired" from the vocabulary of professional and big time college sports.

Here's why. In the real world when you lose your job there is usually a security person or HR representative with a cardboard box telling you to pack up your desk, hand in your cell phone, key card, laptop and your dignity as you are shown the door.

The vast majority of people who lose their jobs don't necessarily know where the next paycheck is coming from but they know that the discussion with the spouse/ family isn't going to have a happy ending with a fairy godmother showing up waving a big fat severance check.

The NFL's "Black Monday" and other high level sports job terminations aren't close to the definition of fired that many real life workers have to deal with. In the big time world of sports the terminees have the following safety nets which don't define fired.

CONTRACTS: Most employees don't have guaranteed contracts or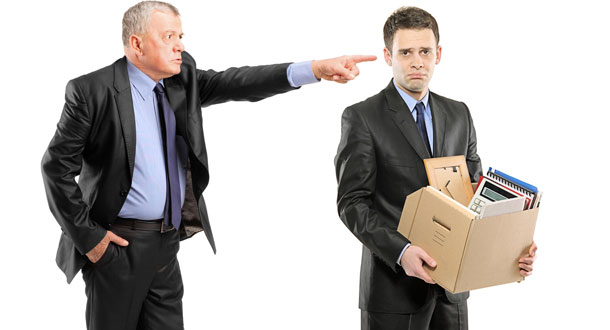 agents who have negotiated iron clad deals on their behalf. Nothing is more comforting than knowing you have a few years of income coming your way even though you no longer have a job.

PENSIONS:
Even if you never work again, almost all player personnel people are covered by league wide pension plans. As we know most businesses are seeing deep cutbacks or no pension plans at all for their rank and file employees.

IMMEDIATE REHIRE: Hi, I'm Chip Kelly "Fired" by the Philadelphia Eagles and I was out of a job for an incredibly stressful 15 days.

MEDIA GLARE:
The regular working person doesn't have to deal with a bunch of media hounds outside their house wondering what they'll do next. For the big time names this can actually help keep them in the public eye on the way to their next job.

The best news of all is that "The Donald" doesn't currently own a pro franchise. Walt Michael's was the last coach to hear his signature: "You're Fired" when Trump cashiered him in 1986 as coach of his USFL New Jersey Generals. Just think of all people in our nation's capital who will hear 'The Donald's" favorite line on November 9, 2016.