Our Private Cooking Lesson With Alex Tishman Regional Head Chef, Big City Chefs
By Rich Borell,
Founder & CEO of Bay Area Mags LLC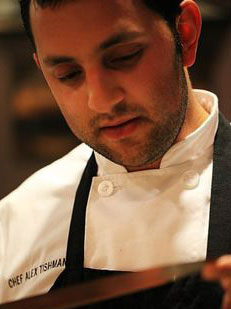 Perhaps you like to cook. For my wife and I, cooking is the last thing we would ever want to do. Our feeling has been, if you want to eat good food, someone else needs to cook it- Boy was I wrong!

  Now, you're probably thinking I must eat a lot of junk food and be extremely overweight. Thankfully, I don't indulge in junk food and I enjoy exercise - be it playing tennis or using my home gym. Still, it's hard to believe I weigh 149 based on how I eat.

  For us, and as it is for many, cooking can be frustrating. You spend good money on ingredients. You invest time and effort to put a dish together, and the end result just isn't as good as you thought, or hoped, it would be. Eating healthy can be a challenge. We have busy lives and are on the go all the time, so we don't always set aside the time to prepare a healthy, flavorful meal.

  That being said, we decided to bring Regional Head Chef Alex Tishman from Big City Chefs into our home for a Sunday afternoon and teach us how to prepare a couple of delicious meals. While this sounds very exciting, my first question to my wife, when she suggested we should have a private cooking lesson, was: "We're spending how much to do what?"

  Boy, was I wrong. If only I knew before what I know now … So, let's get started.

  Our planned menu was based on what we wanted to learn along with some valuable suggestions from Chef Alex. He came up with the following: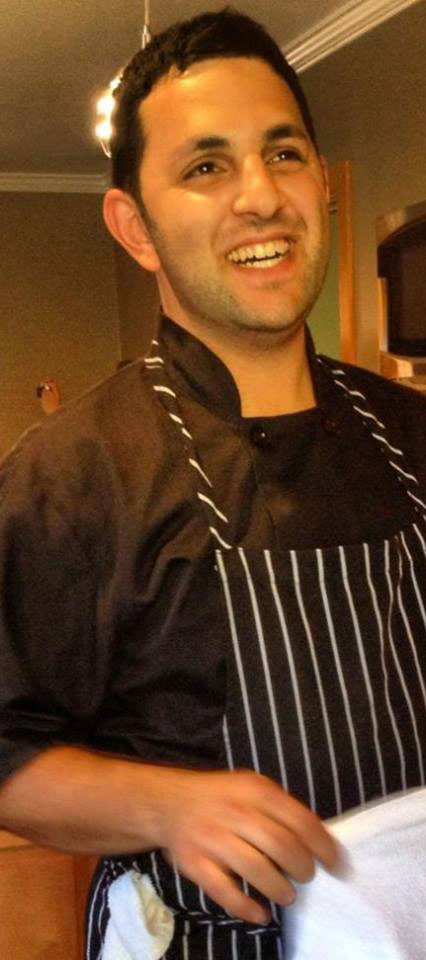 • Hanger Steak with mushrooms pan jus
• Chicken (one whole, which we will butcher and then cook the different cuts)
• Salad with English peas, shaved carrots and radishes, and simple shallot mustard vinaigrette.

  Preparing for Chef Alex was pretty painless. He requested that we take a few pictures of our cooking utensils, and simply make our kitchen counters, along with some space in the refrigerator, available to him.
Once Chef Alex arrived, we kicked back and let him get things rolling. It was awesome that the price included the shopping of food and other needed ingredients. He sure saved us a lot of time and frustration.

  From the start, with his vivacious personality, you feel as if you've known him all your life. We knew right away we were in for a fun day of cooking, right in our very own kitchen.Chef Alex came so well prepared with a delightful customized class for us. He fully understood our busy schedules and our desire to create some great food from our own kitchen. He would teach us what we would like and not what we wouldn't like.

  As we started, his friendly, informal teaching style put us at ease. We immediately felt comfortable that we'll be able to reproduce the same fantastic results later on.

  As the class went on, Chef Alex engaged us in the preparation of the entrées and salad. Most importantly, we learned tips on how to do all those little touches that make a big difference in flavor, texture and presentation; like, how to make carrots attractive and crunchy in your salad.

  Some of the items we went over during the three hour private-class included:
• Proper cooking techniques along with presentation
• A big concern of ours … timing of the entrée and side dishes
• Some good tips on safety … those knives are very sharp – especially the "Mandoline" (a dangerous but highly efficient instrument)
• We learned some tips on nutrition and other health information, including good answers to questions we had about Fish

  As time went on, we tested some of the Chicken, Hanger Steak, Mushrooms and sauce that we prepared. Delicious. We were amazed also how good our kitchen could smell.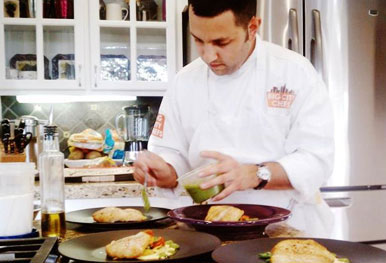 Next, our jaws we're dropping - we couldn't wait to dive in and reap the rewards of the last three hours.

  As the end of the class came, and my wife and I had just about finished everything we had cooked, Chef Alex had tidied everything up. Our kitchen was left squeaky clean. It was all a wonderful experience. In sum, indeed, for many people, cooking can be frustrating. We spend good money on ingredients. We invest time and effort to put a dish together, and the end result just isn't as good as we thought, or hoped, it would be.

  What we learned and experienced is, with a little help and guidance, we all can create successful dishes packed with flavor and nutrition that are a joy to create. I encourage you to treat yourself and invite Chef Alex Tishman of Big City Chefs into your home, as we did. You will learn to have fun in your own kitchen and cook some great meals. Bon appetit!