The Beauty & Splendor that is Old Europe
WHERE SIGHTSEEING IS A MAJESTIC WALTZ
By Rich Borell:

  Hello Everyone,
  I wanted to share some of our recent adventures as my wife and I enjoyed what was a wonderful visit to the Czech Republic, Slovakia, Hungary and Austria.

  If you are planning a visit to

Prague, Bratislava or Budapest you can definitely cover a lot by walking. Vienna is a larger city, so you will need other forms of transportation to get around.

Prague
Let's start with Prague. As we walked around (and I DO mean WALKED … yes, about 7miles per day) you will be mesmerized by historic buildings. We continually caught ourselves saying to each other: "check out that building!", because everywhere we looked, everything was so unique. The city was like an architectural museum, very much older Europe.

  Here's a brief list of some places you want to be sure to see while in Prague:
• Charles Bridge
• Prague Castle
• Old Town Square
• Church of St. Nicholas
• Stalin Monument

  The heart of Prague, Old Town, is filled with many houses, churches and other structures dating back to the 13th century. When visiting, be sure to include the Old Town Hall and Astronomical Clock, the Carolinum, the Municipal House and the Estates Theater.

  Located in the center of Prague is a vibrant square surrounded by baroque buildings, lively cafes, street entertainers and craftspeople.

  Situated at the Prague Castle, St. Vitus Cathedral is the most important and largest church in Prague. The cathedral is the burial place of the former Czech kings and a home of the Czech Crown Jewels. You definitely want to include this stop when planning your itinerary.

  Connecting the Old Town with Lesser Town, this popular pedestrian bridge is filled with musicians, painters, vendors and tourists during the summertime. Here you will be able to take some great pictures.

  Once the initial charm of Prague has sunk in –I encourage you to take a trip to the Castle District and be even more amazed with some awesome sights.

  This fairy tale castle on a hill overlooking the Vltava River is the most popular sight in the city, reflecting the city's "Bohemian Baroque" architecture. The seat of Czech rulers for 1,000 years, today it houses the office of the President. Contained within the castle walls are three courtyards, beautiful gardens, shops, and restaurants. St. Vitus Cathedral, a Gothic landmark of the city since 926, that has always been the center of Prague's religious and political life, is in this giant castle.

Bratislava

  Next we took the train to Bratislava, Slovakia. I suggest purchasing a first-class ticket; it's more comfortable and less crowded for your four hour journey. The first-class ticket will also get you access to the business lounge where you can relax and enjoy complimentary beverages and snacks before you depart. You will also be able to get assistance taking you to your train and loading your luggage up. Keep in mind … not a lot of English is spoken in these parts.

  Here's a brief list of some places you want to be sure to see while in Bratislava:
• Bratislava Castle
• Michael's Gate
• Primate's Palace

Old Town, Bratislava, was a delightful surprise to both of us … lots of shops, museums to see. One item I suggest seeing is the St. James Chapel. It's the oldest sacral medieval structure in Bratislava. Be sure to take a walk downstairs.

  A must-see on your trip is the Bratislava Castle. The castle was originally built as a frontier post for the Roman Empire; a later version was built by King Sigismund in the 15th century. This castle burnt down in 1811, leaving only ruins … and it took until 1956-68 for the castle to be rebuilt to its current format. The castle is located on a hill overlooking the River Danube, the southern-most hill of the Small Carpathian Mountains. There are two ways to walk up to the castle - up Beblaveho Street from the Old Town or from Mudronova Street by the Slovak Parliament building up at the hill. You will find a museum along with a restaurant that has a full service bar. Weather permitting, I suggest eating outside and enjoying the beautiful views of the Danube.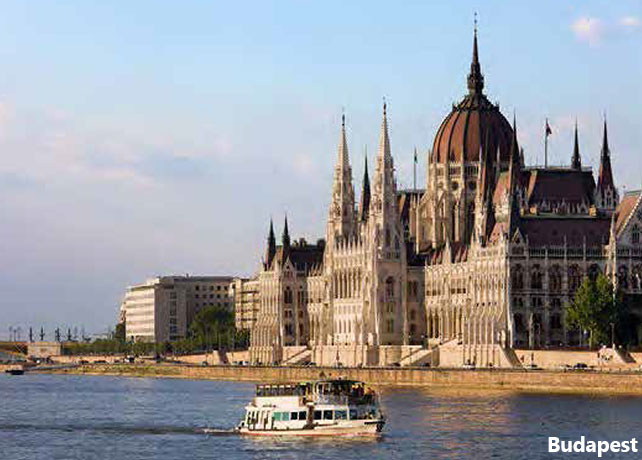 Budapest
  Our next train ride was just a little over two hours and took us to the brightest jewel on the Danube: Budapest, Hungary. Budapest was created in 1873 from the separate towns of Buda, Pest and Obuda. Its population of two million resides in 23 districts.

  Here's a brief list of some places you want to be sure to see while in Budapest:
• Buda Castle
• Chain Bridge
• Hungarian Parliament Building
• St. Stephen's Basilica
• House of Terror

  We both felt Budapest is one of the most beautiful cities we have ever seen. Since we have traveled through Europe extensively, that says a lot. Between the view from Fisherman's Bastion, the Matthais Coronation Church and the nighttime view of the five lighted bridges and Parliament Building, it's a must tour … and, if you have time in the evening, so, too, is a cruise along the Danube a must.

  We were very impressed with Budapest being the largest city and capital of Hungary. It's clean, feels safe and it's also very easy to get around by foot … and, best of all, the people of Budapest speak good English. The cost of eating out is inexpensive, with lots of options. There are also many Hungarian wines and beers to choose from.

Vienna
  Our final two hour train ride took us to Vienna, Austria. The historic center of Vienna is rich in beautiful architecture, including Baroque castles and gardens, as well as the late-19thcentury Ringstrasse, that is lined with grand buildings, monuments and parks.

  Here's a brief list of some places you want to be sure to see while in Vienna:
• Schonbrunn Palace
• Hofburg Palace
• St. Stephen's Cathedral
• Millennium Tower
• Historic Center of Vienna

  The most important fine arts museum in Vienna is the Kunsthistorisches Museum. It is one of the most impressive museum buildings of the 19th century. The architects were Gottfried Semper and Carl von Hasenauer and it opened in 1891. The museum shows the art collection of the Habsburg Dynasty, collected over centuries. On the stairway going to the second floor is the sculpted group of Canova, Theseus Slaying the Minotaur.

  The number one tourist attraction of Vienna is St. Stephen's Cathedral (Stephansdom), located at Stephansplatz, and is the most important Catholic Church in Vienna. It has a multi-colored tile roof with a diamond pattern and two tall towers which are the most recognizable symbols of the city.

  If visiting museums is at the top of your list, you won't be disappointed in Vienna.

  I will briefly mention, if you do decide to visit the Mauthausen-Gusen Concentration Camp, it's about an hour train ride outside of Vienna … be sure to schedule a private tour. Not much English is spoken in this town.

  A word regarding currency: Austria and Slovakia use Euro's; however, the Czech Republic has their own called Czech Koruna, and Hungary uses the Hungarian Forint. Don't worry, it's not that confusing, and if you have an iPhone, there's an app that does everything for you.

  Before I wrap this up, I wanted to suggest a few hotel accommodations you may want to look into when planning your trip to Eastern Europe.

   Mamaison Suite Palace Hotel Prague:
  The hotel is clean and the hotel staff extremely polite and helpful. They were able to help us with all our queries concerning tours and restaurants … and recommendations made by them all turned out fantastic for us.

  You can book your tours through them; however, keep in mind they will charge, I believe, a 10% add-on fee; however, well worth it.
  You are within three minutes of walking and being at the Charles Bridge.
  Choose a large or junior suite on the upper floors so you can have a great view of the river.

  Radisson Blu Carlton Hotel, Bratislava:
  Nice hotel located in Old Town. Pleasant staff, very good breakfast. Good views, you can see not only the Hviezdoslav Square, but also the Castle.
  The old city center is a one minute walk away. The River Danube is two minutes away.
  Overall the hotel has a welcoming and warm atmosphere. Staff is happy to help, and most speak very good English. Rooms are spacious and clean.

  Marriott Budapest:
  This property is beautifully located on the Danube - has the best staff and just the best attention to detail. We were very impressed.
  Rooms are typical Marriott, perhaps slightly more spacious than in the average property. If you qualify for the executive lounge, this is an excellent amenity. Not only is the view great but breakfast and evening hors d'oeuvres were ample and of a good variety.

  Marriott Vienna:
  The staff at the hotel was all very helpful and the rooms were comfortable and clean as you would expect.
  The hotel has a great location, within walking distance to all of the major sites and near two metro stops.
  The breakfast was good, a big spread with fantastic quality.
  If it sounds like a delightful trip, it was.
  Until next time … Bon Voyage!