Scandinavian Splendor & Many Memorable Smiles
By Rich Borell: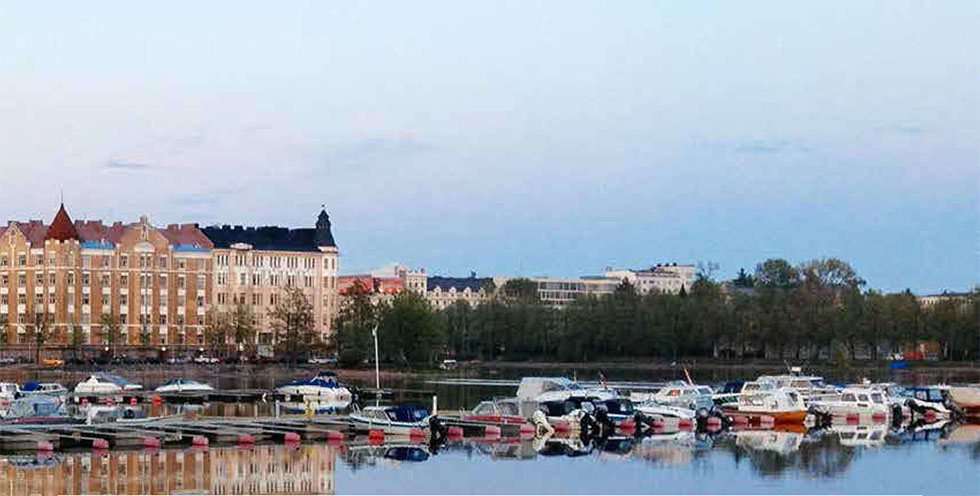 Greetings Everyone! I want to share with you our recent trip to Scandinavia that included stops in Denmark, Finland, Norway and Sweden. This trip actually came together just a few weeks before we left. We had tickets to fly into Copenhagen, then on to Finland. From that point, we were going to take the train and spend most of our time in Russia. We had our Russian Visa and were ready to go. Unfortunately, due to the most recent events, we were advised not to go. I want to thank our tour guide in Moscow for all he did and we look forward in seeing him on a future trip to Russia.

  So, if you are considering a venture to Northern Europe, we certainly found it to be such a beautiful region. We loved all the natural scenery and European sights and, yes, the delicious food, too … and, what was extra nice, the people were always very friendly and hospitable.
  Even though the Danish, Norwegian and Swedish languages are known as Scandinavian languages, you can be well-assured most everyone understands and speaks English. You should travel with a money converter, and if you carry an iPhone, you already have the app. Contrary to popular belief, not all countries have converted to the Euro. Finland has; however, the other three countries have not. You will need to convert your USD in Denmark to Danish Kroner, in Sweden to Swedish Kronor and in Norway to Norwegian Kroner.
  I also want to mention something about using your credit card. First, you should check with your credit card company to see if you have a foreign transaction fee. Indeed, it can add up. I can recommend Capital One Visa, as they currently don't charge a fee. Since 2013, the EU went to a chip card and the US has not quite adapted to that as yet. Most businesses will accept your credit card; however, you need to let them know it's a signature card … meaning you will need to sign. Most will ask you for a PIN based on this chip … I believe we will have new credit cards with chips sometime in 2015.

  Here are some ideas from our itinerary:
Friday:
  First of all, we would like to thank Frank & Teri over at Wireless Rides for the limo service up to SFO. Our trip began on Friday with a relatively short, very nice three-and-a-half hour flight to Chicago O'Hare. Once there, we enjoyed a brief hour-plus layover. From Chicago, our transfer flight was with Scandinavian Airlines (SAS), which departed on time. We had upgraded our seats and really enjoyed the plenty of extra leg room we had for the eight hour flight to Copenhagen.

Saturday:
  We arrived in Copenhagen early afternoon the following day on Saturday. We took some time and strolled the Copenhagen Town Mall. From there, we enjoyed walking to Nyhavn, the popular 17th century waterfront, canal and entertainment district, and then shopping along the long streets of Stroget, experiencing this pleasant traffic free district. We stopped for a bite to eat at the Hard Rock Café, and along the way, we enjoyed some more shopping. Next, we went to the Visitor's Center for some helpful info that would fill our day for tomorrow. Of course, we were on the prowl for our first local Starbucks … you will find a new one that recently opened at the train station. Our first night was at a boutique hotel … the Grand Hotel Copenhagen … in a nice city central location.

Sunday:
  Up early, we strolled back to Starbucks. We didn't have a lot of time today, as most of our time in Copenhagen was reserved for when we would return towards the end of our trip. Today, we would have a 3:30PM flight to Helsinki, Finland, so we took advantage of our great location and enjoyed walking around.
  Our flight to Helsinki was short. We grabbed a cab (you will get a cab inside of the airport), which was approximately 30 Euros to our hotel. We stayed at Hotel Kamp, the only 5-star hotel in Finland. By the time we got in, it was time to find a place for a relaxing dinner. We didn't have to go far, just outside of our hotel and about 100 yards to our left was an amazing restaurant called Kappeli. We had a fabulous two hour dinner … my only advice is that this may not be the place if you're traveling on a budget. It boasted a great menu that included something for everyone … even that something special, if you wanted to try a plate of Reindeer. I went with their fresh Salmon, my wife enjoyed her Chicken mushroom and stew dinner. For dessert, we had the traditional Blueberry cake and ice cream … everything was delicious.
  Since it was Sunday, most retail businesses were closed; however, we did come across the Helsinki Hard Rock Café and were able to enjoy doing some shopping there.

Monday:
  Today, we started out with breakfast at the hotel and then took a nice walk through the city square in Helsinki. There was some light rain in the morning that later broke way for blue skies and sunshine. Our tour took us to some cool places... while in Helsinki, you may want to visit a few of these spots:
  Olympic Stadium (site of the 1956 Summer Olympic Games)
  Sibelius Monument
  Nature History Museum
  Parliament House (the guards are very friendly and not camera shy)
  Uspenski Cathedral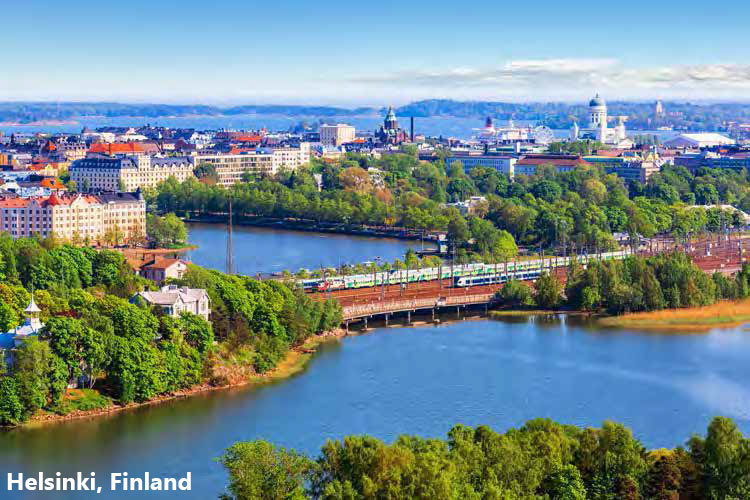 Tuesday:
  Today is another travel day, so we enjoyed strolling the very popular Stockmann's, the largest department store in Finland and all Scandinavia. We had lunch back at our Hotel Camp … I'd highly recommend the Salmon Soup, and also a few other favorites, which were the Shrimp Sandwich and Club with Fried Egg.
  From our hotel, it was a 15-minute walk to the Viking Cruise Line Terminal. First stop was our Bon Voyage Picture, then going on board for our overnight cruise to Stockholm, Sweden.
  For an overnight cruise, the ship had everything you could ask for … There were several restaurants, bars, casinos, theatre, a kid's game room, live shows and much more. I had another fabulous Salmon dinner. We enjoyed a stunning sunset, the weather was perfect.
  Our ship, the Marella, was filled with such the warm friendly staff. One red flag, going back to the credit card pin number situation, the ship is a stickler on the pin number. Good news, they do offer currency exchange, so as always, carry some cash with you.
  During the night, the seas did get a bit choppy. I'd suggest getting a room in the middle and upper floor.

Wednesday:
  Our ship arrived at 10:30AM, there were plenty of taxi's at the terminal to take you to your hotel. Even though we arrived several hours before check in, our room was ready. We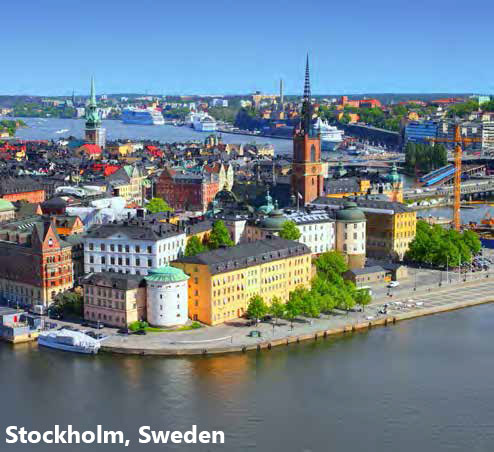 stayed at the "First Hotels" centrally located on the waterfront in old town. Our room had a large window with great views of the pier area and amusement park.
  We took a walk around old town, which looked a bit like Venice, once you're away from the water. We stopped and had lunch at Sally's. Service was a bit slow, they may not be used to the American's fast pace. We had an authentic Swedish Shrimp plate with fish eggs.
  After lunch, we bought our ticket and went on the "Hop on Bus" tour which will take you throughout Stockholm for two hours.
  After our delightful city tour, we put in another couple of hours on foot, enjoying going through the shops of old town. We wound our day down with a drink at our hotel bar before turning in.

Thursday:
  We started our day with Breakfast at our Hotel. We had purchased a two-day pass on the tour bus, so we got back on. While in Stockholm, you might want to check out a few of these sights:
Vasa Museum
Drottningholm Palace
Abba – The Museum (everyone on our tour really enjoyed this stop)
Nordic Museum
Museum of Medieval (one of our favorites)
Rosersberg Palace
Skyview

  After our tour, our stay in Stockholm wouldn't be complete without another round of shopping and grabbing a bite at the Stockholm Hard Rock Café. Next up would be our flight to Oslo, Norway.
  We arrived in Oslo around 8PM. It was a long day, so we chose to take a taxi to our hotel. City center is a bit distant from the airport, so expect a hefty cab fare... like $240 USD.
  Our hotel was the First Hotel Grims Grenka, a chic hotel, comparable to the W Hotel in San Francisco.

Friday & Saturday:
  We started the day with what was a great buffet breakfast at our hotel. Our hotel was nice; however, our room was very small. So first thing this morning, we checked out and went over to the Grand Deluxe Suite Hotel. The price went up, up, up … but was well worth it.
  While in Oslo, we dined at Café Christiania a few times, delicious seafood soup. If you're into Starbucks, like us, you will find plenty of them around Oslo.
Oslo is a great city … it is very clean, which we enjoyed, also such friendly people. If you make it up to Viking country, I can highly suggest stopping off at a few of these sights:
Viking Ship Museum
Akershus Fortress (a must see)
Nobel Peace Center (where the Nobel Peace Prize is given)
Royal Palace
University Botanical Garden
Oslo Tramway Museum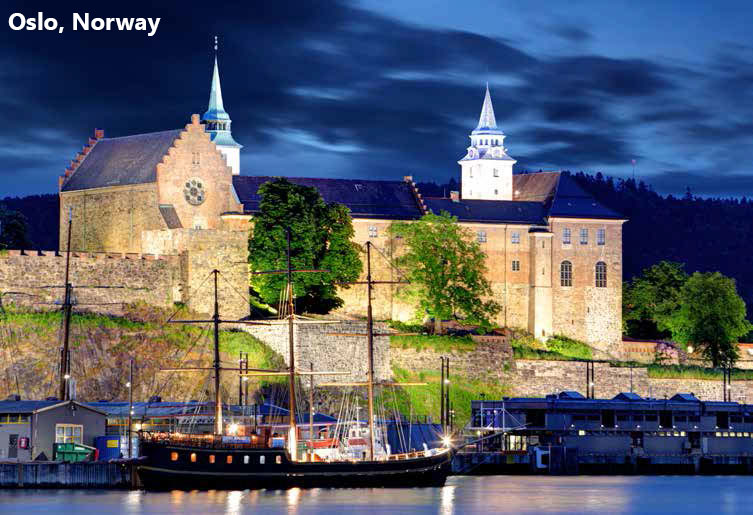 Sunday:
  Our day started with breakfast at our hotel. We then walked to the train station... Remember when I mentioned it was a $240 USD cab fare before? For both of us to take the train, it was only $29.00 USD … Yes, for both of us! Norway is a beautiful country; however, it's one of the most expensive.
  Today, we flew back to Copenhagen, just a brisk 55-minute flight. We checked in at the Palace Hotel.
  We took a short walk over to the Visitors Bureau to book our tour which we planned for the next day. After that, we had a long leisurely dinner at the delightful restaurant, Il Petal.

Monday:
  Today, our day started early with breakfast at our hotel. Then off for our Grand Day Trip, which will take until early evening. Our tour stared with our guide Andersen picking us up near the hotel. Our tour was with four other couples … Andersen was a very thorough guide and spoke English very well.
  Our tour for the day included:
Roskilde Cathedral (the astonishing church with burial places of no less than 39 kings and queens)
Kronborg Castle (an impressive fortification that guarded the entrance to the Baltic Sea for six centuries, and is where Shakespeare's Hamlet lived)
Frederiksborg Palace (this is the largest and most beautiful renaissance castle in Scandinavia)
Viking Ship Museum (modern rebuilt models and excavated original ships from the time when the Vikings conquered much of Western Europe and ruled the North Atlantic)

Tuesday: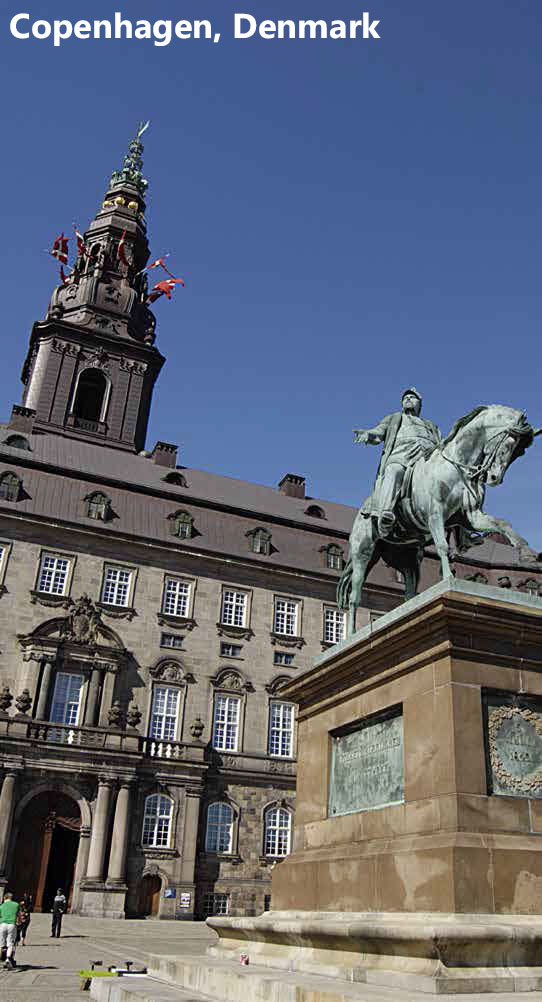 Our last full day was jammed to get in as much as we could. So our day started with breakfast, a quick bite at Starbucks. From there, we joined the Copenhagen Walking Tour, which would be for three hours. Some of our stops along the tour included: Copenhagen Town Hall
Tivoli Gardens
Danish Royal Palace
Hans Christen Andersen
Danish Parliament
Academy of Fine Arts
Stroget Shopping Mile

  After our tour, we got back on the "Hop on Bus". While in Copenhagen, below are some places you might want to put on your list:
Statens Museum for Kunst
National Museum of Denmark
Copenhagen Opera House
Museum Erotica
Royal Danish Playhouse

  We finished our day with what was again a delicious meal, this time at the Restaurant Barock in Copenhagen.

Wednesday:
  Today's our day to return home, we admitted we were very much ready to get back. Our non-stop flight was from Copenhagen back to SFO. Our flight was perfect and again we arrived on time. SAS is a great airline to fly, excellent on time schedule and with very courteous attendants. As always, I suggest paying to upgrade your seating, if you can, it makes a world of difference. Again, a big thank you to Wireless Rides for warmly welcoming us on time at the airport and taking us home.
  Scandinavian Splendor … & Many Memorable Smiles, indeed. It was such a great trip and such a wonderful time. We enjoyed sharing it with you. Until next time …