Europe's Low Country Highlights
Story by Rich Borell,
CEO & Founder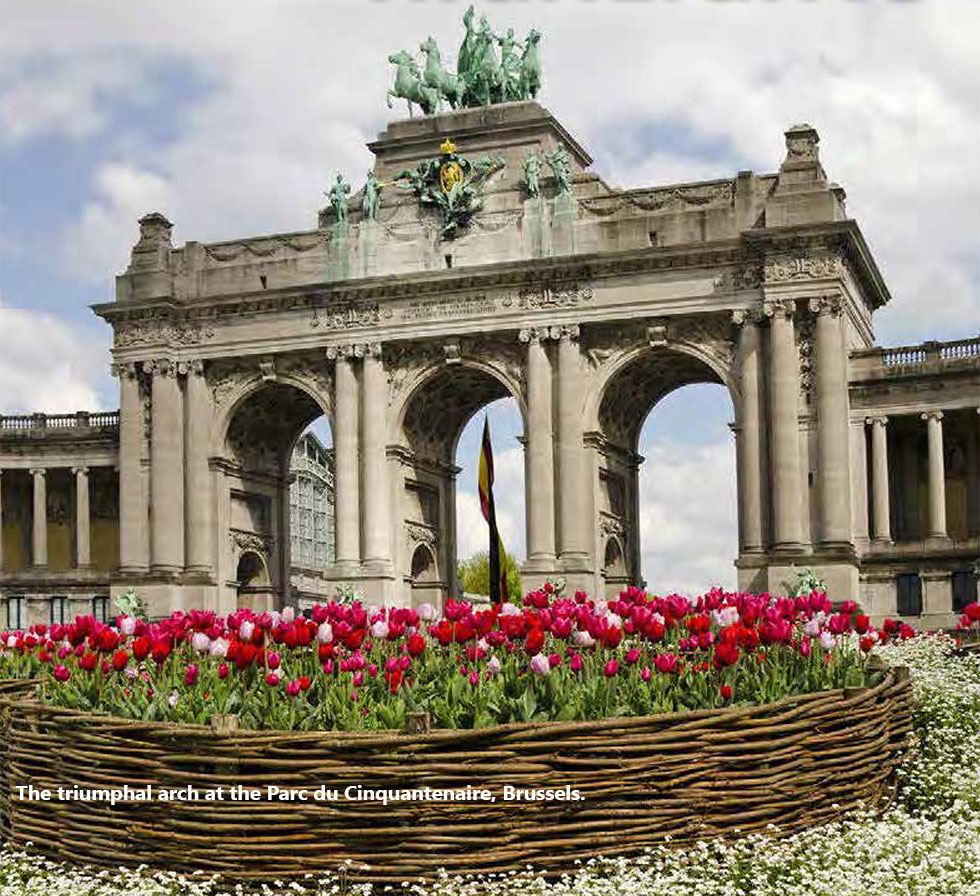 Hello Everyone, I want to share with you my itinerary from my recent trip to Europe. It was a whirlwind trip traveling to Belgium, Luxembourg, Amsterdam along with Hamburg and Berlin Germany.

  We booked our trip 6 weeks in advance using European Destinations Travel Agency. They had a very good website to navigate hotel upgrades and get enough info to plan our trip. We also spoke with one of their senior travel agents to put the final touches with private drivers to pick us up as we arrived in each of our destinations. What we like about them is they are available 24/7 which was a plus for us.
  Our trip started early on a Wednesday, with our flight originating from San Jose, our first plane change was in Denver, from Denver we flew to Chicago, then Chicago to Brussels. We had an uneventful flight, taking United Airlines along with their Star Partners. We arrived on time in Brussels the next day at 9:20AM.
  While in Chicago we checked in with United's customer service and was able to purchase and upgrade for a modest fee for the long flight to Brussels … very cool.

Thursday:
  We had a nice driver waiting for us –the drive to our hotel was about 45 minutes. We stayed at the Hotel Metropole in Brussels; a luxury hotel that was once a Palace. The staff at the Metropole were very welcoming, the hotel is in a good location close to major shopping areas, the rooms are good size and very clean.
  After lunch we took the hop on hop off bus to get acquainted with the city. Every two years the Grand Place comes alive in Brussels with a stunning flower carpet of begonias. They say there are over 100 volunteers and over a million begonias. This event brings out the locals and is a hot tourist spot.
  For dinner we wandered around and checked out various menu's and ended up at nice local restaurant, we took a table outside so we could do some people watching. I started out with a standard in Brussels, a bucket of mussels and Salmon. Our waitress spoke excellent English who lived in L.A. for a number of years. For dessert, of course, we shared a Belgium Waffle.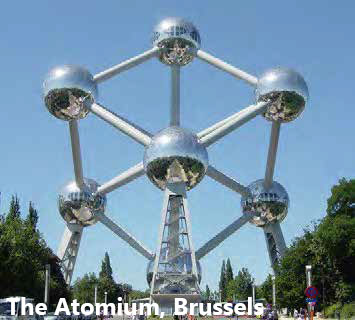 Friday:
  Our day started with breakfast which was included at the hotel. We started out getting back on the hop on trolley with our first destination being the Atomium, which was the main pavilion and icon of the 1958 World Fair.
  Representing an iron crystal, magnified 165 billion times; The Atomium offers the only true 360° panoramic view of the 19 municipalities. The whole thing is made up of 9 spheres (one at each of the 8 points and one in the middle) connected by 20 tubes (12 cube edges plus 2 tubes for the 4 diagonals): the structure rests on 3 pillars (or bipods).    
  After lunch we walked down to a park located at the foot of the Atomium called "Mini - Europe"
  Mini-Europe is the only park where you can have a whistle-stop tour around Europe in a few short hours. A truly unique voyage! Stroll amid the typical ambiance of the most beautiful towns of the Old Continent. While there you can enjoy some great shopping to bring home.
  For dinner we decided to check out the all new Hard Rock Café located in the Grand Place. The menu is complete with all your favorites like New York Steak, Twisted Mac, and Chicken & Cheese to one of my stand by favorites, Grilled Salmon. While there, you can enjoy some great rock memorabilia with some pieces from John Lennon, The Sex Pistols, Jimi Hendrix and Elvis Presley.

Saturday:
  Our day started out with breakfast at the hotel before our train to Luxemburg. Our train arrived on time; our driver met us and drove us to the Le Royal Resort Hotel. Our room was ready; the heat wave we left in the U.S. has certainly followed us to Europe. Luxemburg was pretty warm, in the high 80's.
  The hotel is ideally located, if you want to walk around downtown to enjoy Plaza D'Armas, shopping on the upscale stores, sightseeing or for eating at the numerous restaurants in the area. The breakfast buffet offers a great variety of choices of fruits, cereals and breads etc.
  Le Royal Hotel comes with a five star Spa if you're looking for a great place to relax. There's also a pool and sauna along with a fitness room.
  Things to check out while in Luxembourg include:
  Cathedral Notre-Dame
  William Square
  Palace of the Grand Dukes
  St. Michaels Church

Sunday: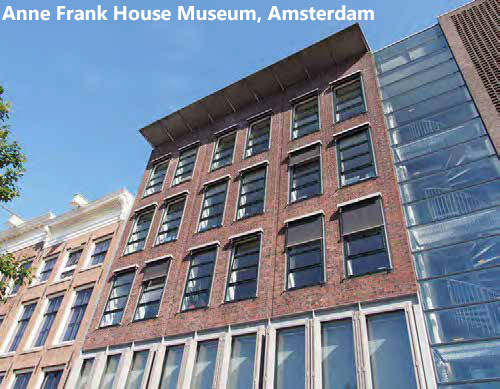 We did a lot of walking today, they actually had an upscale Flea Market where everyone brought their treasures out to sell; it was interesting so we spent a few hours browsing around. We also bought a pass for the hop on hop off to get a feel of the area. We had a 5:30PM flight out to Amsterdam with a brief layover in Munich. Our travel agent suggested flying as opposed to the train to save time, however it would have been nice to see more of the country.
  Our flight arrived on time around 10Pm we had a friendly driver pick us up; our drive was about 30 minutes from the airport. Our driver gave us the low down on Amsterdam. We arrived at our hotel around 11PM; fortunately, there were a few upgrades available so for our two nights we were able to get a nice room.
  While in Amsterdam we stayed at the Convent Amsterdam Hotel in one of their suites which provided ample space and comfort. The room was very quiet with a view of the street. The staff was very friendly and polite … nothing was too much trouble. The hotel is centrally located with access to all the major sites and all forms of transport.

Monday:
  Our day started out with breakfast at a nearby Starbucks, and a short walk where we stood in a long line to get into the Anne Frank Museum. The museum opens at 9AM, if you get there around 8:30 the line goes pretty fast, again, even at 8:30 the line was quite long. If you remember the story of Anne Frank, you will enjoy the museum as there's a large TV screen in most rooms that offers a narrative of the events.
  On display at the museum is the Academy Award Shelley Winters won and later donated to the mueum for her character performance of Petronella van Daan in the Diary of Anne Frank. You can see the award as it's displayed in a bullet-proof glass case in the museum.
  After Anne Franks we found a quiet place for breakfast. After breakfast we – yes found the hop on hop off bus, bought a ticket and journeyed to the Van Gogh Museum.
  This museum boasts the world's largest collection of Vincent Van Gogh which features over 200 paintings and several hundred drawings. If you happen to be there on the weekends, it can get crowded.
  Virtually across the street from the Hard Rock was the Heineken Museum. This was a cool attraction and a must see while in Amsterdam.
  You get to know everything there is about the history of the Heineken family, how they brew and of course the best part, sampling. It's about a 90 minute tour from start to end, lots of interactive activities. You also get a couple of drinks included with the price of your ticket.
  During the evening after dinner we took in a guided tour of the Red Light District. We had a great time; all I will say is that the Red Light District of Amsterdam leaves nothing to the imagination.

Tuesday:
  Once again, our day started out at Starbucks, we had until around 2PM in Amsterdam before we took a flight to Hamburg Germany. We did some shopping and finished at one of the "coolest" attractions in Amsterdam.
  For around 20 Euros you get to put on a large heavy coat and gloves to step into an ice freezing room with a bar and musical video. The price also includes a free shot of something that was pretty good. Did I mention your seat for the video is an ice block.
  Our flight to Hamburg left on time; we had a brief layover in Copenhagen Denmark and enjoyed a nice dinner at the airport.

Wednesday:
  Today, the heat wave finally left and it cooled down with a light rain as we did the "Great Walking Tour" in Hamburg. By the way this is a free offered by Sandeman Tours. The tour is just over 2 hours and gives you a great feel of the city, you will stroll through some of the bombed out locations during the WW2. Steve was our tour guide, great personality and very informative. Here are a few places you may want to check out depending upon how much time you have in the area:
  Emigration Museum
  Warehouse District
  St. Michaelis Church
  Planten un Blomen (beautiful botanical garden)

  In case you got to Hamburg after Amsterdam and need another fix, there is a Red Light District in Hamburg.
  While in Hamburg we stayed at the Marriott City Center. This is a great location as you're only a few minutes' walk to shops and some nice restaurants. The rooms are above average on size, plenty of amenities.
  For dinner we ate at the Restaurant Franziskaner. If you're looking for delicious Bavarian Food, this is the place. The owner was real cool, spoke great English. The waitress thought there was a problem since we hardly touched our food, but it was just that the portions were too much for us. Maybe, we were also a little full from enjoying some shots of Schnapps?

Thursday & Friday:
  Today we took the Ice Train which is the best way to travel; the trains are fast and comfortable. Our trip to Berlin would be a pleasant two hours. My only recommendation would be that they should have the stops also in English to alter tourists of their destination arrival.
  Our driver was on time, met us at the deck and drove us to the Ritz Carlton where we will be spending the final nights of our trip. If you want to travel and really feel pampered trust me, the Ritz Carlton is the way to go.
  While in Berlin, you will want to check out and get some pictures at Check Point Charlie. This was the famous crossing point between East and West Berlin during the Cold War. You will also want to check out the Berlin Wall Memorial. The memorial contains the last piece of Berlin Wall with the preserved grounds behind it and is thus able to convey an impression of how the border fortifications developed until the end of the 1980s.

Saturday:
  Like all vacations, this one was coming to an end. We have a 7:45AM flight from Berlin to Frankfurt, with a short layover then non-stop to Denver and finally back in the Bay Area.