Meet Marc Zimmerman, Executive Chef Alexander's Steakhouse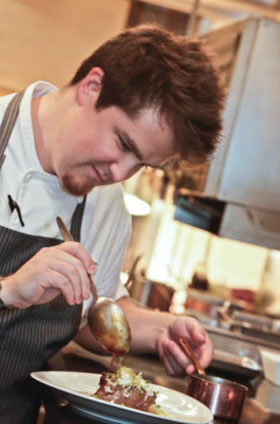 SVT: Where did you grow up, where did you go to school and what did you study?
MZ: Indianapolis Indiana, The CIA, Culinary Arts.
SVT: Who or what inspired you to become a chef? What made you decide to become a chef and when?
MZ: I'd always cooked. I originally went to school with music engineering technology as my major. I decided not to go that route and after several other majors, I finally decided that cooking is what I enjoyed the most.
SVT: How long have you been the Executive Chef at Alexander's Steakhouse?
MZ: June, 2010.
SVT: What do you love most about what you do?
MZ: Working with the farmers, foragers, wine makers, distillers, chefs, servers…everyone that goes into creating a memorable experience.
SVT: What advice would you give to someone thinking about a career as a Chef?
MZ: Don't rush the process, be ready to work hard, keep your mouth shut and your head down. Stay true to yourself.
SVT: What is your favorite meal to prepare or offer?
MZ: I love to barbecue and cook over an open fire.
SVT: Do you have in particular favorite items you love? Do your customers have in particular favorite items they love?
MZ: We're currently offering a mangalitsa terrine. I like what we've done with that dish. Guests like it, as well. We're also working with dry ages greater Omaha prime beef, and are about to harvest our first wagyu steer.
One of the things I enjoy most about SF is the open mindedness of our clientele. I'm not sure if there are any favorite dishes in particular but everyone that comes in can appreciate an awesome cut of beef.
SVT: Do you like to eat out at other restaurants and see what's cooking with them?
MZ: Yes. There's a great scene in SF right now. Chefs are working together to advance cuisine in the area.
SVT: How often do you change your menu?
MZ: I try to let menu changes happen organically. Sometimes we'll change an entire dish and other times it will be just a component. Season plays a big part in driving the menu and letting those changes happen naturally. Parts of the menu change daily, dishes change with season and what's available.
About Marc Zimmerman Marc Zimmerman started his culinary journey at the age of 14 in a small family owned Italian restaurant. Over the following decade, through the influence of different executive chefs and across multiple professional kitchens, Marc developed a deep passion for food. This passion led him to attend the Culinary Institute of America in New York, where he further developed his mastery of the culinary arts.

After graduating, he continued his education in the professional world by staging in a few of the most respected restaurants in New York City – Craft, Le Bernardin and Café Gray. Through these notable restaurants, Marc refined his skills in creating culinary experiences. Ultimately, the culinary boom in Las Vegas drew him to Nevada.

Marc started his career in Las Vegas at Lutece, an upscale French restaurant located in the Venetian. He later joined the kitchens of Nobu Matsuhisa and Takashi Yagihashi. These restaurants were instrumental in developing his appreciation for the subtle harmony and elegance of Japanese cuisine. Marc was eventually drawn back to French food as he became part of the opening team for Guy Savoy. It was at this two-star Michelin restaurant that he was able to further refine the intricacies of his haute French technique.

After Guy Savoy, Marc took a Chef de Partie position under Executive Chef Joseph Elevado at the high profile hot spot — Social House. Shortly thereafter, he was promoted to Sous Chef and then to Executive Chef at Social House's sister restaurant Company American Bistro.

In 2010, Marc moved to San Francisco to open Alexander's Steakhouse as Chef de Cuisine. Today, as Executive Chef, Marc develops the unique culinary experience at Alexander's. The restaurant has been recently named "New and Notable" by Wine and Spirits Magazine and "Top Ten Steakhouses in America" by Gayot.

Alexander's Steakhouse – San Francisco 448 Brennan Street, San Francisco, CA 94107 415-495-1111 | www.alexanderssteakhouse.com