Meet Tyler Mariucci, Assistant Athletic Director At The University of Maryland - Speaking On The Joys Of Academics, Sports And Life Itself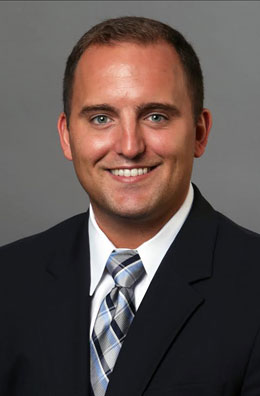 SVT: Where do you work and what do you do?
TM: I am working as an Assistant Athletic Director at the University of Maryland, College Park. I generate revenue through private and corporate donations for student-athlete scholarships and capital projects (facilities). Currently, we are working to close the gap on an $11 million annual scholarship bill and planning for a multi-million dollar facility campaign that will benefit our 500+ student-athletes.
SVT: Where did you grow up, where did you go to school and what did you study?
TM: Tough question! Because of my career in college sports, and my father's coaching career while I was growing up, I've now moved 16 different times and lived in 6 different states. However, I call the San Francisco Bay Area home. I received my B.S. degree in Kinesiology, with an individual course of study in Athletic Administration at Cal Poly (SLO), where I was also a scholarship football player, and received my M.A. degree in Kinesiology/Sports Management from San Jose State. I just recently graduated from the Sports Management Institute, through the University of Notre Dame, South Bend, and the University of Georgia, Athens.
SVT: Who and what inspired you growing up? What moved you (regarding your path) to do what you do and when?
TM: Having the opportunity to grow up and be around NFL Hall of Famers such as Brett Favre, Reggie White, Steve Young and Jerry Rice among others was pretty special. Although it was something I was always around, I never took it for granted. I mean, who else got to warm up Jerry Rice and Steve Young before practice for four summers!
With that said, my faith and family have been my biggest inspirations. My father has been and is still to this day my biggest role model. One other person I hold very dear is Dr. Cliff Daugherty, President of Valley Christian Schools in San Jose, CA. The story of building Valley Christian into a nationally renowned institution in academics and athletics over the past several decades is truly a remarkable story.
SVT: What do you love most about what you do?
TM: I love knowing that what I am doing is helping people reach their goals and helping them do it at a very high level. To see student-athletes compete in class and competition day in and day out and then one day become leaders in the community is very rewarding. To know you were a small part of that process is a special feeling.
SVT: What accomplishments are you most proud of?
TM: There really isn't one or two accomplishments in my life that I place above the others or "hang my hat on". I think if I look back at the sum total of my experiences, places I've been, people I've met and what I've done with those opportunities, I can honestly say I'm really happy and blessed to be where I am right now in my life.
SVT: What are some of the challenges, as well as successes, that you have experienced working in college sports?
TM: Coincidentally, I have worked at three institutions during a major conference transition. At Fresno State, we were transitioning into the Mountain West from the WAC, at Memphis we were transitioning from C-USA into the American (formerly the Big East) from C-USA, and now here at Maryland, this year we will have transitioned into the Big 10 from the ACC. All three transitions present the athletic departments with an enormous amount of change, challenges and financial pressure; however, in many cases, these challenges also present you with opportunities to re-invigorate the fan base, increase your level of competition, and educate your stakeholders of all the wonderful things your student-athletes are doing not only in competition, but in the classroom and the community, as well.
SVT: What is your personal philosophy or feeling about Leadership?
TM: Great question! In what I've seen, exceptional leaders have earned their respect and reputation through hard work and consistent excellence in whatever field they choose. To me, leadership is about choosing to take your God-given talents and abilities and using them to help others reach their goals. In a professional sense, the people I choose to follow are working in positions I aspire to have one day, and who also are displaying the type of sound character I admire.
SVT: Do you love to travel? What have been or are some of your favorite travel destinations?
TM: Along with seeing and living in all parts of the county, I have also had the opportunity to travel internationally to Central America, Italy, Greece, Paris and other parts of Europe. My two favorite spots have to be the eastern coast of the Adriatic Sea in the Mediterranean, and Lake Como in northern Italy. My dad once said, "When you die and go to heaven, you go to Lake Como" … I hope he's right!!
SVT: Do you have interests, hobbies, sports, that you love? Do you like to read? If so, what? Favorite areas of reading, authors or books? What are you reading now?
TM: I had the awesome opportunity to work and live in one of America's greatest and most historic cities, Memphis, Tennessee, the past two sport seasons. With the Lorraine Motel and Civil Rights Museum right downtown, I became very interested in the life of Martin Luther King, Jr. I just finished reading his biography and was deeply inspired by his service and sacrifice for humanity. He truly left an incredible message and way of life for all of us!
SVT: Do you like movies, music, theater, travel? In addition to favorite books, do you have favorite movies, music, plays?
TM: My closest friends and family know that I have a deep passion for music and the arts. I still play the guitar and even wrote and sang full length albums when I was younger. (Not going to hit stores anytime soon!) My two younger brothers had a band, "The Relay Company", that still sees a lot of success in iTunes. In all honesty, my brother's music remains my favorite to this day!!
SVT: Are there community causes or non-profits and activities close to your heart?
TM: My family has been heavily involved with Football Camp for the Stars, which is for athletes with Down Syndrome who love football, for almost a decade. Providing kids the most special weekend of their sports life, year after year, is one of the things we enjoy most as a family.
SVT: What advice do you like to share to aspiring students or people in general who want to improve in their careers?
TM: Stay in touch with the people you have come into contact or worked with. Don't be afraid to tell them what your goals are. Ask for advice from these people! Do a great job at the place you are currently at, whether it's in school, an internship or a first time job. Perhaps most important, be a positive influence to the people you are around daily! In my experience, the most positive people are the most successful.
SVT: What movie star would play you?
TM: Easy answer … Sylvester Stallone … no?
SVT: As in your case, and also your Dad, here is a question that I always would like to ask: Many or most people may go through life never having had the feeling or experience of a big, BIG win, i.e. winning a Championship.
I would like to ask, about that special feeling – you have had it in football, in school, as a QB and teammate, that you all worked very hard for, and have "now" experienced this special feeling (for a lifetime). Please comment.
TM: There is obviously a special feeling that comes with WINNING BIG, whether it's in sports, in business, in life. I believe everyone at some level at some point in time desires to be on top. I also believe competition is healthy and necessary and when someone loses their desire or their will to succeed, it can oftentimes be detrimental to one or multiple areas of their life.
That special feeling after a big win as an athlete, or closing a business deal, or landing that job, I have had it, and it is good, and it takes an extraordinary amount of hard work. But it's also important to recognize the smaller more frequent wins every day that are just as important. Lending a helping hand, holding a meaningful conversation or sometimes biting your tongue, avoiding temptation, accepting and respecting differences, showing a random act of kindness. These are ways to also WIN BIG! The reality is not all of us can win Super Bowls or become CEO's of major corporations, but we all can share that special feeling of WINNING BIG in our everyday opportunities around us. WINNING BIG doesn't have to be an every once in in a while thing, it can be an everyday thing.
About Tyler Mariucci
Tyler joined the athletic department at the University of Maryland as the Assistant Athletic Director – Capital Projects from the University of Memphis, where he served as the Assistant Athletic Director for Development. At Memphis, he managed the day-to-day operations of the athletic development office and staff, including major gifts, Tiger Scholarship Fund and the M Club. The Tiger Scholarship fund raised nearly $7 million annually for student-athlete scholarship support. During his time at Memphis, the development office saw a record amount of major gifts received and set an all-time record in number of luxury suites sold in Liberty Bowl Stadium. Mariucci has secured numerous major gifts towards capital projects and scholarships throughout his intercollegiate athletics career.
Prior to Memphis, as the Director of Major Gifts at Fresno State, Mariucci was charged with the oversight of The First Team Full-Scholarship Program and was directly involved with the identification, cultivation, solicitation and stewardship of $100,000 to $4 million donors for Fresno State's new-state-of-the-art Meyers Family Sports Medicine Center.
Additionally, Mariucci played a major role in a seven-figure gift to the College of Arts and Humanities for the preservation of an ancient American Indian language. Prior to joining the staff at Fresno State, Mariucci got his start as a High School science teacher, football coach and administrator at Valley Christian High School in San Jose, California.
A graduate of California Polytechnic State University (Cal Poly) – San Luis Obispo, Mariucci received his B.S. degree in Kinesiology, with an individual course of study in Athletic Administration in 2007, and his M.A. in Kinesiology/Sports Management from San Jose State University in 2010. Mariucci, the son of former NFL head coach Steve Mariucci, is a third generation collegiate student-athlete following the linage of his father (Northern Michigan) and grandfather (Michigan State).