Hollywood Vampires Raise The Dead Tour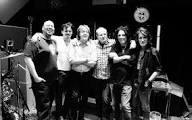 Nearly forty years later, Alice Cooper revived the name Hollywood Vampires when he hooked up with Joe Perry and Johnny Depp.

This warm July summer evening was the perfect setting at the Mountain Winery.  Security was extremely tight … more so than any other time I've seen it. I imagine with Johnny Depp in the house it had to be.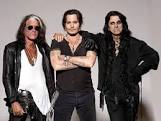 To all of those who appreciate classic rock, the Mountain Winery in Saratoga was certainly the place to be. This concert was high-energy from the start, with the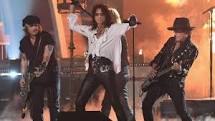 Vampires doing a tribute to honor the dead rock and roll legends.  The only way I can describe this concert … it was like watching one of the best Baseball All-Star Games – only it was of musicians.

What an amazing ensemble of talent.  I was extremely pleased that Joe Perry was there after his brief illness.  Since Aerosmith is one of my all-time favorite bands, it made it that much better.  In my opinion this is what a show should be like all the time.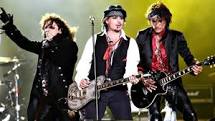 Band Members Included:
Alice Cooper – Lead Vocals
Joe Perry – Guitar from Aerosmith
Johnny Depp – Guitar
Robert DeLeo – Bass from Stone Temple Pilots
Tommy Henriksen – Alice Cooper Band
Matt Sorum – Drums from Guns N' Roses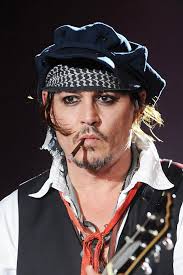 Johnny Depp certainly didn't disappoint the audience.  He showed up and did what he needed to do to prove he's a rock star himself.

The band performed a classic song tribute to rock musicians that have passed on. Alice Cooper and Joe Perry were flawless.

Song list of the evening includes some great covers:
I Got a Line on You – Spirit
Rebel Rebel – David Bowie
Suffragette City – David Bowie
Manic Depression – Jimmy Hendrix
Five to One / Break on Through – The Doors
20th Century Boy – T.Rex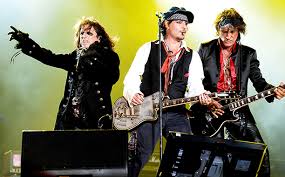 Bang a Gong – T.Rex
Come Together – The Beatles
Stop Messin Around – Fleetwood Mac
7 and 7 Is – Love
Whole Lotta Love – Led Zepplin
Ace of Spades – Motorhead
Pinball Wizard – The Who
My Generation – The Who
I'm Eighteen – Alice Cooper
Sweet Emotion – Aerosmith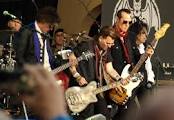 Encore:
Train Kept A-Rollin – Tiny Bradshaw
Schools Out – Alice Cooper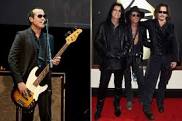 The real joy here is in the performances of Joe Perry and Johnny Depp.  Depp was great with the fans – always tossing a Guitar pic after every song and smiling and pointing to the crowd.

Hopefully you were able to catch the Hollywood Vampires at their recent stop at the Winery … it was classic rock at its best … after all who doesn't like to watch Captain Jack Sparrow strut his stuff!

Cheers!
Rich Borell
Founder & Publisher