Cuba: 5 Day Havana, Face to Face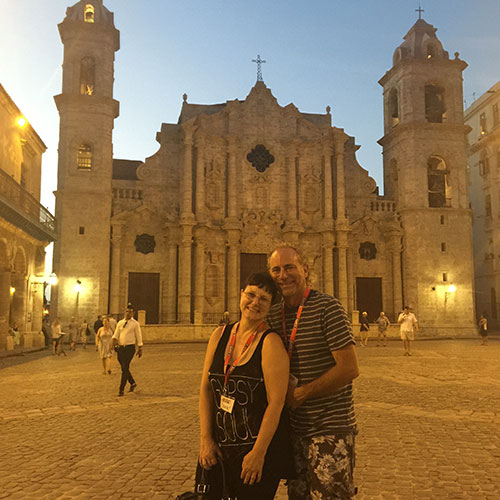 Hello Everyone,

I wanted to share my recent trip with you that included a weekend in Miami Beach before flying off to Havana Cuba.

Day 1:

Our flight was an early one leaving out of San Jose, with a brief stop in LA before going on to Miami.  American Airlines was our choice of airline for this trip.  Since we took the last two seats in first class to LA … this enabled us to have no cost luggage check in for the LA to Miami portion.  Flight was good, as we landed a few minutes early in Miami. 

We arrived around 5PM - by the time we got our luggage and took transportation to our room, we only had one thing on our mind …. As my wife would say "a nice long leisurely dinner."

We stayed right in the heart of Miami Beach at the Marriott.  We couldn't beat the price since it was on points and no cost to us.  Good location, very friendly and accommodating staff.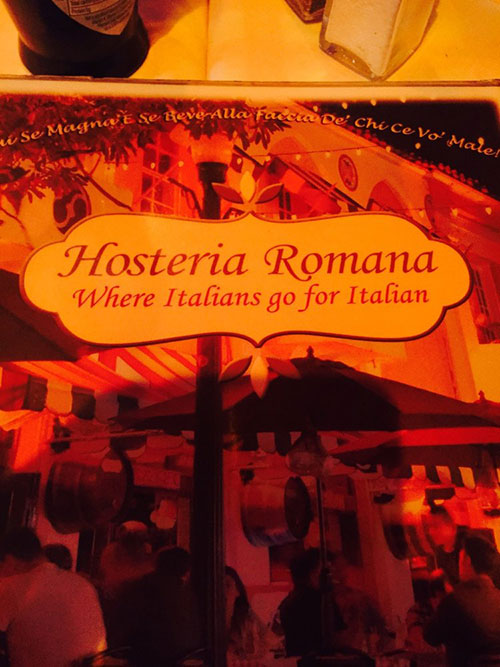 Of the several restaurants that we're recommended to us we chose one a few blocks away called, Hosteria Romana … Where Italians go for Italian!

To describe this restaurant in one word … I would simply say it's "Fun" – very loud music, the owner sitting at the bar singing along with every song as loud as he could.

Hosteria Romana offers up a full bar … my wife had her eyes on the pasta carbonara, my choice was Red Snapper, along with their fine list of specialty drinks and wine.  Everything was handled with attention to and every detail was given. … the food was delicious.

After this very long leisurely dinner we both knew our night was pretty much done.  We had a big day of being a tourist in the hot humidity of Miami, so we went back to our room for the evening.

Day 2:

Miami Beach is connected by bridges to mainland Miami and is a resort city on a barrier island between Biscayne Bay and the Atlantic Ocean. In the south area is South Beach, which is known as a destination for models and celebrities … a very wealthy part of town very much known for its art deco buildings. If you're looking for nightlife, you won't have a problem club hopping on the famous Ocean Drive that runs through the Art Deco District Nightlife

If shopping is your pleasure then you will find your treasure at the Lincoln Road Mall, famous for spas and specialty shops. You will find most visitors and locals hanging out on the beach or swimming in the Atlantic Ocean.

We hopped on the Bob Big Bus Tours which took us from Central Station along the scenic Macarthur Causeway and around the island of Miami Beach.

Our tour took us through some beautiful districts like Coconut Grove, Coral Gabels, and Downtown Miami and of course Little Havana.

We enjoyed stunning views across to the islands and towards the dramatic skyline of Downtown Miami from the causeway.

We also went along Millionaires' Row, the Venetian Pool, Biltmore Hotel, Freedom Tower, Country Courthouse and the Vizcaya museum.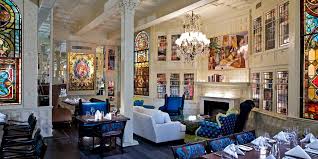 The Uptown Loop will take you through four diverse and unique areas of Upper Miami. You will see Wyndwood, Midtown, Overtown and Historic Downtown Miami. These distinct areas have a variety of museums, art galleries, historic areas and shopping.

Miami Beach is young by most city standards but its Art Deco District—containing more than 800 buildings dating from the 1920s to the '40s—has made it onto the National Register of Historic Places. The seemingly iconic candy colors of some of Miami's Deco buildings aren't original but were introduced in the 1980s as a preservationist's attention-grabbing tactic—the buildings were originally painted white with subtle pastel trim.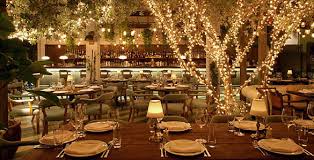 We wanted to end our weekend stay in Miami Beach in style, for dinner my wife had already made reservations in advance several weeks ago … our dining experience took us to "The Forge" restaurant – a   local landmark with upscale farm-to-table fare, extravagant decor & high-tech wine bar.

Probably one of the best and most delicious steak houses, I've ever had the pleasure of dining at.  The staff was extremely accommodating and caters to your every need.  I do think the "Forge" puts the "A" in ambience … it's simply elegant, lights are much dimmed that really sets the mood of your evening.

Yes, of course the food … my wife had the 8oz Center Cut Filet Mignon, my selection was the 12oz New York Strip.  Needless, to say, for the two nights while in Miami Beach, we definitely scored big time on fine dining.  We started out with the Tuna Tartare, shared a nice Kale Salad along with our entrees, for our side we shared the truffle Mac n Cheese … oh, so good, we finished the night off sharing a delicious Spiced Apple Bread Pudding … ingredients you ask?  Bourbon Apple Carmel, Chantilly topped with Vanilla Sugar Pecans.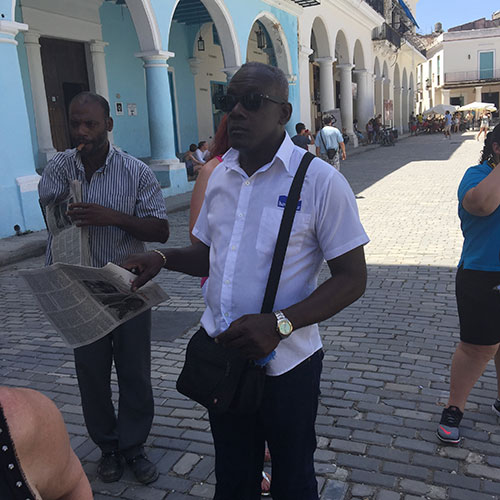 Day 3:
Today we did some shopping for some things to bring back.  Our day also included lunch at the Hard Rock Café. 

We changed hotels to meet up with our American tour guide and fellow travelers.  So we packed up and went to the Crowne Plaza at Miami Airport.

This evening all were invited for a welcome dink, then we adjourned to a meeting room set up so we could learn more about what we were going to experience the next several days while on our Education Tour in Cuba.

Our American Tour Guide Carole Cloonan, is based out of Ft. Lauderdale Florida.  Carole's job is to keep the group informed of the dos and don'ts while in Cuba along with filling in the blanks with our Cuban tour guide. After we all introduced ourselves, Carole was very detailed on what we were about to experience the next days in our lives.  We reviewed all our paperwork, signed additional forms … only thing left and she already made sure that was going to happen … our 4AM wake-up call in the morning.

Day 4:
Our day started out early, lots of lines and different people at the airport we had to show our paperwork and visa's to.  Gate 1 Travel, was very good about making sure we had all the right documents which included our visa for Cuba.

Here we go … we're finally off on our chartered short flight of just 43 minutes to Havana!  We landed around 10AM local time.  The Havana airport reminded me of San Jose Airport … about 30 years ago.  Carole asked us to stand at a certain location … she had a ground team along with a few volunteers that would bring us our luggage.  Before getting into the luggage area, we went through customs, it was optional for the custom agent to stamp our visa book, Carole said if you ask nicely, they would … every one asked nicely and we all received our Cuban stamp on our Visa's.

Once we had our luggage we were directed outside where we met our Cuban Tour Guide Romero … a well-informed local who has done many tours and would give us the ins and outs of Havana.

As our bus departed from the airport we see a large billboard of Fidel Castro … for sake of explaining what it sad, let's just call it typical Fidel Castro American propaganda against America and leave it at that.  Anyway, we hit the ground running on this day which included some of these highlights: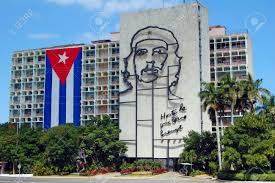 Our panoramic tour took us past the busy Vedado area to the iconic Plaza de la Revolución with its towering José Martí Memorial.  We then paid a visit the Museum of the Revolution, housed in an ornate former neoclassical building that once served as the Presidential Palace.  Next up was a walking tour that reveals beautiful La Habana Vieja (Old Havana), the historic heart of the city, declared a UNESCO World Heritage Site. We strolled the charming cobblestone lanes and admire the 16th century buildings being lovingly restored and transformed. Lunch at a restaurant on the seaside Malecon promenade introduced us to Cuba's savory cuisine. Then, on to Finca Vigia, home of Nobel Prize-winning novelist Ernest Hemingway who lived in Cuba for over 30 years and left behind an enduring legacy. At the nearby tiny fishing village of Cojimar, we viewed Hemingway's boat and the monument built to honor him.

Tonight, a fun-filled evening! Meet members of the Old Styler Car Club and then a ride together in a colorful vintage "Old Styler" car to a local restaurant for a Welcome Dinner.  After dinner we took a short walk and listened to the thunderous cannon blasts coming from the fortifications across the bay; the traditional "Canonazo Ceremony" has been held every evening since the 17th century!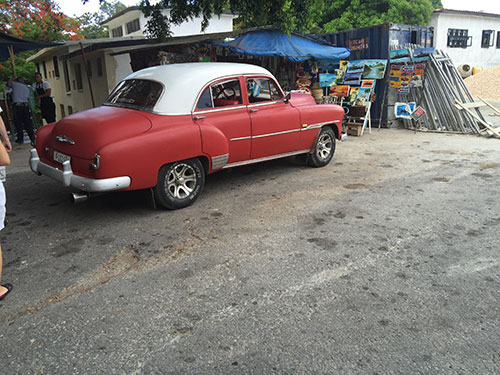 Our home the next few nights would be the Memories Miramar Resort Hotel … I think it really should be downgraded to a 2 Star but, we were warned about accommodations.

Even though we didn't break our backs sleeping … it was really just a box spring.  This hotel, needs to be updated badly if they want to lure American tourist in the future.  Thankfully, they did have "toilet seats" yes, you will not find a lot of toilet seats in restrooms in Cuba.  Also, it's like our trip to Egypt, if you want toilet paper, hand towel, soap, you will need to tip the person at the entrance.  Anyway, we were thankful our AC worked as we left it cranked up while we were out of the room.  One thing, I would suggest, take good care of the person who cleans your room … tip them well, you will get extra towels and anything else you may need in a hurry.

For dinner we all got to ride in a colorful vintage "Old Styler" car to a restaurant called Le Rum Rum.  Much to my surprise, the food on our first day was excellent.  We have a great bunch in our group … there were a few during the week that would show up late, but it's to be expected.  During our dinner we had a young lady on the Violin and gentleman on the Guitar serenade us as we enjoyed our dinner.  My Mahi Mahi was excellent, the best I've ever had.  Of course the traditional Cuban Highball is the Mojito that consists of white rum, sugar, lime juice, soda water and mint.  We not into mint in our cocktails, so we always ordered something else from the bar.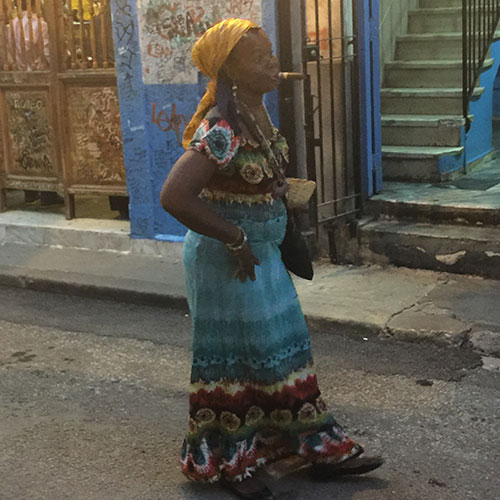 Day 5:

Our first stop today … it's one stop we all wanted to make … a Cuban Cigar Shop.  Romeo helped give us an overview of some of the Cigar and Rum selections we could make.  We were allowed up to $100 in Tobacco and Alcohol, all together no more than $400 in souvenirs.  Our Cuban tour guide, also warned us not to engage with those on the street selling cigars … as he witnessed the week before, once the police take us for trying to buy cigars on the street … there is nothing he can do to help us.

Today our tour took us through to the bustling San Jose Craft Market with an opportunity to view diverse expressions of Cuban art as we got to interact with some of the resident artists housed in this renovated warehouse built in the 1880s. We had about an hour of shopping time.

Then, on to the Santo Angel neighborhood where we met members of the community and learn how the project was founded to better the neighborhood by offering services such as a beauty school, community cafeteria for the elderly, art galleries to enrich the neighborhood and more. After lunch at a popular restaurant, be prepared for outrageous sights as we arrived at Casa Fuster, also known as "Fusterlandia," the bizarre studio of artist José Rodriguez Fuster.

Most famous for bringing the amazing designs of Gaudi and Brancusi to Cuba, he has adorned the surroundings of his studio enclave with brightly colored sculptures and mosaics. Truly a sight to see! Later, we met a young Havana resident for an informative conversation about life in Cuba today and perspectives on Cuba's past, present, and future.

Day 6:

Today begins with a visit to a community Senior Care Center.   Then, on to the organic urban farm of Divino, to hear about their involvement with the community, including an elderly center they run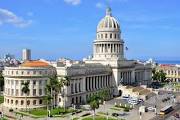 onsite and their goals of providing fresh products to the community. We savored some of Cuba's latest cuisine at a nearby highly praised restaurant using fresh products from the farm.  Our day concluded at a studio for local and international artists featuring murals and sculptures celebrating Cuban life.

Tonight, we had a festive Farewell Dinner at one of the unique family-owned restaurants in Havana offering wonderfully prepared food along with a traditional setting. Our evening concludes at a performance of the renowned Buena Vista Social Club, well known for their traditional Cuban music.

Day 7:
Well it's Friday, we have an early wake-up call to get to the airport early.  Again, many hoops to jump before we can leave Cuba.  The night before we sold most of our Cuban money back, tipped the appropriate people and got packed.

While at the airport we noticed on the monitor that our flight was delayed, we finally received word from our tour guide that our airplane in Miami was having mechanical problems.  We're hoping that we can catch our flight soon, we had plans to see the Florida Marlins play the Cincinnati Reds tonight.

Well, six hours later, we're finally off to Miami … it was a very long wait at the Havana airport.  By the time we checked into our room in downtown Miami at the Grand Marriott, we just didn't' have enough time to get to the ballpark.

Instead of baseball and hot dogs we walked down the street to a very upscale restaurant in Miami  ... the Capital Grille restaurant.

The Capital Grille is a chain located throughout the country, unfortunately, there's only one location in California in Costa Mesa.  The last time we ate at one was in Seattle.  If you dine at the Capital Grille, I can promise you it will be very expensive … but there's a reason for that.  You can always count on great food and exceptional service.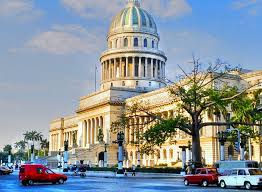 Some people may argue the point that Ruth Chris is better … maybe … maybe not.  Dining at the Grille, you can always count on delicious food, exceptional service, accompanied by the perfect ambience.

We started out with the Tuna Tartare with Avocado, Mango and Sriracha.  It was loaded with Tuna stacked over fresh avocado and served with spicy Sriracha.  Next we shared the Spinach Salad with Warm Bacon Dressing, tossed with a savory warm bacon dressing.

My wife had the Seared Tenderloin with Butter Poached Lobster Tails … she did agree, it is the ultimate steak and seafood experience.  I had the Bone-In Ribeye - 22 oz. … cooked perfect to my liking.  We also shared the Lobster Mac 'N' Cheese … taste as good as it sounds, along with some roasted wild mushrooms.  For dessert we shared the Coconut Cream Pie, house made with a rich Carmel sauce.

For cocktails, my wife likes to dabble with any type of specialty drink that sounds good … tonight she sipped the "In Fashion" – that included Russell's Reserve 10 Year small batch bourbon, Grand Marnier and black walnut bitters, served over an orange ice sphere with an amarena cherry. I stuck with my usual, Amaretto Sour and a glass of Merlot for dinner.

Going Home:
It's Saturday, we had an early flight … we touched down safe and sound around Noon. This was a short trip however very memorable.  If you want to have a great adventure, I can definitely, recommend a trip to Cuba.  I'd like to thank our fantastic tour guide, Carole, she helped make the trip extra special.  I can also give a solid recommendation to Gate 1 Travel.

Happy Travels!
Rich Borell
Founder & Publisher