A Conversation With Dave Righetti, Pitching Coach Of The Three-Time World Champion San Francisco Giants


They call him "Rags". Dave Righetti was born and raised locally, in Willow Glen, San Jose. He enjoyed a 16-year major league pitching career and iscurrently in his 16th season as the extraordinary pitching coach of our three-time World Series Champion San Francisco Giants. Three World Series Championships in the last five years. It's very special, as was our conversation.

What's It Like Being Dave Righetti?

I'll be honest with you, it feels good. You get in this mode, coaching in baseball, and fortunately it's easier to stay in the game longer as a coach than as a player. There's nothing else I'd rather be doing. It's great, but there's also the heartache. If you don't win the World Series, you're considered a loser. Unfortunately, many don't have this gratification of winning at the end. There's only one team in 30 each year that does.

The Giants moved to San Francisco in 1958. There have been many great players and many great teams. In all those years prior to 2010, they hadn't had this great experience of winning it all, not like we have, in 2010, 2012 and 2014.

"The Giants Win The Pennant!" What Does That Feel Like?

To see the faces of Willie Mays, Willie McCovey, Orlando Cepeda, Juan Marichal and Gaylord Perry, each time when we won the World Series, it's been priceless, so gratifying. When I was with the Yankees, the old-timers all had rings. These past five years, when relaxing during our off-season and watching a 49ers or Warriors game, the thought, the feeling would come over me, 'Gosh darn it, we won it!' It's such a great feeling. You win as a team, as a city … something everyone will remember and they so appreciate.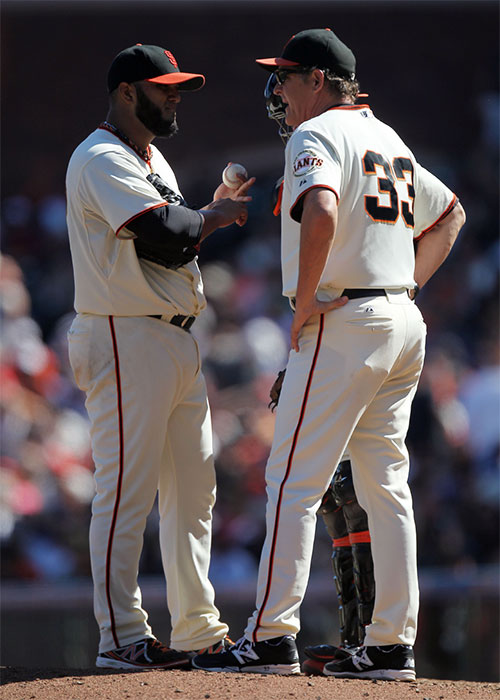 Is There A Magic Formula To Winning?

There are people who have been here, it seems, forever. Somewhere along the line, you're grateful for that longevity. With the Yankees, I saw 14 different managers come and go … Billy Martin four of those times! Lou Pinella twice! Just in my time. It just doesn't work well; it wears guys down.

The reason the Yankees started winning again, was Joe Torre came in to manage. The core got good and stuck together. And you build around that … fill in for players that don't fit. It became good when Joe Torre came around. He calmed the boat, things settled down, and together they kept the pieces together. Sounds a lot like us, with Boch, and where we are as a team and an organization, today.

This Attitude of Winning It All, Where Does It Come from?

Here, we thought it was going to happen even sooner than when it did. With Larry Baer and Brian Sabean and the scouting team … the fabulous ownership group that's put money into this team, starting back in1992, and the building of our beautiful ballpark … I'm very happy for these folks.

It's an amazing organization. They treat people really well. They understand the team, the organization, the community. I cannot believe the stamina of Larry Baer and everyone in the front office. It's a love affair between the team and the community and the community with the team. It's working out, I can tell you that.

A Special Moment, What Was It Like Throwing Your No-Hitter?

It was July 4th, 1983. That day, that moment, made me feel very good, and over the years you just don't forget it. It was against our rival, the Boston Red Sox. It was Yankee Stadium. It was Lou Gehrig's Day … AND it was also George Steinbrenner's birthday.

And the YES Network (the Yankees TV Network) plays it every year, all the time. Now, it's a good thing. But then, I was kind of afraid. You know if George saw your name in the paper too much, it wasn't a good thing. There was a mentality there for a young guy, 'Don't get too big for your britches'. It was a 'They could send you out of here' kind-of-thing. I was leary of that when I did it. I was happy we won the game and we beat the Red Sox, but I was still afraid.

It was also the All-Star "Getaway Day"; it was like 'Spring Break', where everyone immediately took off following the game. After my interviews, everybody was pretty much gone. They got three days off, they had their packed suitcases with them at the stadium and they left. When I walked into the clubhouse, there weren't many guys left.

So, too, the team record for saves. It was something that just felt natural, not like today, where everything is so celebrated. I held the record for a long time (it was not until years later when Mariano Rivera broke it). But if we lost, if we didn't win the World Series (which happened each year I was there), it was awful.

I didn't have a family there, I didn't have kids, yet, back then; so, who could I enjoy it with?

Over the years you finally start to appreciate it. But until then, when you're not winning championships, there wasn't all that much to celebrate. Your Greatest Moment?

Indeed, by far, my marriage to my wife, Kandice and the birth of our three wonderful kids, beautiful triplets. It was hard when the triplets were born. I was with the Giants then, and we were on the road in Montreal, about ready to come back home. It was early yet when I got the call that the babies would soon be born, I would be back in time for everything, or so everyone thought.

The moment came, and proceeded, quickly. Our three came prematurely, and to this day, it's painful for me that I wasn't there. And also you always want the very best for your kids. Being triplets, it was a challenging delivery. Today, they are all doing awesome. To see them doing their things and finding their niche, it's so very wonderful. I couldn't be happier or prouder.

What's It Like Being At The Ballpark?

The coaching staff, and in particular, Gardy (the Giants Bullpen Coach, Mark Gardner) and I, are all very close and work very well together. You know this family thing we talk about? When you are together for such a long period of time, you are lucky. There's no story book ending all the time. You know, the Brady / Belichick winning / success tandem is what everyone strives for.

In our game, it's about consistency and being good. I'm happy to be around that and coach that. If not being able to share that, then it'd be just a paycheck. For me, for us, it's all so much more, so much about everything else. I feel we couldn't be more fortunate or love more what we do.

Do You Have Heroes?

Yes, my parents … and the people I grew up with. For example, the
mailman, the milkman. These are the people I saw all the time, they were our friends. These were my role models. I 'lived' at the bowling alley. My parents bowled and I kept score. My father was a truck driver and my friends from school all went to community college or trade school. It was a simple life … that's all I thought of being. Once I got to New York, the dynamics changed. It was the largest city in the world … and with so much going on.

Were You Close With Anybody In Particular?

Yes, everybody. I got drafted at a young age, at 19, by the Texas Rangers. There were a lot of guys from my home, from the Bay Area and California, on the team when I got drafted. "Paddy" Cottrell was the scout for the Rangers and was from here. He was the outstanding baseball coach at Santa Clara University (and had also been my father's Quarter Master in World War II). He wanted to draft me, and people like that, of course, you listen to. They have been around and they have seen a lot. Back then you didn't have many people telling you things; but, bits and pieces from someone like "Paddy", for me, it was big.

If you got any advice, it was helpful. Remember, there was no video. My father had been an exminor league player (with the San Francisco Seals!). He played for 14 years. He couldn't tell me how to pitch. But what he did do, 'You know this fellow at that school, he's pitched, go ask him'. My parents were my role models.

In a funny way, George Steinbrenner was, too. You wondered how he did so much of what he did, but you had to admire him. In the sports world when you think of greatness you think of achievement, and in society you have to earn it. You feel you have to keep your eye on it, or someone will come along and take away your job. Those mentors stayed that way for me. People like Don Mattingly, Willie Randolph, Ron Guidry were like brothers. Guidry was my locker mate.

Who Can You Talk To … Anyone?

Can you talk with Don Mattingly? We're very close and, of course, Don is now the manager of the rival Dodgers. We'd love to, but the players don't like it if we talk before a game. We'd love to talk … and, of course, we wouldn't share anything. We have the highest respect for each other and that will never change. Another is Matt Williams, now the manager of the Washington Nationals. We were locker mates for three years with the Giants. Mike Matheny, manager of the St. Louis Cardinals is, yet, another; I coached Mike here with the Giants, and Mike Aldrette, his bench coach. We were teammates and close friends. Bob Melvin, manager of the Oakland A's is, yet, another; he, Bob Brenly, Matt Williams and I have always been very close … we still are and always will be. When we won our championships, yes, I heard from my former Yankee teammates … and many others, as well … from all around. Yes, a ton!

A Love and Appreciation For The Game …

When the old timers came in for Old Timer's Day at Yankee Stadium, we let them share our lockers. Mine, I shared with Lefty Gomez. It was such a thrill for me to see him and everyone there. For a young guy, and being a Yankee, it was a huge thing!

I wish the Giants held an annual Old Timer's Day. The Giants do a lot for their alumni, but I think this would be great, much like it is every year in New York … for the players and the fans. In New York you had two wants – One was to make the team and be there for Opening Day because Opening Day at Yankee Stadium is something you just can't explain. And two, Old Timer's Day, you need to be there for that. Indeed, having your picture taken on Opening Day and for Old Timer's Day, there's nothing quite like it.

You know, when we won our three World Series Championships, all three were on the road. It's too bad that we couldn't do it in front of our fans. But, each time, with the ballpark afterward being empty, it allowed us to come back to the field and soak it all up – which I would do. This last series, vs. the Royals was especially meaningful for me. The Royals were our big rival when I was with the Yankees. Those were the George Brett years, so to beat them is always big. And the Royals pitching coach, Dave Elland, was my teammate from the Yankees.

What's This About The Energy, The Magic, The Particles?

How do you explain how the team keeps coming back, there being such magic in the air, particles? Tell me sports aren't important. They are. We all know they are.

Speaking of "Pep Talks" … They're not easy. They have gotten bigger perhaps because of football and TV. But in baseball you have been at it for 162+ games, working together for eight months, and how to keep everyone's attention? Do they really need to be motivated at this point? Maybe a meeting to come together and relax?

It's an art. Boch does it as well as anybody I have ever seen. Whatever Boch does, it's always very good. Hunter Pence? The players encourage Hunter to speak. It's motivating. It's not boring… that's for sure. It might take some needling from his teammates, like Buster, for example, 'Come on, come on, we need you to do this.'

Buster Posey, What Can You Say About Buster?

He's truly amazing. I felt when he came up, he was young and great from the start. He replaced Bengie Molina, which was huge, because Bengie was very popular. There was room for only one regular catcher. Buster, along with Tim Lincecum, Matt Cain and Madison Bumgarner, formed quite a core of young starters … and Buster brought a kind of energy and confidence that inspired everyone around him. Our relievers have been a constant. They have all stayed intact all these five years and have been stellar, working so very well together with Buster.

Since Buster arrived, he always sits next to me on the bench and he vents. He says, 'If I can't vent to you, there's no one else I can vent to'. Our relationship is solid … as it is with everyone here. There's a rhythm. There has to be a rhythm, if you're going to do this over and over and over again. If we can stay healthy, we have that rhythm.

Are You As Excited As Ever?

Yes. Quite honestly, I feel we can do this again, that we're on a good run. I hope so. We all do.