Larry Baer, President & CEO SF Giants
It's A Wonderful Life, circa 2013. Imagine San Francisco without our beloved Giants and where everything south of Market would be nothing but old warehouses. Far fetched? Not at all. The Tampa/St. Pete Giants? It may not sound right, but it was so close to happening.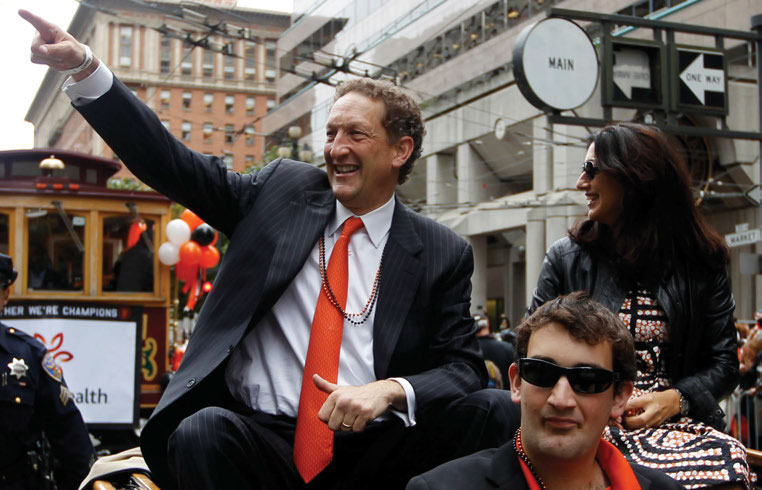 As I drove to meet with Larry Baer, the President & CEO of the San Francisco Giants, in what has become beautiful SOMA, it felt like a  dream come true. Had it not been for Larry Baer, who back in 1992 partnered with Peter Magowan and a group of civic-minded investors, none of the San Francisco Giants, AT&T Park and two World Series Championships would be here today. Instead, we would have struck out and our City by the Bay would have been the baseball equivalent of Mudville!

Larry could not have been more gracious. For all the Giants' success, it's always about everyone else. He genuinely prefers it that way, truly a Team effort.

Larry is a native San Franciscan. He attended Lowell High School  and graduated Phi Beta Kappa from UC Berkeley with a
degree in Business. He then in 1980 went to work for the Giants as the Director of Marketing before leaving to attend Harvard
where he got his MBA.

Following graduation, he worked as a special assistant to Lawrence Tisch, the Chairman of Westinghouse Broadcasting (CBS). In the early 1990's, Larry was in New York, when he learned about the Giants being close to being sold and moving to Tampa/St. Pete. Larry promptly called Peter Magowan, his CEO friend at Safeway, and they worked diligently at creating a local ownership group to save the Giants. That was 1992 and, fortunately for San Francisco, they succeeded – and the future since has been so very bright.

With the sale behind them, the questionbecame "what were they were going to do?" They poured money into Candlestick Park to improve the stadium for the fans. They lost money doing that, but felt it was the right thing to do.
 
The Giants desperately needed a new ballpark. There was fear that a ballpark in SOMA would create a traffi c nightmare. Larry again worked diligently to ease the neighborhood concerns in defense of this valiant cause. He felt it was essential to have open communications and good relationships with all the potential neighbors.

Under the previous ownership, public fi nancing for a ballpark was voted down four times. What to do? In 1995, the Giants unveiled plans for the first privately-financed Major League ballpark. From 1992-on, this was the beginning of what Larry refers to as: "A Dream Sequence". Larry and the ownership group had a vision of a special ballpark. With this in mind, Larry went to visit some of the newer ballparks. When in Denver, visiting Coors Field, he read an ad in the paper: "Beautiful condominiums just a block and a half from the ballpark." What? A beautiful and vibrant residential area surrounding the ballpark? Could that be? - Hello SOMA.

From his conversations, he envisioned a combination of Camden Yards in Baltimore, Jacobs Field in Cleveland and Coors Field in Denver. All beautiful ballparks. For San Francisco, the team also wanted to utilize what we had here – the Bay and such beautiful scenic views. Thus became what Larry likes to call: "Where Wrigley Field Meets Camden Yards". Representing the past and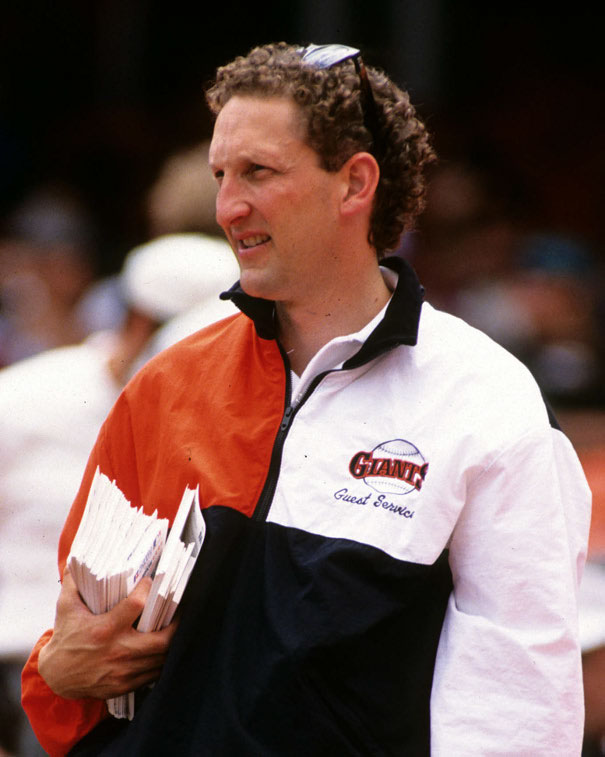 present, a beautiful place we all can go, to escape the real world … and appreciate such a ballpark, community oasis … where every day and night, truly a special, fun and exciting experience and place to be.

The vision of AT&T Park (then Pacific Bell Park) became a reality and opened in April, 2000. It has drawn each year more than three million people in baseball attendance, nearly double the average yearly attendance at Candlestick Park. Currently, season tickets are at a maximum, all-time high.

Larry also talked about the joy that's behind the Giants' FOUR businesses. First, they are in the Baseball Business. They are the defending World Series Champions. Two times in the last three years. Currently, they are a young team, sprinkled with seasoned veterans. There's much to be grateful for and to look forward to.

The Giants are also in the Entertainment Business. In addition to baseball, they host another 120 non-baseball events a year. This includes concerts, football games, corporate events, etc. A third business is that they own one-third of Comcast Sportsnet. The Giants are extremely happy with this very popular network. They're also tremendously pleased with the Giants announcers — "they're the best!"

The fourth business is another vision they are also very excited about. It's called:
Mission Rock. This soon will be a beautiful development – a 27 acre, $1.6 billion and sixyear project in the making. Just south of AT&T Park, this creation will be: (1) A spectacular Waterfront Park that can accommodate 5,000 people for outdoor movie nights or community festivals. (2) An energetic and inviting environment with wonderful shops, cafes and galleries. (3) Anchor Brewing will expand its operations in a restored historic Pier 48. (4) An exciting place to work with some 1.7 million square feet of office space for nearly 7,200 employees. (5) A dramatic waterfront living experience with new homes for up to 2,000 people.

This will generate 7,000 jobs, hundreds of millions of dollars each year in tax revenue for the City and for the businesses located at Mission Rock. As Larry said: "We want this to become another beautiful hub for the City."

Larry then talked about the meaning of baseball and what in particular the Giants mean to the community. He loves how he sees people everywhere wearing their Giants jersey or shirt or cap with pride. Larry, in fact, has his own Giants jersey. I saw it hanging on the inside of his office door.

Special moments? There are many. In particular, he expressed how heartfelt it was to experience the two World Series Parades. He thought of how special it must have been back in 1958 when The City welcomed the Giants to San Francisco. And, now, how great it was to experience the nearly one million fans who came out to cheer them on – twice. He rode in both parades with his family and how happy and proud he was, and is, for everyone. "We are indeed so very grateful."

Together We Are Giant … Together We Are Champions… has taken on a special meaning, literally and figuratively. None of this would have been, had it not been for Larry Baer's vision and leadership. As Larry, however, would be the first to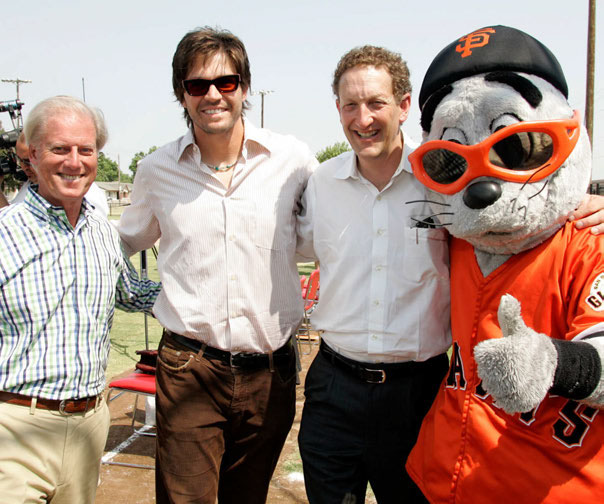 say, it's all about everyone … the players, organization and fans alike …it's a total Team effort.

Lastly, we talked further about the 2012 Playoffs and World Series. The Giants had SIX elimination games in the playoffs vs. Cincinnati and St. Louis. Lose any one of those six games and, it would be over, we'd be out. Larry said: "It's a good metaphor for what we are as an organization. We never gave up. We purchased the team … then we built AT&T Park…… now we are two-time World Series Champions! We have worked hard, yes, and will continue to do so. We look forward to more successes for our faithful and adoring fans."

Like in the Field of Dreams: "Build it and they will come" - they have. Millions each year. For Larry, it certainly has been, and is, a dream come true. He lives it and loves it … every day. He has always loved his City and his Giants and you can certainly sense that special spirit that's centered around 24 Willie Mays Plaza. It's such a wonderful vision that has become an ongoing tradition … it's a lot more than just a game … "we're in the Happy business" … so glad the Giants are here to stay … for all of us to enjoy … and for generations to come.