Lew Wolff, The Special Magic That Is
Iarrived early at the Oakland Coliseum to meet with Lew Wolff, the Owner of the Oakland A's, the San Jose Earthquakes, plus the owner of some of the nicest hotels and the developer of some of the nicest offi ce buildings - anywhere. It was just a few hours before game time.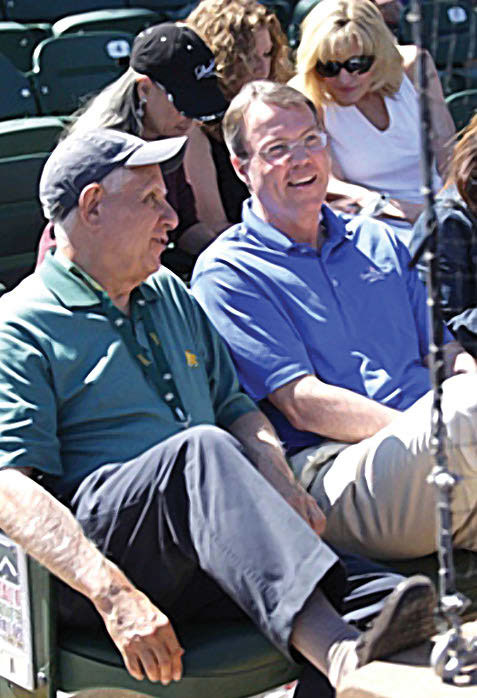 "Come on in", said the friendly gate attendant. "It's Tuesday – parking is free on Tuesdays. Have a great time – enjoy the game!" Happily, I proceeded to the Executive Offi ces. Once there, Maggie and then Carolyn greeted me with the warmest welcome imaginable. Maggie has been with the A's since 1981 and Carolyn since 1989 – there was such joy with them and everyone. I believe it comes from the top.

Right there, to Maggie's right, was an amazing sight – there they were: FOUR World Series Championship Trophies: 1972, 1973, 1974 and, yes, 1989. Yes, a storied history. Suddenly, my next stop, a very warm welcome from Lew Wolff himself. We had met once before, he was the keynote speaker at a Community Leadership Breakfast.

Let me start out by saying that Lew likes the concept of Positive Role Models and Heroes. He smiled the entire time we were together – and always was so quick about praising everyone else. When I started mentioning all the awards he has received, he simply shrugged it off. He does so much and cares so much about community, and people in general, especially children. "All we want to do, is touch all our fans, especially the kids, and do good things. We want to create joy in areas we often can't control – such as illness or adverse circumstances."

Lew expressed how the A's strive to provide a friendly environment, parallel with other Major League Baseball teams. They also take great pride in their "tremendous community outreach", outside of baseball. Lew was quick to say just how very proud and grateful he is for the partnership with the Fisher Family. He wanted it known that they are one of the most solid and charitable families he has ever seen and how fortunate we are because of them. "They have done so much for our community."

Lew has been involved with a number of charitable causes, in particular: "Stand Up For Cancer". This also happens to be Major League Baseball's largest charity. As he eloquently puts it: "It seems we all have been touched, by cancer … or know people who have". When the decision of where to host the premier of the movie "Moneyball" took place, Lew stepped in and made sure that it took place in Oakland at the Paramount Theater. That premier raised over a quarter of a million dollars for the Children's Hospital in Oakland as well as "Stand Up for Cancer".

Lew sits on committees, yet he added that he doesn't particularly enjoy committees. "I like it when I can move something forward on my own – rather than by committee." He promptly added how very much he admires the likes of John Sobrato and the Sobrato Family – and what they have done, and are doing for our community, raising hundreds of millions of dollars annually to directly benefi t community.

I was curious. Lew is involved with so much, and does so much, how does he balance things while appearing so calm and in control? And, yes, does Billy Beane in real life look like Brad Pitt (or vice versa)?

The Oakland A's – Last year they expected to be competitive, and, yes, it was, indeed, exciting. "And now, we always look forward", Lew said, "not backward." This year, he expects games to be close. "You know,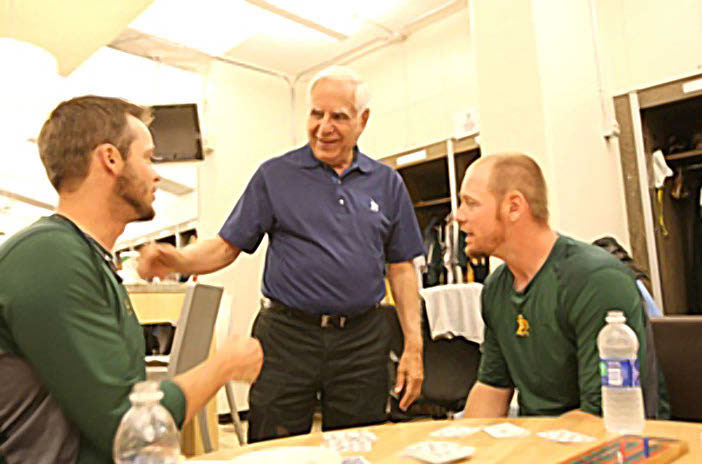 we are facing teams that have a team salary that is maybe two-times, threetimes, even four-times our team salary – like the Yankees, Red Sox and Angels. We can't afford a big name and then possibly make a mistake. We have worked hard to be competitive. The one thing missing is the venue - something more modern that would sit 32,000 to 36,000 fans. That would make a big difference. So much of the revenue to work with comes from attendance."

Lew stressed how he is blessed with a great support-team. The team President, Mike Crowley, and the General Manager, Billy Beane, have been there for years, and Manager Bob Melvin who came on board this last year, are all terrific. Both Mike and Billy were already there when Lew purchased the team eight years ago – and it was Lew's choice to keep them on.

"I like consistency", Lew said. When the people are great at what they do, and we work so well together, like we do, it just made sense to keep them. In addition, if a team goes into a slump, it shouldn't necessarily mean a quick dismissal. In this case, however, Lew gave both Mike and Billy a stake of ownership in the A's organization - to show them the overall team commitment – that they are indeed a team – and where this was the first time this had ever been done in Major League Baseball.

And Bob Melvin? "Billy had known Bob really well, and when Bob came on board, to be our Manager, he brought such a passion to win and such preparation, like I have never seen. His preparation is amazing." As an organization, Lew feels, they are in a great position to win.

The Earthquakes – Lew is delighted with the excitement and growth surrounding the Earthquakes and Bay Area Soccer. The Earthquakes play on the Santa Clara University campus in Buck Shaw Stadium. The capacity is 10,000 and they are always full. The Earthquakes put in four million dollars to help restore the stadium. In addition, they also generously donated to the University two state-of-the-art, grass and artificial grass, practice fields for the outstanding Santa Clara University soccer program to enjoy. "We are very grateful for the wonderful relationship we have with Santa Clara University", Lew said.

The new state-of-the-art soccer stadium the Earthquakes are building, across from the San Jose Airport, will have a capacity of 17,000 and will be ready in 2014 or the beginning of 2015. The $80 million stadium is being completely funded by the Fisher Family and is already being considered architecturally as one of the best and most beautiful soccer stadiums in the country.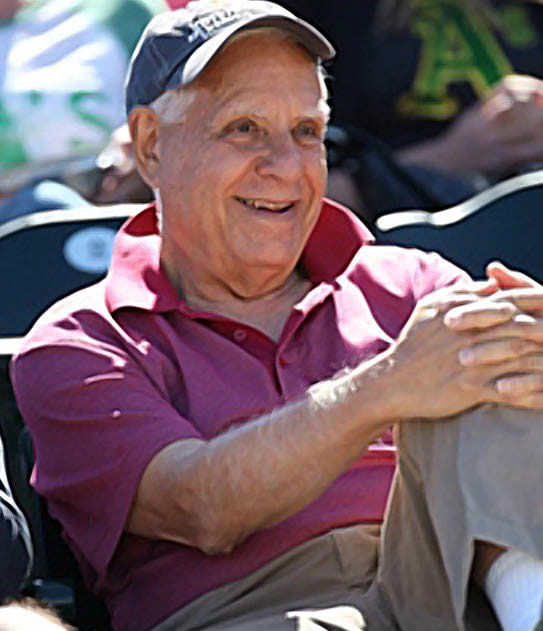 Back at Lew's office, it was immaculate. How could there be so much activity and everything be in place, like it was? Lew is also 77 years young, and fit. At 5AM that morning, he was up and working out on the elliptical. He was wearing a beautiful 2012 American League Western Division Champions polo shirt. He also has plenty of energy – both physically and mentally. It was mid-afternoon, he had had a full day of appointments, one after another. Already a full day … and then still a night game ahead of him. He was ready. He was loving it. I expect he'll be back on his elliptical again at 5AM tomorrow, indeed ready to meet the new day. Billy Beane, on the other hand, likes to work out during the games – which he regularly does – except when Lew asks him to join him, and what company there might be, that night (or day).

Lew and his wife Jean live most of the time in their Southern California home – flying back and forth on his plane. Lew said he can often get to an A's game in Anaheim quicker from here than if he were driving here, from one stadium to another, from Oakland to Santa Clara. His wife, Jean, is an established artist. She has worked primarily with sculpture but is now focusing on acrylics and doing collages. You can enjoy her beautiful works by visiting her website at: www.sculptjean.com.

They have three children and are a closeknit family. Keith is a Harvard MBA, and is into the sports, hotels and development side of the family business. Their daughter, Kari, is married to Dean Rossi, a Bay Area Attorney, and they have three children (ages 17, 15 and 5 – which brings much joy to the proud grandparents). In addition, Kari is also very busy being involved with the A's Community Outreach. Their son, Kevin, marches to a different drummer. He is in New Mexico, where he, too, is very busy, working diligently to preserve the environment.

What makes Lew tick? Foremost, he is happy. He loves his life and what he does – and it shows. He is very bright and has always made it a point to surround himself with bright people. When I was walking down the hall to meet with Lew, there was Mike on the phone – he waved hello. Then in the next office, there, on his computer, was Billy Beane. He, too, waved hello and, yes, Brad Pitt was a great choice to play Billy Beane (or vice versa).

And then at the end of the hall, there was Lew. "Hello, Ken. It's nice to see you." "Hello Lew, it's so great to see you", I said. What's it like, I was thinking … Indeed, what a day, every day … It's a wonderful life.

Right after our meeting, the A's went on a very long winning streak. I told Lew that maybe I brought them good luck. When, in fact, I know it's all been designed from where Lew sits, to be that way.