Mike Crowley, Living the Life of a Dream
Mike Crowley wears two very different hats. Two different sports, two different teams, two different cities, two different stadiums. We just had a wonderful conversation. He's totally on top of everything. He's very excited and optimistic about both programs; he loves every minute of what he does and all that they together are doing … and it shows!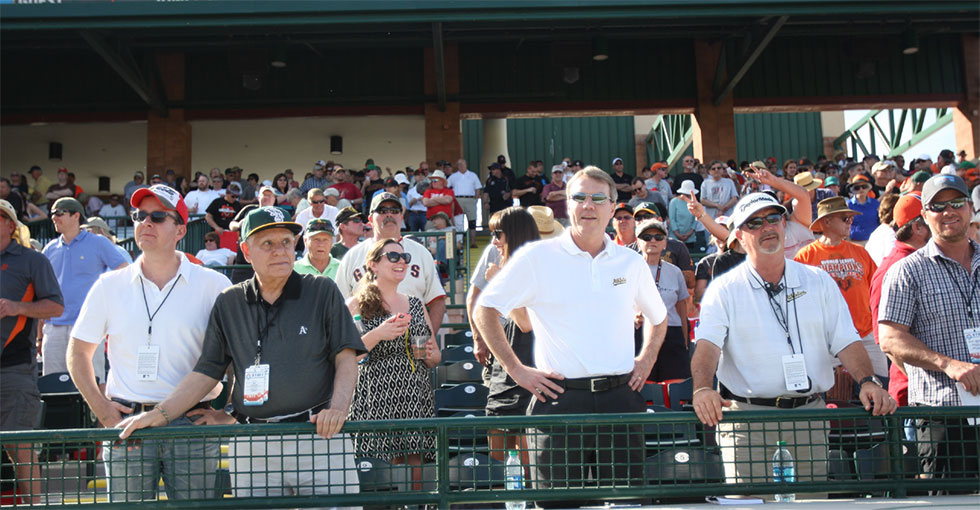 On the one hand, Mike is the President of the Oakland A's Baseball Team, working very closely with the owner Lew Wolff, General Manager Billy Beane and Manager Bob Melvin. They have made the playoffs the last three years, since Bob Melvin arrived as manager. They all work very closely and very well together.

Mike is also the Managing Director of the San Jose Earthquakes Soccer Team, working very closely with the owner, Lew Wolff and his son Keith Wolff, who is the Managing Partner, also Dave Kaval, who he hired to be President, General Manager John Doyle and Coach Dominic Kinnear. (For the past nine years, Dominic had been the Coach for the Houston Dynamo; He was born in Scotland, raised here in San Jose. His 15 playoff wins places him third most among head coaches in MLS history. He and everyone's very happy about his coming home to San Jose and the Earthquakes).

Indeed both organizations are very well run. They have a good eye for recognizing talent. Mike Crowley may not be the star player that you'll see on the baseball diamond or soccer field, but he is behind the wonderful success we are seeing in Oakland and in San Jose, both on and off the field.

Mike's was born in Southern California, where his father was in the United States Marine Corp. His first few years were there, and then the family moved briefly to the Midwest and then to Northern Californi,a, here, where he considers himself a native. Mike grew up in Los Altos and attended Saint Francis High School, which he loved. Last night he had dinner with three close friends of his; all four have been friends since elementary school.

Upon graduating from Saint Francis, Mike went to the University of Notre Dame. He graduated in 1985 with a degree in Accounting. He went to work at Price Waterhouse in San Jose where he earned his CPA license. He was there for three years and then left to work eight years in the family business (Fuller O'Brien Paints).

During his time with Fuller O'Brien, Mike went to graduate school and got his MBA at Duke University in Durham, NC. There he focused on Marketing, Operations and Finance. It complemented his degree in Accounting and his being a CPA. As he put it, "to fill out my skill set". Mike loves his sports. He loved it when he was at Notre Dame and also, as it so happened, Duke won two NCAA Basketball Championships the two years he was there. Did he meet Coach K (now the winningest basketball coach in college basketball history)? "Yes, as a matter of fact, I did. There were a couple of occasions when he came and spoke to us at the Business School. As you can imagine, it was very interesting, the special opportunity, of listening to him."

Upon graduation in 1992 from Duke he returned to the family business until it was sold in 1996. It was simple (or magical): "The A's had posted a CFO job, I applied and I got the job." That was 1997, Steve Schott and Ken Hoffman were the owners then (Lew did not buy the team until 2005; Lew originally was brought in, as the Vice President, Venue Development, to help Ken and Steve look at venue options for a new stadium).

Mike was hired as the Chief Financial Officer by the Team President, Sandy Alderson, one of the most respected executives in major league baseball. In fact, shortly thereafter, Sandy left the A's as he was hired by the Baseball Commissioner to work for Major League Baseball, in the Executive Offices, in New York. Suddenly, Mike was promoted to fill Sandy's position, becoming Team President in September 1998. At the time, Mike felt it wasn't enough time to prepare … but, in all actuality, Sandy prepared him very well for the transition.

"I came in around the same time Billy became Assistant General Manager. From the beginning, we have always worked very well together. We have daughters who are about the same ages, the girls spent time together especially at Spring Training."

We talked about the movie, 'Money Ball'. "It certainly helped our brand," Mike said. "Seven months after the movie premiered, we opened the regular season in Japan and there were so many Japanese fans who had seen the movie and greeted us wearing A's hats!"

Mike also shared about Spring Training. "Spring Training is the best. You're right on top of the playing field, the players are more accessible, the score doesn't matter, they're all day games, the weather is beautiful … everyone loves being there. Bob does a great job getting the players ready. We are all excited and optimistic entering the regular season.

"In Oakland our fans are truly great. 'Passionate and a little irreverent', I think is a good way of putting it. There will also be new scoreboards and ribbon boards this year in Oakland; we put $10 million dollars into it, that we hope will enhance the fan experience even more. It'll be great to see.

"We are excited about this coming year. A lot of new players are coming in, adding a lot to our already great core. I think we're going to do well."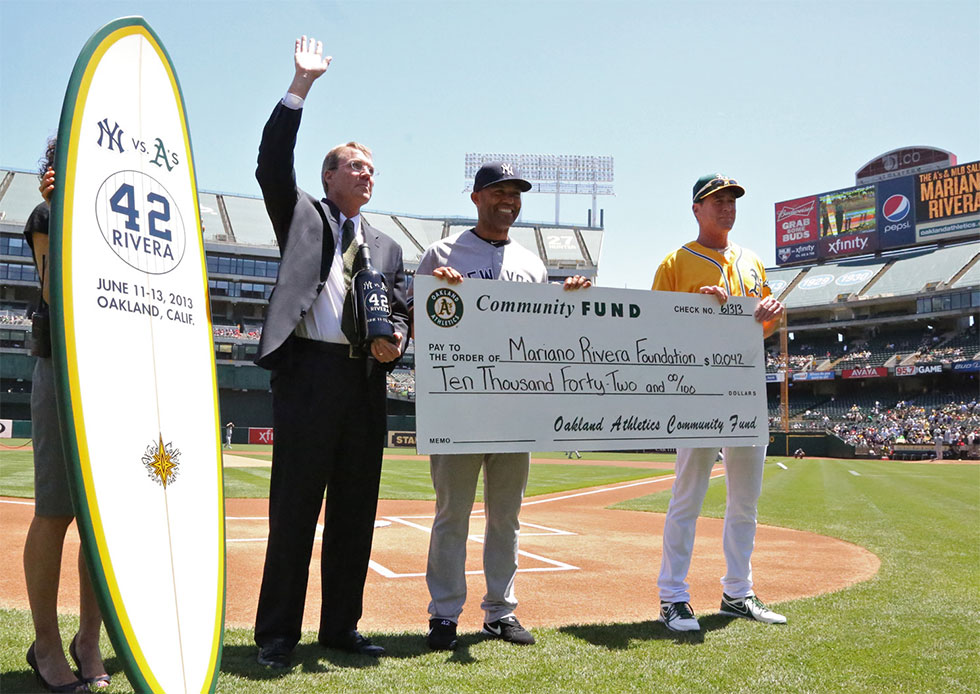 Regarding changing team players … "With the economics, we just can't keep the players as we would like. What people may not realize, if we were to keep our players from the 2001 team, as we all wish we could have, we would have had a payroll in excess of $300 million. It's the nature of the business. We are a small revenue team, but we never use that as an excuse. We expect to win every game. We try to win every game … even the Spring Training games. It's that winning attitude throughout the organization that perpetuates success."

Talking about the playoff game vs. the Kansas City Royals, "Yes, that was a real punch in the gut, that's for sure. It was disappointing. To be up 3 runs in the 7th inning and lose it the way we did. There are certain games you'll remember, this is one. There are great wins we all remember. There are some losses you'd like to forget, you wish you could forget, but it's hard. We were so close.

"I love my job. I get to go to the ball park every day, where I love it, and they pay me! I love going to the ballpark and working with such great people. The personalities. Some interesting people. Yes, Bill King, he was eccentric and a bit quirky. He was so knowledgeable about so many different subjects outside sports. He was a great announcer in all sports, Football (the Raiders), Basketball (the Warriors) and Baseball (the A's) all those years … I grew up listening to Bill King! I think it's a shame he's still not in the Hall of Fame. He should be. We'll keep trying."

Lew purchased the A's in 2005. And, then, in September 2007, in an effort to bring Major League Soccer back to the Bay Area, Lew also bought the rights to the San Jose Earthquakes Soccer Team. As it turned out, when he did, there was less than eight months-time to get everything all together. The upcoming season was about to begin, staff needed to be hired, players acquired and the question of where to play, needed to be determined. It was critical. After some failed talks with San Jose State University, Mike approached Santa Clara University. It is a great University with fabulous people. It ended up being a great place to play and they were "so awesome" to work with.

Mike first approached Dan Coonan, the Athletic Director, and also a Notre Dame graduate, and then Father Paul Locatelli, at the time, the President of Santa Clara University. Both were so instrumental. They offered them Buck Shaw Stadium, the football stadium that had housed the Santa Clara Broncos football team (and had ended in 1992). The Earthquakes put some much needed improvements into the stadium including new scoreboards, lights, practice field and seating. The Earthquakes had 10,000 adoring, happy and excited fans supporting them. It's been a great relationship during these years.

And now Mike looks forward to the Earthquakes new home, the new state-of-the-art soccer stadium, many consider arguably to be one of the most beautiful stadiums in the country, and one of the most beautiful anywhere in the world, Avaya Stadium. It seats 18,000 and is a sight to behold. It's intimate, every seat is a great seat, on top of the action, the views are spectacular, it's comfortable, very accessible and the conveniences once inside are great.

Mike hired Dave Kaval from the Golden State Baseball League to be the President of the Earthquakes in October 2010, and continued on as the Managing Director. Mike added, "Dave is terrific.He has so many innovative and fun ideas and we work really well together."

"This year, if we can stay healthy, we'll do well. It was a tough year last year. Last season, we lost a number of players to injuries. Seeing our team, the San Jose Earthquakes playing in Avaya Stadium will be beautiful, a dream come true."

Lastly, Mike was asked: If you could have a fantasy dinner, and could invite anyone (living or not) who would you like to invite, what would you like to ask them and what would you like to talk about? "Being a Notre Dame guy, I would like to ask Father Sorin, who founded the University, why the heck did you put it there? I'd like to invite JFK (he'd be very interesting), also Steve Jobs, he would be fascinating to talk to. I think Nelson Mandela is another I'd like to talk to. And I would like to invite my grandparents, now deceased, because I would love to see them again and tell them about their great grandchildren.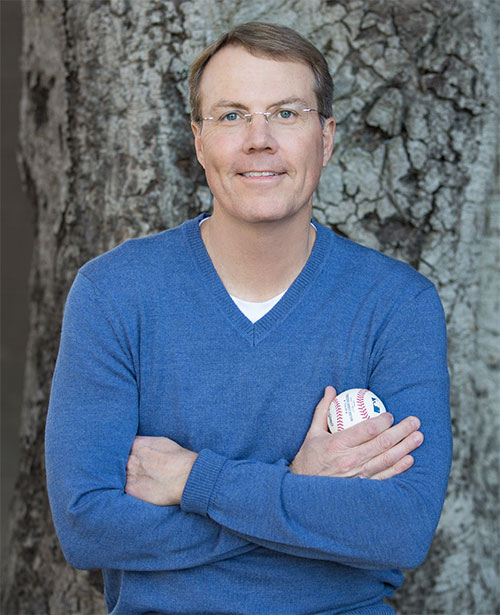 "I am a local guy. This is not brain surgery, I'm part of a team and together we are providing entertainment. Sports are meant to be enjoyed by family and friends. When it's said and done, it's the experience that matter and the memories.

How about people who have shaped who you are? "My parents are a big part, my father being an exmarine; he was a terrific role model doing things the right way. My wife, Kathy, is extremely supportive of a career that can take its toll on family life. Teachers, along the way, they give so much. I am a product of all my teachers. I am so very grateful. You draw from all these adventures and experiences – good, bad and indifferent.

"People who have been in my life, sports, business and otherwise, have been wonderful. I'll never forget Sandy was leaving for MLB and the owners called me in, saying: 'OK, Mike, it's now yours.'

"That was it. That was all. I thought, 'Holy cow, I'm not ready for this; Sandy, you could have given me a little more time, you know!' (which, of course, I would have liked to have said). It's all been and continues to be such a wonderful experience. Everyone has been so great to work with … and to date all has worked out so very well."

Charitable causes? "Why, yes, there are several that are very close to our hearts. My wife, Kathy, and I started the A's Breast Cancer Awareness Day and to date the A's have donated close to $1.6 million dollars.

"Education is big for us, as well. Kathy and I dated at Saint Francis. She went to Santa Clara University and graduated with an Electrical Engineering degree from Santa Clara University. She worked for Hewlett Packard for 20 years. All three of our kids went to Saint Francis and Kathy served many years on the Board at Saint Francis, as well."

How about your children? "Our oldest, Meaghan, is a second grade teacher. Our son, Patrick, was a three year walk-on Basketball player at Notre Dame. He is now a consultant in the Washington DC area. Our daughter, Paige, is a sophomore at Notre Dame and is on the women's soccer team."

Celebrities? "I'm not so infatuated with celebrities. I'm more impressed with people who change the world – using their God given talents to make change, making a positive difference. I remind Lew and Billy, all the time, 'We have an obligation to our investors, of course, our fans, but also to our employees and their families to run a first class organization.

"I feel it's my job to train people well enough to take my job, like Sandy did for me. It's scary, in a way, but it's part of my job as the current steward of this great organization. So that it will continue to be a great organization long after I am retired.

"Of course, we wish we could win every game. We always give it our best. And, in the end, we also want to have fun … its entertainment. It's enjoyment. It's family and friends. We want everyone to have fun."