A Look Back / Raiders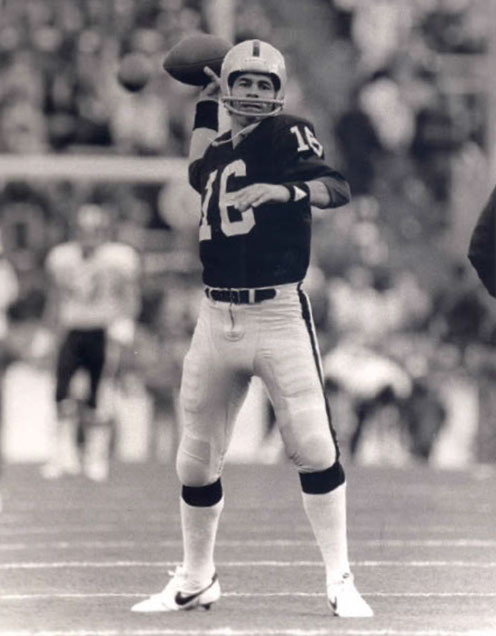 Jim Plunkett won the Heisman Trophy in 1970 at Stanford and was the #1 overall selection in the 1971 NFL Draft. He joined the Raiders in 1978 and led the Silver and Black to two World Championships of Professional Football with victories in Super Bowls XV and XVIII. Plunkett was named Most Valuable Player in Super Bowl XV, a 27-10 victory over the Philadelphia Eagles. He set a then-record with an 80-yard touchdown pass to RB Kenny King. He was also named the Comeback Player of the Year in 1980. The San Jose, Calif.,-native finished his illustrious playing career in 1986 ranked #4 on the Raiders all-time passing list with 12,665 yards and 80 touchdowns through the air. Plunkett was inducted into the Bay Area Sports Hall of Fame in 1992.

EBL: Who were some of your favorite teammates?

Jim Plunkett: Dave Dalby, there's no question about it. I also enjoyed playing with Bobby Chandler and Rich Martini. Lester Hayes was a fun guy to hang around.

EBL: Are there any former teammates of yours that you feel should be in the Hall of Fame?

Jim Plunkett: I think there are quite a few; obviously Cliff Branch would be one of them. I think Raymond Chester will get there. Dalby did a great job playing center for the Raiders, three Super Bowls worth, he should have a consideration.

EBL: What was the most memorable game for you when you played for the Raiders?

Jim Plunkett: There were so many but I think that first Super Bowl, there's no question about it. After 10 years in the league, and two years
sitting on the bench behind Kenny Stabler and finally getting my opportunity to win a Super Bowl. The way we won it as a wildcard team and being the first wildcard team to not only get there but to win the Super Bowl.

EBL: Is there one play that you can remember from your career?

Jim Plunkett: Not one particular play, there have been so many that have been big plays through the course of my career that I can't latch onto any one in particular.

EBL: Which team did you like playing against the most?

Jim Plunkett: I always enjoyed playing against the better teams in the league to see if we could knock them off if we were the underdog especially when I was in New England and San Francisco. You step on the field with the Raiders they expect to win every time, that was a great feeling that I hadn't experienced when I was with those other teams because there was so much doubt they didn't have the kind of confidence that the Raider players did.

EBL: Can you describe what it was like to winthe Super Bowl?

Jim Plunkett: It's been so long but you certainly are filled with emotion. It's something you shoot for as a professional football player. Your ultimate goal is to get to the Super Bowl and win it and I finally got to experience that and it was a great feeling.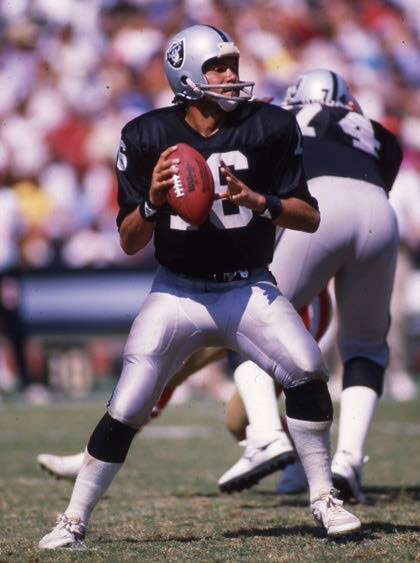 EBL: What was your favorite stadium to play in, other than home?

Jim Plunkett: Always at home, if I was at New England it was at home, if I was at San Francisco it was at home. There's a certain amount of comfort level that you feel when you're playing in your own stadium.

EBL: Can you compare today's game to your playing experience?

Jim Plunkett: I played into the age of specialization where on each down you'd have different players in so I got to see all of that, not quite to the degree that Raiders do today. They shuffle players literally every down, which requires some work by the quarterback to stay on top of things.

EBL: What are your impressions of Raiders fans both past and present?

Jim Plunkett: There's not a greater group of fans than Raider fans. In the old days when I first came to the Raiders you could walk out of the Coliseum and literally you could almost name everybody by their first name. That sense of community and that kind of feeling, it's a little different now, the stadium is bigger and there's a different fan base but all in all you can't beat the Raider fans.

EBL: Can you describe what it was like playing for Coach Flores?

Jim Plunkett: I enjoyed it, we got along well, we had our own head to head battles where he'd want to do one thing and I'd want to do another. He did a very fine job, took us to two Super Bowls that we won. He prepared us for each and every game and it was up to us to get the job done.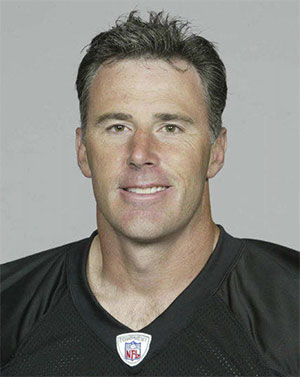 Quarterback Rich Gannon played with the Raiders from 1999-2004. During his six years, he was voted to the Pro Bowl four times, where he was named Pro Bowl Most Valuable Player twice (2001-02) - an accomplishment that no other National Football League player had ever achieved, was named the NFL's MVP after his record setting season in 2002, and led the Raiders to three straight AFC West titles, two AFC Championship games, and one Super Bowl appearance.

During the 2002 season, Gannon set records in four different categories: pass completions (418), 300-yard passing games (10), single-game consecutive completions (21 vs. Denver), and single-game completions (43 vs. Pittsburgh). Gannon also set three Raiders franchise records: completions (1,533), 300-yard passing games (24), and completion percentage (62.6).

Gannon finished his tenure with the Silver and Black as the second leading passer in Raiders history.

EBL: When did you start playing football?

Rich Gannon: I started playing organized football in 1972. I was in the second grade and I played in the 65-pound youth organization in Philadelphia, and I never missed a season until 1994 when I had rotator cuff surgery.

EBL: How did you become a Raider?

Rich Gannon: I finished the 1998 season in Kansas City and was an unrestricted free agent. I got a call from Jon Gruden and I flew out the next day; sat down and visited with him, Bruce Allen, and Mr. Davis. It felt right and I felt like it was something that we could build and help turn around, and I think we did in a short time there.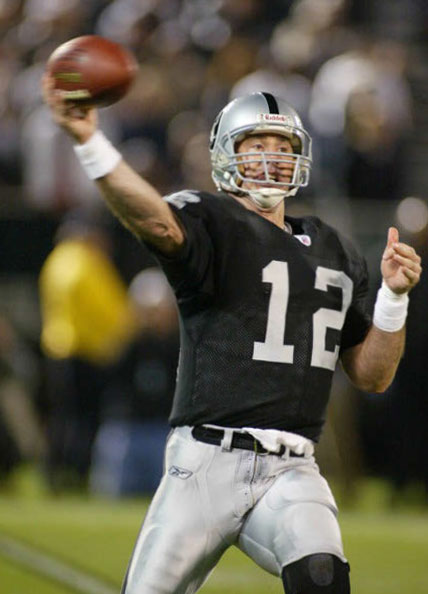 EBL: What did it mean for you to play for the Raiders?

Rich Gannon: Well it was a great opportunity. It's a great organization with a great history and I was proud of the fact that I left the place better than when I found it. We won three straight AFC West titles, we went to two AFC Championship games, went to the Super Bowl, but we didn't accomplish all of our goals.

EBL: Is there any one moment or play that stands out in your career?

Rich Gannon: Not really. The thing I am most proud of is that I never took the game for granted; I worked extremely hard, and never disrespected the game. I realized how difficult it is and how hard you have to work at it and I was proud of myself, my preparation, and performance.

EBL: Do you keep in contact with any of your former Raider teammates?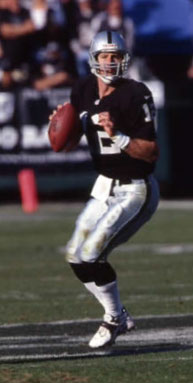 Rich Gannon: Yeah, certainly. I sure do.

EBL: Which team did you enjoy playing against the most?

Rich Gannon: I would probably have to say Kansas City. I played four years in Kansas City and the Chiefs let me go in terms of the free agency, but I always enjoyed playing not only against them, but at Arrowhead. It's probably one of the more difficult stadiums to play at on the road and we went in there and we were able to have some success. I think we were 3-1 in my first four years going back there. I was proud that we had success there against a pretty good football team in the AFC West.

EBL: What are you doing now?

Rich Gannon: I do color commentary for NFL games for CBS television and co-host a weekday radio show on Sirius XM. I also keep very busy with my wife and two daughters. Our daughters keep me real busy with their activities and things like that.

EBL: Are there any messages that you would like to pass on to Raider fans?

Rich Gannon: Keep the faith.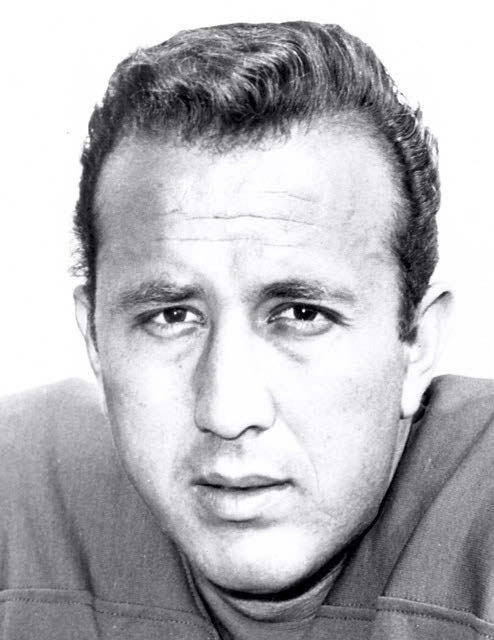 Tom Flores the quarterback ranks sixth on the Raiders all-time passing list with 11,635 yards and 92 touchdown passes. Flores the head coach led the Silver and Black to two World Championships of Professional Football with victories in Super Bowls XV and XVIII. Flores currently serves as the analyst on the Raiders' radio broadcasts each week during the football season. Flores was inducted into the Bay Area Sports Hall of Fame in 2012.

EBL: When did you first start playing football?

Tom Flores: The first time I ever handled a football was in the fifth grade. Somebody had a football that was half filled with air; I just picked it up and threw it. We had to wait sometimes for the air to fill back up in the ball before we could continue playing. It was never any organized ball at the time, we just kind of played pick up ball and I was probably about nine or 10. Then, when I went to junior high, I started playing flag football when I was in the sixth, seventh and eighth grade. I then continued on to high school where tackle was introduced.

EBL: When did your coaching career start?

Tom Flores: Coaching started in 1971 kind of by accident. I couldn't find any team that I felt I had a chance to make as a veteran, so I decided that it was probably best to get on with the rest of my life. I had taken a job with a friend of mine in Oakland, [while I] looked around to see if there was anything available in football, but nothing at the time was, so I did that; and was doing a little work trying to get into some sporting news on weekends on television. Then all of sudden in July, I got a call from Buffalo. The head coach there had quit about a day or two before training camp had started so they asked me if I'd come back to help coach for that year, because they knew I knew the system. So overnight I became a coach in the NFL.

EBL: As a player, how did you become a Raider?

Tom Flores: In 1960 when the league started, I had been in Canada for two months in '58 and had been released. I came back and had surgery on my throwing shoulder. In '59 I tried out with the [Washington] Redskins and failed because the shoulder just wasn't ready. During that time I had gone back to school, I was working on my Master's Degree in Education and the AFL started, and they were taking anybody who was warm and could walk. Oakland was the last franchise to be established and I got a call, I said 'what the heck, I have nothing to lose, I have the rest of my life to work,' so I might as well give it one more chance to do something that I have always had a passion for. So there we were 11 quarterbacks in camp the first day.

EBL: What was the pressure or competition like at that time with 11 quarterbacks at camp in 1960?

Tom Flores: There was no real pressure, because we were a bunch of guys in a league that according to some experts had no chance to succeed. Everybody was either labeled a reject or a wannabe, the NFL had the established the name, so there was not a lot of pressure. We were having a good time in doing so and a lot of great stories came out of that. It was a low budget operation, but there was a lot of competition when you have 11 quarterbacks the first day, then all of a sudden in about two days it was down to four, then eventually it came down to just two guys that were left standing at the end. I ended up with Babe Parilli who was veteran at the time, he had just been released in Canada, he and I became the quarterbacks that year, and I became the starter. I started the very first game for The Oakland Raiders ever.

EBL: What did it mean to you to play for the Raiders?

Tom Flores: Well at that time, it just meant that I was doing something that I loved to do. We had no way that we could ever possibly conceive that it would grow to be what it is today. Football as a whole wasn't as big as it is [today], even the National Football League, but because of television and only one league, now all of a sudden a new league and we were televised by ABC and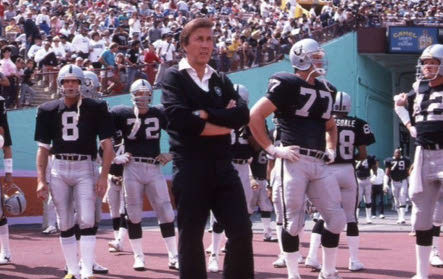 eventually NBC, so we got a lot of coverage of that respect. Then all of a sudden with each year, you got the feeling that this was going to work and we started becoming more proud of what we were doing.

EBL: In your playing career, is there a moment or play that stands out?

Tom Flores: There were two games, one in '63 when I threw six touchdowns. I was facing George Blanda with the [Houston] Oilers and at halftime it was 35-35, it was just a wild game. I threw six touchdown passes and I think he threw five. It was won with a field goal in the later minutes of the game by Mike Mercer, our kicker at the time. That was a memorable game for me because of all the different things we could do offensively. Then in '66 we were playing in Shea Stadium and Joe Namath is the quarterback and I'm the quarterback and we were driving at the end of the game, there was very little time on the clock and at Shea Stadium down in one end zone it's so noisy because it's right next to the airport, and were on the one-yard line, I'm trying to audiblize and the players can't hear me so I'm running down the line of scrimmage yelling the audible hoping they don't jump offside, and then I get up to the line and the backs hadn't heard me so I had to turn around and tell them. Then we ran the play, scored and won the game. We needed a touchdown to win. I looked up and there was like :06 left on the clock, I said 'whoa, I could have been standing here and the clock would have run down it would have been all over.' After the game it was euphoria in the locker room, because it was such a neat game.