Rev. Cecil Williams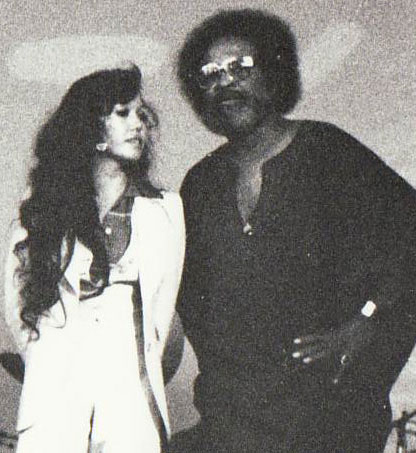 Most of us are very familiar with and love the real-life-story-made-movie, The Pursuit of Happyness. It is one of many examples, coming out of GLIDE Memorial Church that was and is very real, that touches our hearts. It also brings us all together with this extraordinary life purpose, The Pursuit of Service … which, for more than 50 years, has always included Love, Justice, Acceptance and Community.

For more than a half century, GLIDE Memorial Church and the entire San Francisco Community has greatly benefited under the illustrious leadership of its pastor, Cecil Williams, and also his wife, GLIDE's founding president, Janice Mirikitani.

It brings us together with a very special love and marriage between Reverend Williams and his wife, Janice. He was "a black Texas minister with a solid upbringing" and she was "a Japanese American agnostic, graduate of UCLA and Berkeley and Poet Laureate to-be." The common thread would be the Unconditional Love.

For all these years, it is Unconditional Love that wove them together and also this Methodist Church in San Francisco, known as GLIDE. It is Unconditional Love that transformed GLIDE from what had been "staid and empty", at the time when they arrived and met in the early 1960s, to what quickly became "always a growing center of hope for the downtrodden and uplifter of the recovering."

Ever since the early 1960s and the days of Martin Luther King, to the present, Reverend Cecil has been recognized as "a national leader on the forefront of change in the struggle for civil and human rights". Janice became early on the founding president of the GLIDE Foundation, and together they have continually led the way for this vibrant 11,000-member strong congregation. This includes all ages, backgrounds, races, genders, ethnicities, social and economic rank, sexual preferences and religions. It didn't matter. Everyone is welcome. The common thread again has always been this very special theme, that of Unconditional Love.

Under the leadership of Reverend Cecil and Janice, GLIDE has long been the greatest provider of social services that San Francisco has seen. It serves nearly 3,000 meals a day and 850,000 meals a year. GLIDE has also long been a loyal provider of Aids/ HIV screenings … and provider of adult education classes and programs for advancement … and provider of assistance to women challenged with homelessness, domestic violence, substance abuse and mental health issues.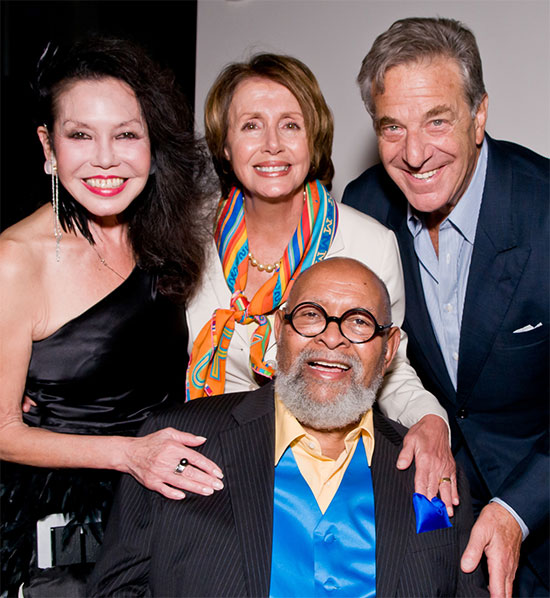 "Cecil and Janice took a dying church and turned it into one of the most important social institutions that I've seen in this country." – Warren Buffett

In 2000, at the age of 70, Reverend Cecil was forced to "retire" as Pastor, as this was the mandatory age of retirement for pastors employed by the United Methodist Church.

It was because of this, and the wish of the congregation and the affiliate non-profit GLIDE Foundation, that a new position was created for Reverend Cecil … namely, Minister of Liberation. In this official capacity, he has been able to continue his work in serving the community and the church.

Today, Reverend Cecil is 85 years old. He still is committed as ever to Unconditional Love and this Pursuit of Service. No one has done more to help the people physically, mentally and spiritually, as he has these past 50-plus years.

In August, 2013, the intersection of Ellis and Taylor Streets in front of GLIDE was officially proclaimed "Reverend Cecil Williams Way" in honor of him. Indeed, he has come a long way to achieve this. Here, then, from him, is more about his continuing remarkable story of service … and the "Reverend Cecil Williams Way."

Reverend Cecil was born September 22, 1929 in San Angelo, Texas. He was one of six children going into the Great Depression and then World War II. His family was close; they would eat at the table together as a family and talk. It may have been tough times, which it was, yet this fed them all courage and faith.

He received his BA Degree in Sociology from Huston-Tillotson University in 1952 and then fulfilled his dream, when he became one of the first five African-American graduates of the Perkins School of Theology at Southern Methodist University, in Dallas, in 1955.

In 1963, at the young age of 33, he was assigned to become the Pastor of GLIDE Memorial Church here in San Francisco. Imagine what San Francisco was like back then. It was unlike any place in the country … or the world. John Kennedy was President and, August, 1963, was the Martin Luther King "I Have A Dream" speech.

How would he be accepted? Would he be accepted? This was the 60s … and no one was familiar with this. What he brought was not considered ordinary, standard or acceptable. As radical as it sounded - and it was - his childhood upbringing, and then his formidable college years, prepared him for what would become … and, thankfully, continues to be … of epic proportions.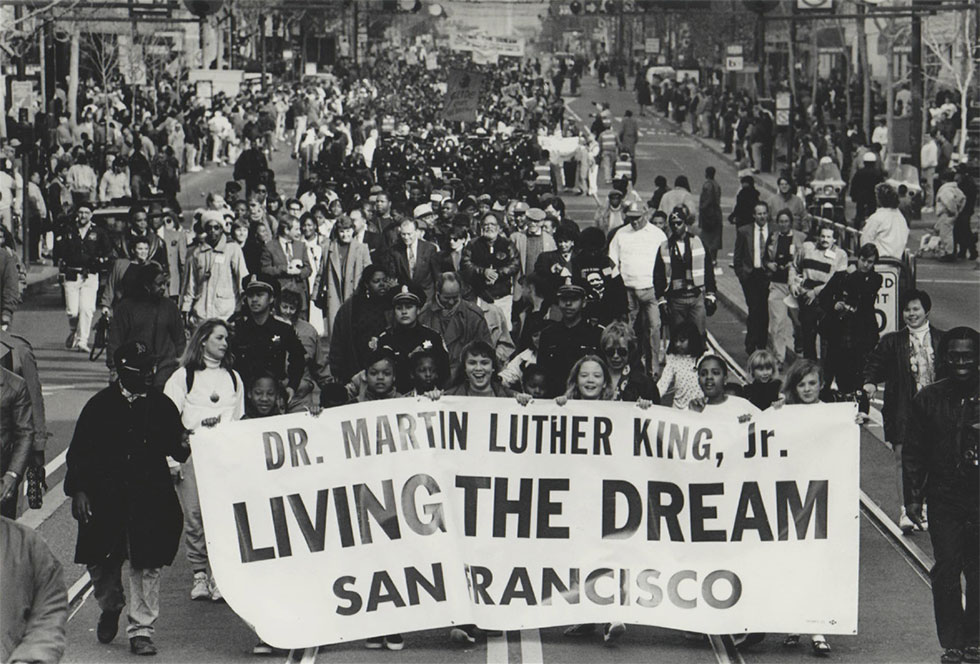 Remember, Martin Luther King and Nelson Mandela and the Civil Rights Movement and unrest everywhere throughout the 1960s … "defiant" (was a label) … and how very difficult these times were. San Francisco was the capital of sorts, a haven, for all those trying to find themselves … rock & roll … sexual revolution … drugs … political free-speech … freedom … hippies … Haight-Ashbury … ethnic diversity … gays and lesbians (homosexuality). Pre- AIDS. It was and would be a challenging time for many.

More than a Church … but a community. GLIDE Memorial Church became a symbol, a foundation for life, and it grew. It became what was needed for a very troubled time and population. Since his arrival in 1963, Reverend Cecil had been considered "controversial and radical", in thought, in belief and in action.

"Radical, deviant" … you heard these words … there was nothing normal or standard about this church. It was (and is) one of a kind, for these past 50-plus years, a special spiritual haven. GLIDE Memorial became one of the fastest growing churches in the country. It was fully inclusive … rich and poor, black and white, people from all walks of life, sitting together, seeking "something" … something special that GLIDE Memorial offered every day.

Every Sunday, people came from near and far … to hear the words and sing the songs of transformation … standing up for all people … Reverend Cecil brought faith and hope to many when and where there was little or none to be found outside.

Important to Reverend Cecil was (and is) that GLIDE Memorial Church would always be "far more than a Church". In fact, it became, as he calls it, an oasis. "We talked about God and it became this oasis. We turned it upside down for many … People were seeking a place and people, wanting to be able to relate. They were relating to us and we were relating to them," he would say.

Reverend Cecil added, "My goal then was to make sure the Church was alive, always moving, always in motion. And we grew because of that. Everyone would be welcome here."

The congregation regularly heard diverse guest speakers, the likes of Maya Angelou, Angela Davis, the Black Panthers and Billy Graham, they all spoke there. And, yes, today, great speakers still come and speak to the congregation, some fifty-plus years later. Such inspiration. By definition, Inspiration means "breathing life into" which, at GLIDE Memorial, it has done for many … and continues to.

In 1967, Reverend Cecil had the cross taken down from the Church Sanctuary. He had said that the cross represented death … and that the congregation should be celebrating life and the living. He would say, "We must all be the cross".

Reverend Cecil has published No Hiding Place: Empowerment and Recovery for Our Troubled Communities and I'm Alive, An Autobiography.

Janice has published Out of the Dust: New and Selected Poems; Love Works (San Francisco Poet Laureate Series, where Janice became San Francisco's second Poet Laureate); We, the Dangerous: New and Selected Poems; Shedding Silence: Poetry and Prose; Awake in the River: Poetry and Prose.

Janice arrived in 1964 and served as Reverend Cecil's Executive Assistant. More than that, she also became his inspiration and shining light. They married in 1982. In 2013, having been married for 31 years, Reverend Cecil and Janice published together a special book, Beyond the Possible – 50 Years of Creating Radical Change at a Community Called Glide. It is exemplary and powerful in all the messages it shares.

Beyond the Possible is about coming to the oasis … about a radical way in making things work. How people can come together and make the impossible possible … to work together in overcoming the powers that keep us down …

Speaking of which, it's hard to imagine that the movie, The Pursuit of Happyness, came to be in 2006, nearly 10 years ago. This had been the making and great success of the based-on-fact movie about Christopher Gardner and his son, Christopher.

Reverend Cecil played himself in the movie, and Will Smith and Will's real-life son, Jaden, played the two Christopher's, respectively. What Reverend Cecil portrayed had been real. This was … and is … real life. Every day … for many … for 50-plus years real.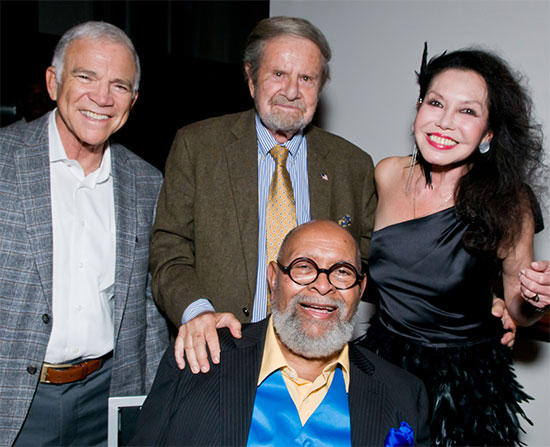 This real life story took place in the latter 1970's. The close relationship they had back then was very special. It remains very special to this day. Christopher will visit and spend hours at a time with Reverend Cecil; and over the years he has helped many people and continues to.

Reverend Cecil, if you could have your "Fantasy Dinner" and could invite anyone (living or not), who would you like to invite, what would you like to ask them and what would you like to talk about?

Reverend Cecil responded, "Janice, for sure, would be #1. I wouldn't want to do anything without her." He also added, "Indeed, Maya Angelou. And, yes, Oprah, too. That would be great. She knows how I feel about her … She is one of the most special people in my life; she is one of the most powerful women in the world. And, of course, Christopher, too. I would love for Christopher to be there, as well … plus someone who had been near and dear to me and GLIDE for many years, Leonard Bernstein."

People always like to refer to Mother Teresa as having done so much in her lifetime, and she did. We also have our own right here. When you talk about making a big positive difference in the lives of so many, each day, and every day, for 50-plus years … it is indeed very significant and extraordinary.

It's as if Thanksgiving Day is every day. It's the Unconditional Love. For all this, everyone is so grateful. The dedication in Beyond the Possible is perhaps a great place to begin and end, "To the people of the beloved community at GLIDE – you demonstrate what it is to go beyond the possible every day." Indeed, such is the dedication … the Service and the Love … that's behind "The Reverend Cecil Williams Way."