Tim Draper & His Draper University of Heroes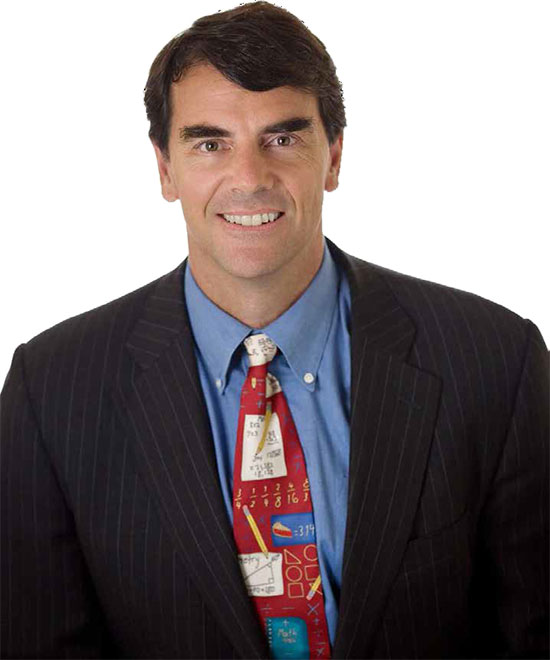 Based on Sand Hill Road in the Silicon Valley, Tim Draper is a real mover and shaker. His track record is extraordinary. His success comes from a lot of hard work, some good genetics, and some brilliant strategy. He has a great knack of surrounding himself with smart people, and building a great team.

Tim said that he had received more than his share of good luck, but I believe you make your own luck. Things seem to nicely fall into place when he initiates them, and it can't be all luck.

Tim is a spry 55, has a real sparkle, and has made an amazing impact. He is the son of and the grandson of famous venture capitalists, his grandfather was the first VC in the Silicon Valley. Tim is the third generation and his son, Adam, launched Boost.VC, which makes him the fourth. Tim is enthusiastic about everything – always energetic and excited about what is yet to come.

I met with Tim in the large, beautiful offices of Draper Fisher Jurvetson in Menlo Park, where he is the Founding Partner. From the moment Tim walked in from his previous meeting, before going on to his immediately following next meeting, he could not have been any nicer, more attentive or more intriguing.

Tim was born in Illinois, but from the age of 1, was raised in the Silicon Valley near Stanford. Tim has always been a big Stanford fan. He went to Hillview Elementary School, K-8, then to Phillips Academy Andover in Massachusetts, where he boarded for his high school years. He returned to the Silicon Valley to attend Stanford and received his undergraduate degree in Electrical Engineering.

After Stanford, he worked for two years at Hewlett-Packard in Marketing / Sales Support, where he learned about the corporate world. He then went to the Harvard Business School and received his MBA.

Tim's Dad, William Draper, was an investor in Apollo Computer, the leader in technical workstations, and Tim got a bird's eye view as the Assistant to the President there for the summer between years at HBS. His job consisted of going out and talking with all the customers.

Tim came back with the message that Apollo should adopt the open UNIX operating system rather than (or in addition to) their proprietary Aegis operating system. Apollo was bigger than Sun Microsystems at the time, but missing the UNIX wave hurt Apollo, and Sun won the market. Apollo was an enormous success however. They went public and ultimately became a very successful part of HP.

After business school, Tim took a job at Alex. Brown & Sons. Tim worked for Don Dixon and Steve Brooks for a year before breaking out on his own. Tim reflects that Don and Steve were terrific mentors and became good friends. But it was his co-worker, John Fisher who Tim would make his partner and would help him build the dynasty that is Draper Fisher Jurvetson.

In 1985, Tim left Alex. Brown & Sons to form Draper Associates, a government SBIC that allowed him to invest borrowed capital in start ups. John Fisher joined five years later, and four years after that, together they recruited the brilliant Steve Jurvetson to finish out the triad. DFJ and its affiliates have funded over 1000 companies in over 30 countries, including Baidu and YeePay in China, Skype in Estonia and London, and Hotmail and Tesla in the U.S.

It was as early as 1962, that the Draper's became recognized as "the first Venture Capitalists of Silicon Valley". As Tim was growing up, General William H. Draper Jr., Tim's grandfather was the first VC in the Silicon Valley starting the first LP/GP arrangement with Draper Gaither and Anderson. He also led economic reconstruction of Germany and Japan after WW2 under the Marshall Plan, and did work with China on their one child policy. Bill Draper, Tim's Dad, was also a pioneer in venture capital, starting Draper & Johnson Investment Company and later the successful Sutter Hill Ventures.

After leaving Sutter Hill, Bill was Chairman of the Export Import Bank of the US, and later Administrator of UNDP, the highest ranking American in the United Nations. While Bill was at UNDP, Tim got to travel with his Dad – where he enjoyed and learned a lot from this experience, watching his Dad traverse the globe and doing international business. This education would impact Tim as he grew DFJ.

When Tim was looking at branching out on his own, his Dad was enmeshed in his UN duties. He suggested that Tim take over management of a small ($2 million in capital) SBIC that Bill had started and invested. Rather than just monitor his father's investments, Tim was able to get started in the venture capital business and establish his first fund by borrowing six million dollars from the Small Business Administration, using the original two million dollars worth of investments as collateral.

It worked out … until the SBIC called. They said that Tim had been moved to their work out program "the dirt list" and that they were going to have to call the loan. Tim flew out to Washington to plead his case and very fortunately, the SBIC agreed to give him a little more time.

Shortly thereafter, Tim's record started to show. In 1991, Draper Associates had five investments go public, including Parametric Technology, and Tim was able to pay back the entire loan. Tim said that he had to kiss a lot of frogs before finding his princess. While some investments worked out, many did not. But since some of the ones that did work out were very successful, Tim became successful.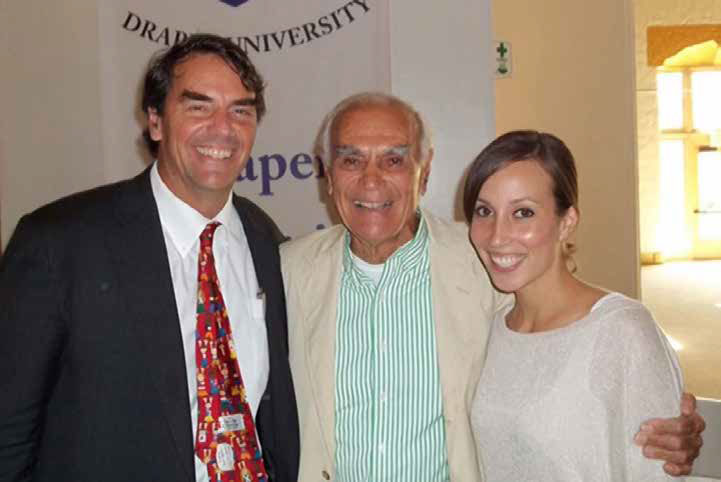 Most of his investments were in the Silicon Valley and in Boston's Route 128, but he got a letter from the Alaskan government asking him to come to Alaska and tell them how venture capital worked. At that time oil had dropped to $6 per barrel, and the state was looking for new sources to grow their economy. So it was in Alaska that Tim, with the help of Jim Yarmon of Alaska and Jim Lynch, that Tim set up his first Network Affiliate Fund.

The Alaskan Government did well with this fund, but oil recovered and they were less and less interested in venture capital, but it set the tone for Tim to build out the Draper Affiliate Network, where Tim and his partners drove and set up funds in 30 cities in more than 10 countries around the globe, including its flagship international fund, DFJ ePlanet.

In 1999-2000, the bubble burst, and US venture capital was on its heels. Fortunately, DFJ's international efforts paid off with great returns from Baidu and Skype. Domestic venture capital was slow to bounce back. It was hard and expensive to go public because of new regulation requirements associated with Sarbanes Oxley and other overbearing regulations.

The corresponding expenses required forced companies to wait longer for liquidity. The market had to change and venture capital needed to take on a new form. Angel investing and incubators came on along with new crowd funding platforms. With the JOBS Act and new complicated investment regulations, the field now was very different.

Tim then began exploring new ways for DFJ to operate. He decided to get out in front of the changes and act as a Research & Development arm for Draper Fisher Jurvetson, while continuing on as an angel investor himself. He said he was "leading the charge in a new direction". Tim smiled with excitement. "We had been talking a lot about the past, and now we instead, were talking about the present and also the future." So he started Draper University of Heroes.

"I always wanted to start a school", Tim shared. "I was always told that Entrepreneurship is something that could not be taught and whenever I hear something cannot be done, I try to think about how to do it."

"The world needs more heroes," he said. "That is how Draper University of Heroes came to be. It is this dream I have had. I figure that with 40 to 50 new heroes every quarter, heroes we will help lead in various ways from finding cures for cancer to getting to Mars. This is now happening at Draper University. People with great minds and great ideas from around the country and around the world are coming to our school and when they graduate they believe that anything is possible. The fact that you can't teach Entrepreneurship is baloney. It's happening here and I am very excited."

At Draper University, they are mentoring, training, helping develop Business Plans … to where these students are prepared and able to present in a very professional multi-media way to a large panel of top venture capitalists of Silicon Valley. They will ask for tens or hundreds of thousands, even millions – what it is they will want and need to market and bloom. Tim has a great relationship with the Stanford entrepreneurship community and seems to have every connection in the country and the world imaginable. Who would not want to come here for this opportunity and possibility?

Tim's son, Adam has now also opened across the street, in another large building from Draper University, an incubator called Boost.VC where ideas flow and start-up companies will grow. "It's all about transforming people. Here, at Draper University and across the street in our incubator, we test what you are made of and capable of. Everyone at Draper University will be a part of a team. Working as teams makes you work harder. You drive each other and you don't want to let the team down. What we see is: 'People come here as ordinary people and leave as superheroes' … It is very exciting."

In schools everywhere, there has always been the emphasis on learning history. Tim, however, believes that it is also imperative we learn about the future, preparation for what's to come. Today, it's the equivalent of being literate or not. Technology is continually changing and moving faster than what we are learning and grasping …

"A few years ago looks nothing like it does today. It's not a matter of keeping up, it shouldn't be about constant catch up; it should be more about being ahead, because change is happening that fast. I can't remember what my life was like before the cell phone or how I got anything done before that.

The future? We don't know yet what the future will look like. I do believe the next great ideas to come will come from left field, and within two to three years, they'll become the next big thing."

At Draper University they learn about the future. They also have what is called "Survival Training", when it comes to Entrepreneurship and Business, and everything is also "Group Training". They work in teams of five, rather than as individuals. What is important are things like: Vision, Advice, Ideas and Feedback that's presented to you – "it pushes you, supports you, inspires you – all of these things bring more out of you, than when you are on your own".

Tim's role model? Mentor? Hero? "No question, it's my Dad. A big part of who I am and my inspiration comes from him". From the very beginning, going on these international trips and meeting the people they did, has had a tremendous impact on Tim, his career and his life. The person and character that is his Dad, means so much to Tim. "My wife and family mean everything to me. This is what drives me. This all started and comes from him."

He went on to say about his Dad: "He is a master of great judgment … He has done a lot of great things himself. He is still very active … he still works and plays tennis … and he is 85 years old. Yes, we are very close. We get together and talk all the time."

Tim has a slew of sayings, a few of which are: "Live your life to the fullest. Get a full sense of everything around you. Travel. Explore. Our students say every day: 'I will fail and fail again until I succeed'. There's a big banner that greets you when you arrive at DFJ that says: 'Think BIG'. "

"I look at what's possible rather than what is. I look at what can be changed and improved … and how this could be made into a business. I believe business is really good for society. People prosper with business. In business, if you have good competition, you push to delight the user more than the other guy did."

"Start-ups and small businesses are so important for our society. They can compete and serve the people quicker and better. It's a matter of finding problems and coming up with solutions. They can adapt and respond – improving things like technology and the environment.

Hotmail, for example, was one of the best things ever for our environment. Instant messaging to everyone globally – all without the use of trees, gas, jet fuel, paper or postage. Big monopolies, like our government, often stagnate. Interesting, too, how pollution is far better in free-enterprise countries than it is in communist or socialist countries."

Entrepreneurs everywhere are willing and wanting to find the next hottest venture – and hoping it will be theirs. Overnight, Draper University has become a beacon nationally and internally for such aspirants. There is a great anticipation every few months, with every graduating class, from what they have learned.

It is nice knowing that you have the ear of tremendous expertise and also billions of potential dollars behind you listening. It's the Business equivalent of Chorus Line. When called, when it suddenly is your turn, it's your time to show them what you've got. The hope and angst definitely apply. The work and preparation have been done. The outcome is to be viewed, heard and judged. The stakes are high. The input is invaluable.

Tim knows all about this – nobody better to have in your corner. It would be the old equivalent of going to the mountain top and having your own guru – or winningest coach; however, everything now is high-tech multimedia and communication in nanoseconds. It doesn't take long, or much, for the next great idea to become instant reality. And the rewards are well storied and well beyond comprehension.

Leadership. Entrepreneurship. Making a BIG Difference – Tim believes the best is yet to come.