Meet Larry Stone - Assessor, Santa Clara County
SVL: What is an assessed value and how do you arrive at that number?
LS: In California, an assessed value is the dollar value of property determined by the local assessor for the purpose of property taxation.

California Assessors are required to assess all property at fair market value at the time a property is transferred or at new construction. State certified appraisers in my office perform market-based appraisals to determine an assessment. Last year, the Santa Clara County Assessor's office processed 71,192 recorded deeds of which 25,895 resulted in reassessable changes in ownership. In addition, the office processed 33,280 building permits of which 6,701 were reassessable new construction.

SVL: What happens when a property owner believes a property is over assessed?
LS: The property owner may file a formal assessment appeal. If the owner is unable to reach agreement after discussions with the Assessor's appraisal staff, the property owner is entitled to a hearing before an independent Assessment Appeals Board. There is no filing fee to appeal an assessment. The value decisions of the Assessment Appeals Board are final.

SVL: Is it possible for a homeowner to get their property tax lowered?
LS: Yes, during the "Great Recession" my office proactively reduced the assessed value of 136,000 properties reducing the assessment roll by $27 billion. During the economic recovery following the recession, all Assessors are required to restore the assessments to their Proposition 13 base year assessed value to reflect improving market conditions.

SVL: What is a Home Owners Exemption?LS: Homeowners are eligible to receive a $7,000 exemption applied to their assessment if the home is their principal residence. The exemption reduces the homeowner's property tax by approximately $70 per year. Last year 264,000 homeowners applied for and received a homeowner's exemption in Santa Clara County.

SVL: What challenges did the Assessor face during the Great Recession?
LS: The challenges were enormous. The number of assessment appeals quadrupled to more than 36,000 during the four-year downturn. At the same time, we proactively reduced assessed values on 136,000 properties, a reduction of assessed values in excess of $27 billion.

SVL: This year is the 39-year anniversary of the passage of Proposition 13. What was it like after the historic property tax revolt?
LS: Absolute chaos! The Proposition 13 ballot initiative passed by the voters provided no process or guidance for implementation. Immediately after passage, property tax revenue necessary to fund public schools and local government, declined by 58 percent. The Proposition 13 initiative was so poorly drafted that it required the state legislature to place a supplemental measure on the ballot six months later, which allowed for an assessment to be reduced when the market value of a property declines. Overall, Proposition 13 did provide property tax stability and predictability, preventing many homeowners from losing their homes due to skyrocketing home values and corresponding increases in property tax prevalent in the 1970's.

SVL: Did you ever meet the author of Prop 13 … Howard Jarvis?
LS: No. However, I encountered him shortly after the June 1978 election. My business office was in San Francisco near the famous Tadich Grill. The restaurant did not take reservations. Shortly after the election, a long line of diners, including me, were waiting for a table. Howard Jarvis walked through the door and was escorted to a table, welcomed by a standing ovation from the patrons.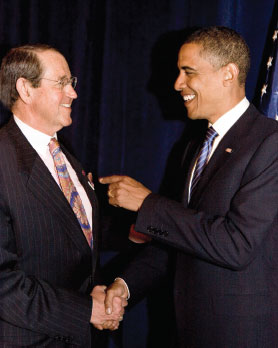 SVL: What are some of your favorite hobbies?
LS: I am passionate about politics and love to play golf. I also have a bucket list to see in person 38 of the world's major sporting events. I have completed 29 events including four Super Bowls, three World Series, the Triple Crown of Horse Racing, Olympics (Winter and Summer), the five major golf championships, Tour de France, Wimbledon, etc. There are nine sporting events left on my list including the PBA Bowling Championship and the Iditarod Dog Sled Race, which will be challenging.
SVL: What is you're feeling about the level of Philanthropy in Silicon Valley?
LS: I think serving the community is an absolute responsibility of citizenship. It is truly ingrained in my DNA. In the Stone household, my dad used to say we had two religious holidays: Opening day of baseball and Election Day. As a kid, I remember both fondly, as I got to spend the entire day with my father and skip school. More than that, it reinforced the idea that we belonged to larger community and had a responsibility to support that community.

I have spent the last 38 years formally serving my community as an elected official, first as a mayor, city councilmember and for the last 22 years as County Assessor. Beyond public office I have served on more than 25 non-profit boards ranging from The Sovereign Order of St. John, Rotary Club of San Jose and KTEH Public Television to California Air & Space Museum Educational Foundation; and the YWCA, as the first male board member.

I have cofounded several of these organizations, such as the Santa Clara County Arts Council, which became a national model for a public-private partnership and the Cupertino Educational Endowment Foundation, which has grown to an $11 million endowment, making it one of the most successful public school foundations in the nation.

It doesn't have to be all altruistic.  A recent government study concluded that there is a "strong relationship between volunteering and health: those who volunteer have lower mortality rates, greater functional ability, and lower rates of depression later in life than those who do not volunteer.

SVL: If you could talk to one person from history, who would it be and why?
LS: My answer varies over time. Right now, it would be Alexander Hamilton.

SVL: If they made a movie of your life, who'd play you?
LS: Bill Murray! I take my work, my family and friends very seriously; but I do not take myself seriously. Humor is infectious and medicinal.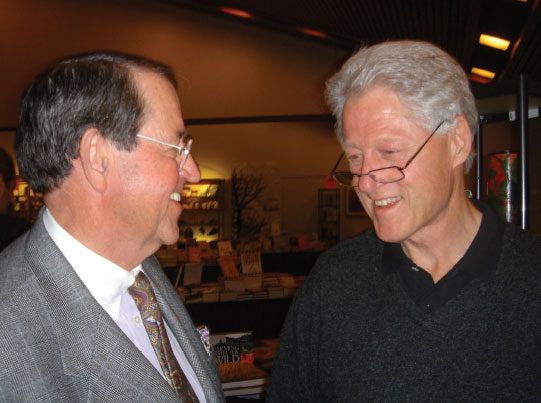 SVL: What is the toughest part of your job?
LS: Without doubt, the government bureaucracy. When I campaigned for assessor in 1994, I completely underestimated just how difficult it would be to implement a performance-based, measurement, budgeting and management system.  It took ten years before I was allowed to formally evaluate the performance of my staff.

SVL: What is your primary mission as County Assessor?
LS: Based on the simple idea that what gets measured gets done, my office has a clear mission, including precise performance indicators, strict cost metrics designed to measure improvement over time, all integrated directly to the budget.

SVL: How is this accomplished?LS: We have developed a comprehensive cost accounting system that allows us to financially account for every activity task performed by my staff. Integrated with the payroll system, it captures the fully loaded cost, including benefits, overhead, etc., of all activities such as a residential or commercial appraisal, or an audit of a major company, etc. Managers use the cost accounting data to measure performance, and establish quality standards, allocate resources, and measure completion rates.

Customer service is our top priority. We often convey unwelcome news to property owners, so quality customer service is extremely important. When a property owner calls our office a live person answers. Taxpayers' calls and emails get returned promptly; moreover, we take time to explain the rationale for our decisions. We are committed to helping taxpayers to receive the maximum property tax benefits allowed by law. In 2016 the Assessor's office achieved a customer satisfaction rating of 86.2 percent from an independent survey of taxpayers who have conducted business with my office. Considering we are a government, tax office, that is phenomenal.

Assisted by technology, we have sharply reduced customer contacts from a high of 250,000 in 1994 to 43,839 taxpayers who contacted the office by telephone, and 15,463 who visited our public service counter.

SVL: What is one thing you would change about San Jose?
LS: Without a doubt cost of housing and homelessness, or as many now calling it "houselessness".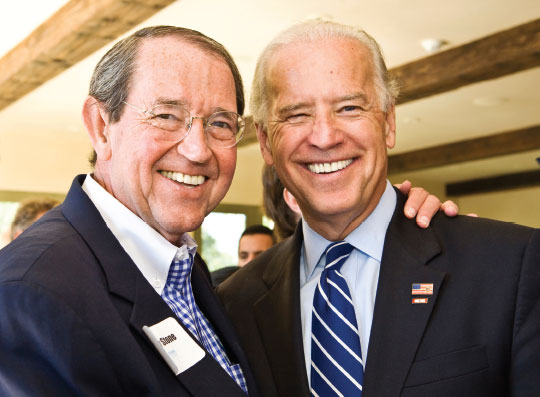 Solving this problem is more than just the responsibility of the government. For ten years, Carmen and I have generously donated to EHC LifeBuilders now called HomeFirst, and we have co-chaired with John A. Sobrato the annual "In from the Cold" dinner which has raised millions of dollars to attack the homeless problem.

SVL: Where is your favorite restaurant to dine at in Silicon Valley?
LS: The Founders Room at the Silicon Valley Capital Club.

SVL: What are the last three books you have read?
LS: Hillbilly Elegy, Shoe Dog, Boys in the Boat, I'm from Seattle, remember.

SVL: You are famously known for your close relationship with President Bill Clinton and Hillary. How did that happen?
LS: It's actually a very funny story. In 1990, as Sunnyvale Mayor, I was asked to co-host a reception for the little-known Governor of Arkansas.

I am a huge sports fan, especially baseball. The night of the event, which I tried unsuccessfully to avoid, was the night Nolan Ryan pitched a record 6th no-hitter against the Oakland A's. I missed the game. The next morning at breakfast I waved my unused baseball tickets in the face of the man who would 2 ½ years later become President. Clinton said he felt my pain, and we've been friends ever since. His way of expressing appreciation, nearly a decade later, he invited my wife and me to spend a night with the Clinton's in the White House.