Derek Carr & Valley Children Healthcare - Leaders On & Off The Field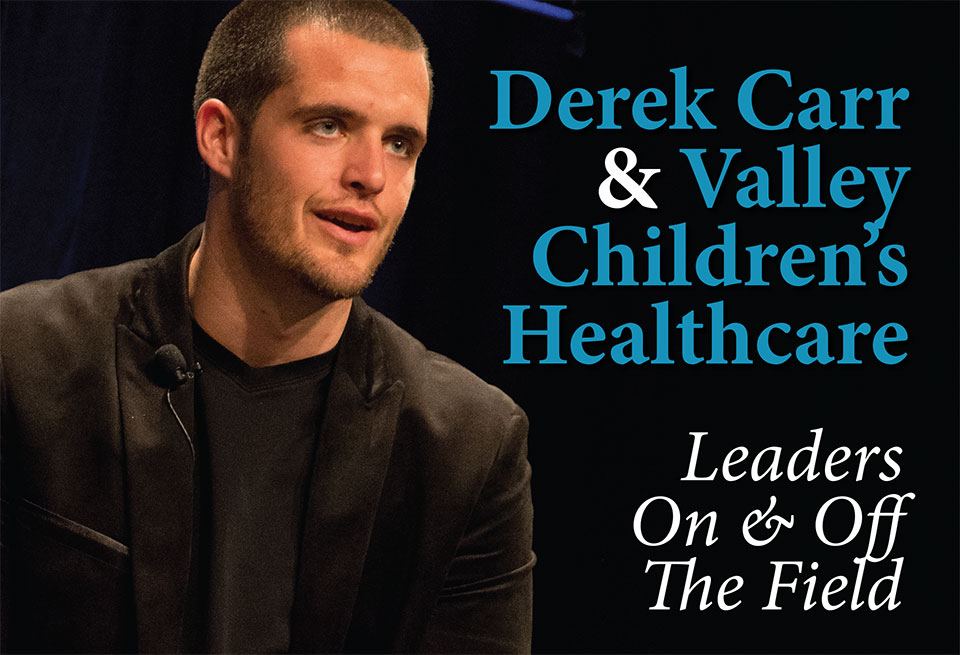 SVL: Let's start with the most predictable question of what drives you to support this particular cause?
DC: When my son, Dallas was born, he needed to be rushed to Valley Children's Hospital because his intestines were tangled and only surgery would be able to correct the problem. Within four days, Dallas had been operated on two times, and he had a third surgery before he left the hospital. Dallas had to stay at Valley Children's for 23 days. It was during those 23 days that Heather and I developed a strong relationship with the doctors, nurses, and staff. We knew we were in the right hospital and felt like our son could not have received better care. After those 23 days of being looked after by Valley Children's, both Heather and I knew that we would always want to support this Hospital, so that any family that has to go through what we went through, could enjoy the quality care of Valley Children's. Our family is indebted to what they did for our precious son.
SVL: How have you seen your personal efforts materialize?
DC: Each year my brother, David and I, film a day of PSA's for Valley Children's that are seen on TV across the Central Valley. We visit patients at the hospital, and every year I host a group of male/teen oncology patients that come to a Raiders home game and come onto the field. This past NFL Season we launched the DC4KIDS Fund and the Touchdown Challenge. We raised over $100K based on the number of touchdowns I ran/threw for and the amount of donors that participated. This off-season Valley Children's and I will host a "Meet and Greet" for all the donors to show them our appreciation. In 2018, we hope to launch an annual event that will raise money for Valley Children's as well, that will be held in Fresno, CA. I think the National exposure to Valley Children's has been very positive too. This year the NFL had an initiative called #MyCauseMyCleats, I was able to showcase the Valley Children's brand on my cleats during a nationally televised game, which was very special.
SVL: How do you suggest that individuals of lesser means get behind a cause like this one?
DC: If you are passionate about a cause you will find a way. Just visiting the children does not take too many resources, just my time.
SVL: Is there a big project underway that you'd like to draw attention to and support for?
DC: Eventually, as I mentioned I would hope that we could grow the DC4KIDS Fund and the Annual Event in Fresno, CA. www.valleychildrens.org/DC4KIDS
SVL: With potential changes coming to healthcare access, are there particular programs at risk that you'd like to advocate for?
DC: I think all children should have access to the best healthcare. When kids are not healthy, it causes more problems for families, communities and the strength of our country.
SVL: Coming from the Central Valley yourself, what does it mean to you to have such a respected institution serving the area in which you grew up?
DC: It makes me incredibly proud! Valley Children's is so highly respected and honored in the community, I feel blessed and humbled to be a part of its story.