The Sharks Foundation is a Power Forward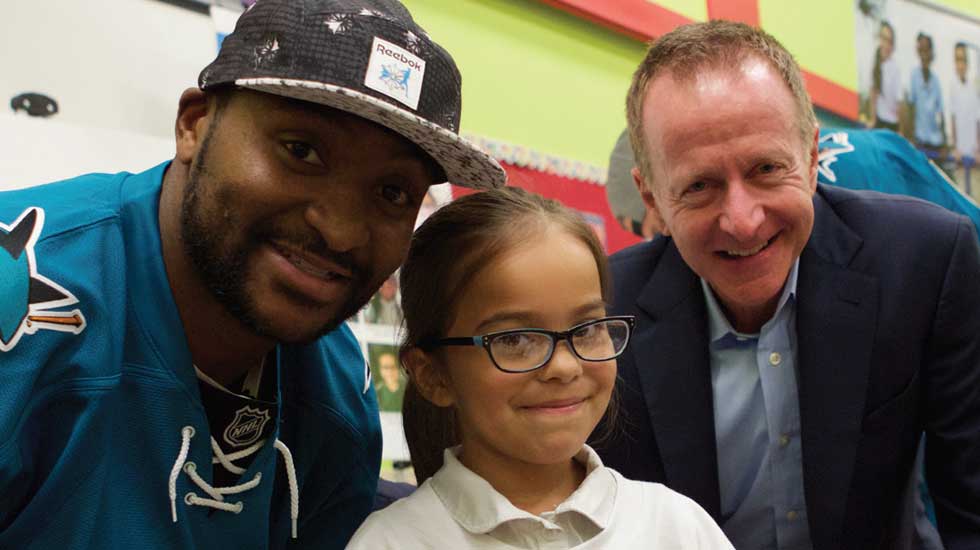 As busy as the San Jose Sharks are on the ice, the Sharks Foundation is equally as active in the community throughout the season with a variety of fundraisers and programs targeted at impacting youth and families in need in the Bay Area.
By the end of the 2015-16 season, the Foundation donated a franchise-record $1.5 million in funding and it is currently on pace to surpass that number by the end of this fiscal year. So what has the Foundation been up to? A lot. The Sharks Foundation launched its Season of Giving campaign at the start of the 2016-17 season, which had a key area of focus during each month, including: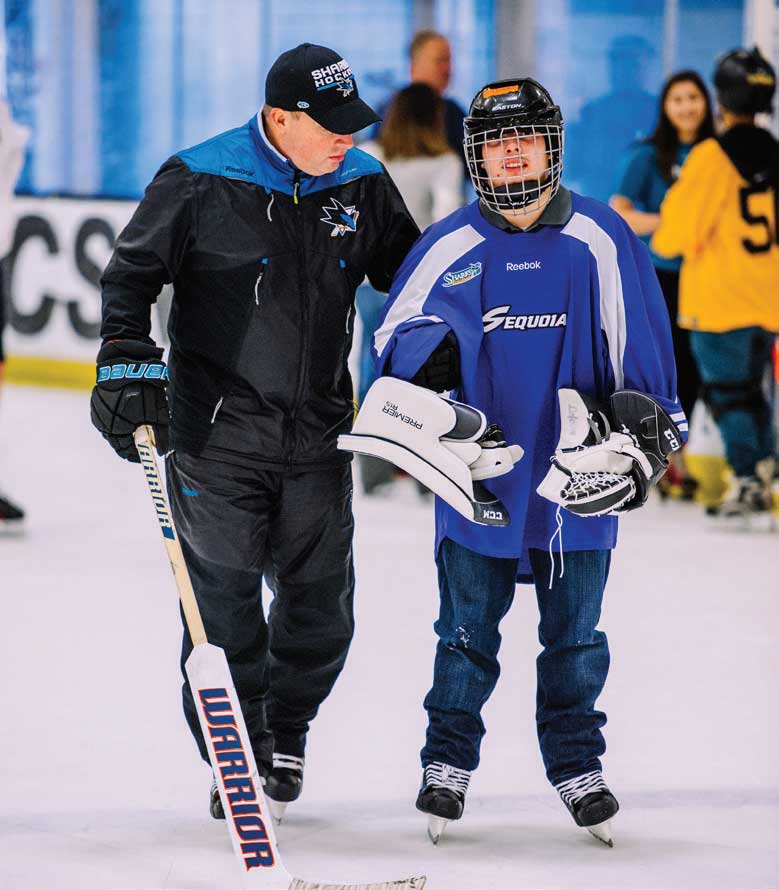 • September: Healthy Living
• October: Hockey Fights Cancer
• November/December: Season of Giving
• January: Military Appreciation
• February: Education
• March: Character Development
• April: Environmental Awareness

The Sharks Foundation kicked-off the campaign by celebrating Healthy Living in September. The Foundation and Kaiser Permanente partnered with the Good Tidings Foundation to completely revitalize KIPP Heartwood Academy's blacktop into a Sharks-themed street hockey court. Students were then visited by S.J. Sharkie and Sharks defenseman Brenden Dillon, and outfitted with two full sets of street hockey equipment. A few weeks later, nearly 4,000 participants and volunteers went the extra mile and took part in Fitness Faceoff powered by Kaiser Permanente. The 5K, 10K and Rosendin Electric Kids Fun Run promoted a healthy lifestyle, while raising more than $53,000 for the community. Those in need of glasses at Olinder Elementary School also received an eye exam and were given a pair of glasses free of charge with the help of Sharks forwards Joel Ward and Chris Tierney through the Vision to Learn program in partnership with Kaiser Permanente. Through the partnership and a $20,000 donation, 1,000 students in need of glasses throughout San Jose Unified School District received a complimentary fitting and frames.

In line with the NHL's Hockey Fights Cancer campaign in October, the Foundation created awareness for those impacted by the deadly disease, and supported pediatric cancer initiatives. The Sharks teamedup with ANA-All Nippon Airways and The Jessie Rees Foundation to assemble and distribute "JoyJars" to youth facing a health challenge and encouraged them to NEGU –"Never Ever Give Up." The San Jose Sharks wrapped up the month by inviting families who have been affected by cancer for a once-in-a-lifetime game experience and post-game meet-andgreet with the Sharks roster during its designated Hockey Fights Cancer Initiative Night.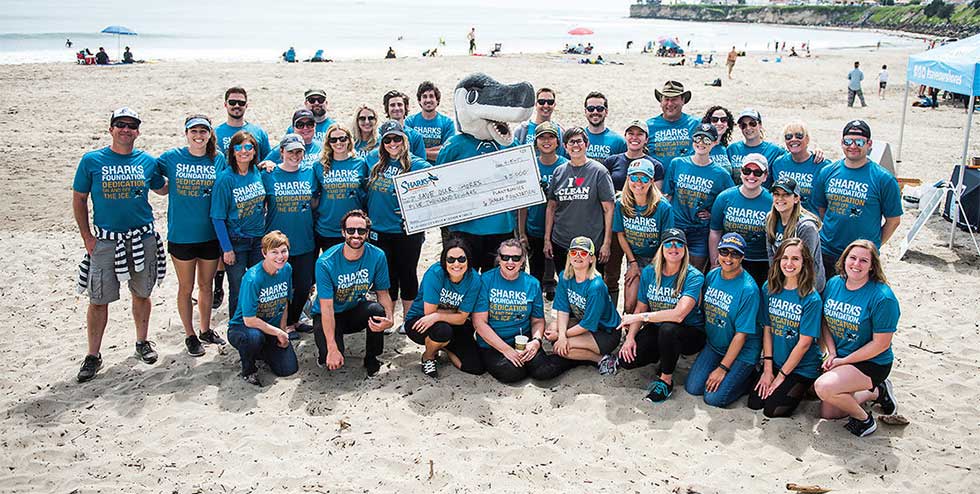 November and December marked the holiday season and the Sharks Foundation embraced the Season of Giving by having Sharks players Joonas Donskoi, Micheal Haley and Martin Jones serve a Thanksgiving meal at Catholic Charities/Eastside Neighborhood Center. In addition, the Foundation and SAP provided grocery gift cards to underserved families and made a $20,000 donation to Loaves & Fishes Family Kitchen. Later that month, the Foundation and SAP invited employees to help sort food at Second Harvest Food Bank and donated $10,000 as Thanksgiving neared.

In December, the Foundation hosted its annual grant recipient night at SAP Center and distributed $300,000 in grant funding to ALearn, Breakthrough Silicon Valley, George Mark Children's House, Lucile Packard Children's Hospital Stanford, Montalvo Arts Center, Students Rising Above and Vista Center for the Blind and Visually Impaired. The Sharks Foundation's annual Holiday Assist Party took place and included ice skating, arts & crafts, a healthy meal and a surprise unveiling of gifts that were purchased by Sharks players, coaches, alumni, executives and members of the front office staff for 38 underserved families. To cap-off the month, the Foundation dedicated $30,000 toward its inaugural Big Give Program. The program included new hockey equipment for students participating in Sequoia High School's adapted physical education class. In addition, the Sharks Foundation funded all participating California teams' registration and entry fees for the USA Hockey's Disabled Hockey Festival.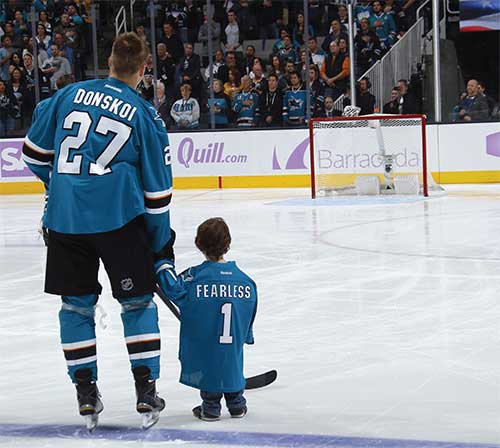 The Sharks Foundation focused on military members and their families in January and recognized them during a special Military Appreciation Night. Throughout the evening the Sharks acknowledged service members with different in-game experiences, including Para-troopers rappelling from the rafters of SAP Center, a special ceremonial puck drop, a surprise message for two local boys from their mother serving in Afghanistan and a post-game meet-and-greet with Sharks players. The Foundation also teamed-up with Rebuilding Together to honor 92-year-old Purple Heart recipient, Private First Class Isaiah Breaux and his wife, by performing crucial improvements to their home through a $15,000 donation.

In February, when education was at the forefront, the Sharks Foundation partnered with SAP to donate $61,300 for computers, cameras, tablets and laser printers for Downtown College Prep's Digital Arts & Design Program. Through a $100,000 donation, the Foundation and SAP also launched its Innovation on Ice Design Challenge at the Tech Museum of Innovation. In addition, the Foundation's Stick to Fitness powered by Kaiser Permanente street hockey program visited 10 schools with an official Kaiser Permanente Team Doctor, alumni Jamie Baker and Dillon to kick-off the five-week program, along with an equipment donation and lesson plan to run a successful street hockey curriculum.

During March, when the focus was on Character Development, the Foundation participated in Hockey Is For Everyone Night at SAP Center and donated $8,715 to the LGBTQ Youth Space in San Jose through the 50/50 Raffle and $7,000 to You Can Play from Hockey Is For Everyone jerseys. Solar4America Ice at San Jose also worked with the Foundation to provide a week of complimentary ice time and free transportation for more than 200 students and volunteers along the peninsula participating in their school's adapted physical education class.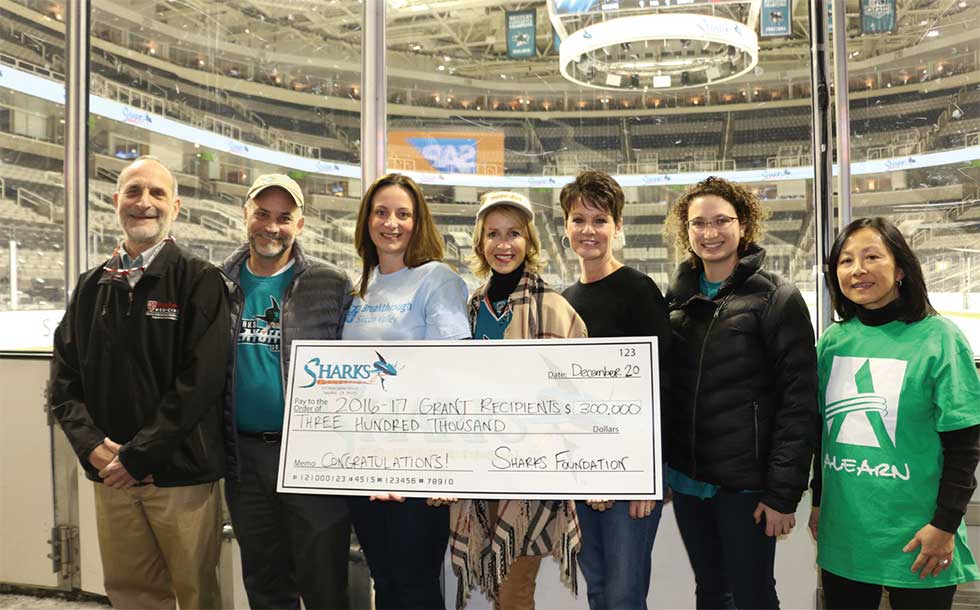 The campaign initiatives concluded by dedicating nearly $127,000 during the Environmental Awareness Month in April. The Foundation partnered with Plantronics and Save Our Shores to clean-up Cowell Beach in Santa Cruz. In San Jose, the Foundation hosted a beautification day in the Arena Green adjacent to SAP Center, planting new greenery and cleaning up a neglected portion of the park. Additionally the Foundation funded a $20,000 lighting installation and worked with the Downtown Association to revitalize and reduce crime at Fountain Alley.

Along with its monthly campaigns, the Sharks Foundation completed its third year of the Goals for Kids program. For each Sharks goal scored during the season, $1,100 was donated to six local non-profits with the help of presenting partners, the Koret Foundation and Taube Philanthropies, and participating sponsor, SWENSON. This year, the American Heart Association, Child Advocates of Silicon Valley, JW House, Make-A-Wish Greater Bay Area, Ronald McDonald House at Stanford and Second Harvest Food Bank of Santa Clara and San Mateo Counties each received $43,084 through Goals for Kids. The Foundation also successfully launched its 50/50 Raffle and had various non-profit beneficiaries of the raffle align with each month's cause. Through the raffle, more than $500,000 was dedicated back into the community.

Despite the Sharks playoff hopes falling short the Sharks Foundation was able to raise $76,000 for Habitat for Humanity in just three home games as its non-profit of the playoffs.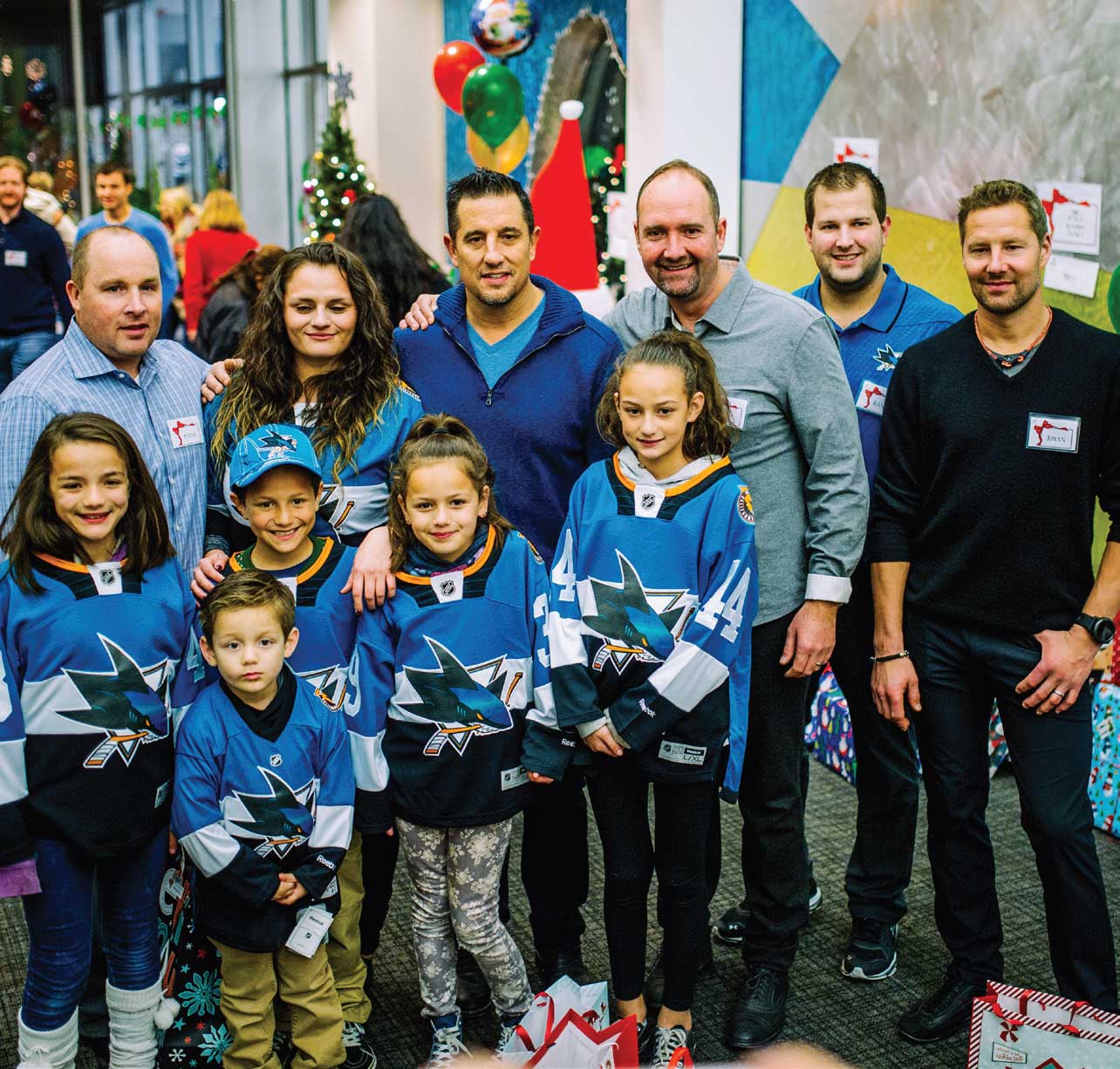 In addition, the Sharks Foundation stepped in to supply emergency aid to hundreds of families in extenuating circumstances numerous times throughout the year, including California wildfire relief, friends and family impacted by the Oakland Ghostship Fire and San Jose flood victims. In addition to Fitness Faceoff powered by Kaiser Permanente, fans and supporters had an opportunity to participate in three fundraisers during the season that included the San Jose Sharks roster, coaching staff, Sharks alumni and team broadcasters: Sharks and Strikes, Sampling with the Sharks and Shark for a Day Fantasy Camp presented by HockeyGiant. In total the Sharks Foundation netted nearly $377,000 from fundraising events that was used to support its mission.

While the season has ended for the Sharks, the Foundation remains busy to close out the fiscal year. This summer a partnership with Groupware Technology and Turning- Wheels for Kids will bring 150 volunteers together on the floor of SAP Center to assemble 220 bikes, which will then be distributed to low-income families. With the funds raised during the playoffs for Habitat for Humanity, the Foundation will also team-up with two chapters of the non-profit this summer to repair homes in San Jose that were affected by the recent flooding, as well as an entire block of homes in East Palo Alto. By the end of fiscal year 2017, the Foundation is projected to donate nearly $1.7 million to the community.

Through not only the work this season, but over the last 13 years, the Foundation has donated approximately $11.1 millon to hundreds of non-profit organizations which focus on education, health and safety, and character development and there is no end in sight, as they begin planning for the 2017-18 season. To stay up to date with the Sharks Foundation and its many happenings in the community, visit www.sharksfoundation.org.