San Francisco to Open the City's First Bike Park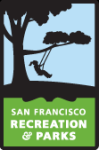 McLaren Bike Park Opens After $1.1 Million Construction

SAN FRANCSICO – The San Francisco Recreation and Park Department announced today the opening of the McLaren Bike Park in McLaren Park, the first Bicycle Motocross (BMX) and Mountain Biking Park in San Francisco.  Designed by Alpine Bike Parks, the $1,131,921 project features a beginner bikes skills trail, youth BMX and mountain biking pump park, and multi-use plaza and lawn among other features.  Funded by the federal Land and Water Conservation Fund, Parks Bonds, in-kind gift from the McLaren Bike Park Founders through the San Francisco Parks Alliance, and the City's general fund, the Bike Park, formerly an underutilized space, will now introduce people of all ages to biking and mountain biking, a new form of recreation for many.  An opening celebration will take place on Saturday, October 21st starting at 10:30AM with ceremonial bike race to cut ribbon, bike giveaway, friendly competition, and everything about bike and bike safety.

The McLaren Bike Park will create a unique recreation experience contributing to the physical and mental health of the communities living and working around McLaren Park.  Because the Bike Park, first of its kind in San Francisco, is designed to accommodate riders of all skill-levels, along with experienced Recreation staff on site to offer free skills training so unlike any other parks, the Bike Park provides an especially safe and fun environment for kids to learn and practice riding bikes.

"The McLaren Bike Park transforms a parking lot into a community paradise," said Democratic Leader Nancy Pelosi.  "This initiative is an exciting addition to our city and a strong testament to the importance of a fully-funded Land and Water Conservation Fund. My colleagues and I congratulate the people of San Francisco on this all hands-on-deck success."

"As the birthplace of mountain biking, the Bay Area deserves a first-rate bike park, and we are proud to host such a resource in McLaren Park," said Mayor Edwin M. Lee. "This course will bring a new set of patrons to McLaren Park, whether it is the novice biker looking to improve their skills, or the talented cyclist seeking to perfect their craft. We are grateful for the dedicated efforts of our local community members, cycling advocates and all other stakeholders who helped make this bike park a reality."

"The California Department of Parks and Recreation congratulates the City and its partners for the vision and drive to create San Francisco's first bike park.  This project is a positive step to promoting public health and wellness" said Lisa Mangat, Director of California Department of Parks and Recreation.  "The McLaren Bike Park is a testament to the Land and Water Conservation Fund grant program, which has supported the creation and improvement of over one thousand parks in California since 1965."

In 2008, community members from McLaren Park neighborhoods and San Francisco Urban Riders approached the Recreation and Park Department about the needs for a safe and fun environment for kids to learn to bike.  Thereafter, initially associated with the San Francisco Urban Riders, McLaren Bike Park Founders members spun off from the Urban Riders in 2014 to create a community group focused solely on the development of the McLaren Bike Park.

"This space will add greatly to the quality of life in the entire community," stated McLaren Bike Park Dustin Smith, co-founder of McLaren Bike Park Founders. "The Bike Park will create a functional and positive environment that provides a strong sense of place that is attractive and contributes to a vibrant community. The community and youth have been integral in championing this project and the completion of the Park will create an enormous sense of community ownership and pride."

And in partnership with McLaren Bike Park founders and park advocates, the Department identified a decaying asphalt space in McLaren Park that the Department can remove the asphalt, mitigate any illegal trash dumping and turn it into a Bike Park that could contain elements appealing to families with children just getting comfortable on two wheels, young adults seeking the thrills of a jump park or wanting to improve their technical skills and anyone that wants to experience the joy of riding a bicycle in an off road environment.

In 2011, McLaren Bike Park Founders hosted three community meetings in partnership with the Department to gather public input and develop the first Bike Park conceptual design.  The Group also submitted a petition over 600 signatures in support of the Bike Park as part of their community outreach for the application for the Community Opportunity Fund, a city's parks bond neighborhood grant program.

Then in 2013, SF Recreation and Park Commission authorized the Department to process with design development and submission of environmental review applications for the McLaren Bike Park.  After the public approval process, the McLaren Bike Park that included a youth-focused bicycle skills area for young children to learn and improve their basic bike handling skills began to build momentums toward reality.

"McLaren Park has long been the undiscovered gem of the SF Rec and Park system, and I'm glad that it is finally receiving the attention it deserves," said District 10 Supervisor Malia Cohen whose district includes McLaren Bike Park.  "With a beginner's trail for those just starting on training wheels, to BMX jumps and downhill slalom for after-work mountain bike enthusiasts, McLaren Bike Park is a perfect example of how activated open spaces can unite San Franciscans from all walks of life.  I'm proud to have Phase I open in District 10, and look forward to the next phase for all SF bikers."

The McLaren Bike Park is situated east of Sunnydale Avenue and west of the Gleneagles Golf Course, across from San Francisco Unified School District's Science Resource Center.  The Bike Park is located in Supervisorial District 10 and closely bordered District 11.  However, the entire McLaren Park connects all three supervisorial districts which includes districts 9, 10, and 11.

The SF Human Services Agency's data shows about 12% of children population reside in Portola, Excelsior and Visitacion Valley neighborhoods surrounding McLaren Park. There are seven public schools, including three high school, one community center, two non-profit youth centers, two Boys & Girls Clubs of America Clubhouses, and a community based child and family development center.

"The McLaren Bike Park is one of the most unique amenities throughout the entire San Francisco Recreation and Parks system," said District 11 Supervisor Ahsah Safai whose district includes McLaren Park.  "I applaud General Manager Ginsburg for placing this world class bike park in McLaren, the "backyard" for Districts 10 and 11, home to the largest population of children in San Francisco.  Now neighborhood kids can learn to ride safely using the protected bike lane on Mansell and hone their trick riding skills at McLaren Bike Park."

The Park is expected to open from 9AM to 7PM during Spring and Summer, and from 9AM to 5:30PM during Fall and Winter, for drop-in riding where staff will be on site to provide free bike riding skill trainings.  Starting Spring, 2018, Recreation and Park Department will begin bike programming onsite.  The programming includes Bike Park Etiquette – Introduction to Park Riding; Bike Park Basics – Introduction to Pump Tracks; Bike Skill Building – Introduction to Riding Elements; Bike Camp – Summer Bike Riding Program.  There will also be special riding events in partnership with community groups.

"Access to safe places to play is a vital component of vibrant communities and healthy active life style," Phil Ginsburg, SF Rec and Park Department's General Manager added. "The McLaren Bike Park will help connect the local communities to their neighborhood park and most importantly, it will provide a fun and easily accessible recreation space for riders of all ages and skill-levels, especially for those who are beginners and in need a safe place to learn and practice riding.  We are excited to see youth from all the neighborhoods to come out and ride!"

"The City's first Bike Park is a great addition to San Francisco's diverse portfolio of recreational opportunities, offering our residents and visitors a new way to get fit, have fun and enjoy our wonderful parks," said Public Works Director Mohammed Nuru, whose agency was part of the construction management team

The Recreation and Park Department has been prioritizing its resources to invest in open space and recreation programming project that could provide public open space for free healthy recreation.  Other recent capital improvement projects in McLaren Park include the pedestrian safety improvements to Prague Street Steps as well as the renovation of the Mansell Streetscape, which turned two vehicle traffic lanes into a permanent pedestrian and bicycle only pathway. Other future improvements in the park include the trail improvements, and sports courts surfacing in the park.  Overall, the City has invested more than $13 million to make capital improvements and create diverse recreation opportunities in McLaren Park since 2008.